This Rotten Week: Predicting The Spy Who Dumped Me, The Darkest Minds, And Christopher Robin Reviews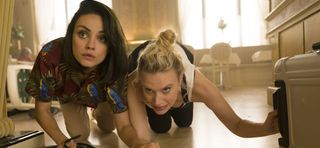 After the week of action provided by Mission: Impossible - Fallout and Teen Titans Go! To The Movies, we have a trio of smaller films hitting theaters this weekend - but what's nice is that they all offer something different. There's a pair of women caught up in a bunch of hi jinx-laden espionage; a group of kids with superpowers on the run from the authorities; and a return to the Hundred Acre Wood. Get ready for The Spy Who Dumped Me, The Darkest Minds, Christopher Robin.
Just remember, I'm not reviewing these movies, but rather predicting where they'll end up on the Tomatometer. Let's take a look at This Rotten Week has to offer.
The first joke in the trailer for The Spy Who Dumped Me centers on the idea that two women can't drive a stick shift in the car they've hijacked. One scene doesn't a movie make, but when that's the best foot that the studio is putting forward, it's likely a problem. Here we get two gals (Mila Kunis and Kate McKinnon) thrust into an international conspiracy because one of their ex-boyfriends is a CIA agent on the run.
There's probably a funny movie somewhere in The Spy Who Dumped Me, but it sure doesn't look like the final product brings it to light. Early reviews are trending negative, with it sitting at 38% with eight critics having reported in. I suspect it drops over the course of the week. The negativity in some of the write-ups stem from the lack of originality, and canned jokes that have been trotted out in every spy comedy to date. Again, the trailer doesn't really sell it, so I can't assume hidden laughs will come out of the woodwork.
The "kids develop strange powers and the government wants to stop them" premise has been around forever. In comic books, sci-fi movies, young adult fiction... you name it. We've seen this story time and time again. It doesn't mean it can't work, but creatives just aren't treading much new ground. The Darkest Minds, based on the novel by Alexandra Bracken, follows a group of teenagers (the last ones left in the world) who've developed crazy powers and are now fucking the military up while just trying to make their way in the world.
While the trailer looks cool-ish and the kids' powers are fine, I just can't imagine critics really liking it. It just looks like a worse version of the X-Men movies. Jennifer Yuh Nelson has a positive record as a director in the world of animation (Kung Fu Panda 2 - 81%, Kung Fu Panda 3 - 86%), but I'm not expecting her debut in the live-action world to fare as well.
In the last few years we've seen a live-action, based-on-a-popular-book, bear-centric franchise with the Paddington movies (98% and 100% respectively), so it will be interesting to see how Christopher Robin stacks up. I'm not exactly sure why they left Winnie the Pooh out of the name completely, because the trailers really make him look like the true star here. The film centers on Pooh leaving the Hundred Acre Wood to help a now-adult Christopher Robin (Ewan McGregor) navigate the world and find his inner child. It looks cute if overly sappy, but I'm sure kids will like it.
Director Marc Forster has a bunch of solid (if unspectacular) movies on his recent resume with World War Z (65%), Quantum of Solace (65%), and The Kite Runner (66%). But going back a little further we get Finding Neverland (82%) and Monsters Ball (85%). The dude's got chops, but I see Christopher Robin finishing more in line with the former group. There will be some laughs, and a lesson, but I can't imagine it completely crushes with critics.
It was a nice week last time around, though I can't take a ton of credit considering a lot of the reviews were already in at the time of post. Mission: Impossible - Fallout (Predicted: 95% Actual: 97%) just completely crushed with the critics, making it the best-reviewed film in the Mission: Impossible franchise, and one of the best-reviewed action movies you'll really ever see. Critics and fans went gaga for the stunts, effects, action and really everything that came with it. The series has had a nice run, but this one seemed to exceed even the highest of expectations. We for sure haven't seen the end of Tom Cruise sprinting, hanging from things, and riding motorcycles at full speed.
Then there was Teen Titans Go! To The Movies (Predicted: 96% Actual: 89%), which fell within range after a slight dip over the course of the week. But to hover around 90% for an animated movie (or any movie for that matter) is quite a feat. This is one you could from the trailer would be something of a hit. The tone was just right, appealing to both kids and adults alike with the humor, self-deprecating nature and just general laughs. It won over the critics in a big way.
Next time around we've got Dog Days, The Meg, and Slender Man. It's gonna be a Rotten Week!
Doug began writing for CinemaBlend back when Terminator: The Sarah Connor Chronicles actually existed. Since then he's been writing This Rotten Week, predicting RottenTomatoes scores for movies you don't even remember for the better part of a decade. He can be found re-watching The Office for the infinity time.
Your Daily Blend of Entertainment News
Thank you for signing up to CinemaBlend. You will receive a verification email shortly.
There was a problem. Please refresh the page and try again.