There's A Star Wars Obstacle In The Way Of Disney's New Streaming Service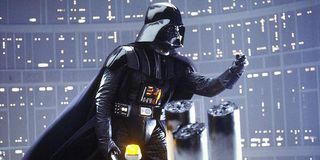 When Disney purchased Lucasfilm from George Lucas in 2012, it took the reins of the Star Wars franchise and delivered audiences new cinematic adventures set in a galaxy far, far away. However, while the Mouse House is responsible for every Star Wars movie from The Force Awakens onwards, the studio's grip on all the movies isn't quite as strong as one might assume. Back in 2016, Disney signed a deal with AT&T's Turner Broadcasting System that made TNT and TBS the exclusive cable home for most of the Star Wars movies, both existing and upcoming. However, now Disney is reportedly trying to buy back the TV rights to the Star Wars movies for its upcoming streaming service.
Almost a full year ago, Disney announced it was jumping into the streaming game, and just like Netflix, Hulu and Amazon, its lineup will include both preexisting and original content. We already knew that Disney plans on including at least one live action Star Wars TV series on the platform, but according to Bloomberg, the company has started inquiring on regaining the TV rights to the Star Wars movies so that they will be available to stream as well. Supposedly these inquiries have been met with "resistance," as Turner wanted "financial considerations and programming" to replace the movies, and the talks haven't advanced further. As things stand now, Turner can air the Star Wars movies on TNT and TBS, as well as on their websites, until 2024.
Disney and Turner's deal accounted for all the Star Wars movies except for the one that started it all, A New Hope, although thanks to the latter company striking up a separate deal with 20th Century Fox (the original distributor of the Star Wars movies), it's been airing on TNT and TBS with the other original five. Turner paid approximately $275 million for the rights to air the Star Wars movies, but now that Disney is putting together its own streaming service, it understandably would like to be able offer the space operas as viewing options. Both Rogue One and The Last Jedi are also currently available on Netflix, but they'll be removed from there once Disney's deal with the streaming giant expires at the end of the year.
Despite Disney at the top of the movie-making food chain, delivering a streaming service to the masses is no easy, so the Mouse House needs to ensure there's a wide selection of content available to entice subscribers. Having the Star Wars movies available would make one hell of an incentive for people to drop money on the service, but judging by this report, Turner isn't particularly keen on ending its deal early. The timing certainly isn't great for the programmer, as The Force Awakens started airing on TNT and TBS this year, and Rogue One is set to be shown next year. That said, Disney has deep pockets, so if it can deliver a high enough amount of compensation, then maybe the Turner executives would be willing to change their minds.
The Disney streaming service is expected to launch in fall 2019, so stay tuned to CinemaBlend for more updates on its development and what will be available on it. As for the Star Wars franchise, Episode IX will wrap up the sequel trilogy when it's released on December 20, 2019.
Connoisseur of Marvel, DC, Star Wars, John Wick, MonsterVerse and Doctor Who lore. He's aware he looks like Harry Potter and Clark Kent.
Your Daily Blend of Entertainment News
Thank you for signing up to CinemaBlend. You will receive a verification email shortly.
There was a problem. Please refresh the page and try again.