7 Big Predictions About Where Movie Subscription Services Are Going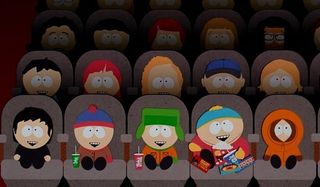 When the history books look back on 2018, they wouldn't be wrong to think of it as the year that subscription models like MoviePass started to come into their own. Between the OG services' various growing pains, and the rise of competing services like AMC Theatres' A-List, a new business model is starting to take hold in the theatrical distribution market, and it's going to change how we watch movies for good. The only real question at this point is, what are the next phases and tweaks we'll see in the realm of the subscription model?
Inspired by what we've seen throughout this year, there are seven confident predictions that can be made about where we're all going in terms of paying a more consistent, more convenient model for going to the movies. While there's always going to be twists, turns, and surprise bankruptcies paving the road to the future, the following predictions all feel like the next reasonable steps to be taken on the journey.
Prices Will Settle In Around $20 A Month
Looking around the various options and plans that offer subscription-based planning, the unlimited model is pretty much dead. In its place is a limited quantity model that allows moviegoers several options when it comes to the frequency of their enjoyment. With that pattern comes a similarly cemented pricing benchmark of roughly $20, with Cinemark and MoviePass both offering less expensive options. Considering AMC's success with A-List is at $20 plus tax a month for three movies a week, expect to see others mimic that pricing model, and possibly their offerings.
Most Or All Major Theaters Will Have A Subscription Model Within The Next 5 Years
In the beginning, movie theater chains were resistant to the MoviePass way of doing business, as it undoubtedly bit into the already meager piece of the box office pie that theaters get from ticket revenue. However, once Cinemark's Movie Club and AMC's A-List came onto the scene, a new way to do business came to light. With theaters cutting out the middleman, guaranteeing their ticket sales share, and leaving movie fans with more money in their pockets for the real moneymaker (the concessions stand), expect most, if not all, major theaters to follow suit with their own subscription plans within the next five years.
MoviePass Will Be Dead By The End Of 2018 / Mid-2019 Tops
Between theaters catching wise to how a subscription plan can work to their advantage, and MoviePass's brand being tarnished by financial instability and ever-changing terms and conditions, the company's days have been numbered for some time. While they were the folks that really lit the fuse on the metaphorical explosion of the movie subscription business, it doesn't look like they'll be around for much longer. Venturing a guess, it's most likely that between the end of this year or the middle of next year, MoviePass will become extinct. Thanks for the memories.
The Market For An Independent Provider Will Be The Next Big Frontier
Without MoviePass offering the convenience of working with most major theaters to bring people in the door, there's going to be room for a new independent provider that caters to those who don't want to pledge fealty to just one chain or the other. By default, Sinemia will inherit that crown, and they have pricing that's similar to AMC's A-List, but with offerings only slightly above Cinemark's Movie Club. So naturally, the next scrabble will be for the first provider that can give folks an A-List style plan, offering the ballpark of three movies a week at $19.99 plus tax a month, without having to either be part of a major chain, or subscribe to numerous chains in the name of convenience. The gauntlet has been thrown.
The Family Plan / Annual Pass Options Will Also Be Key To Who Wins The Market Next
As far as individual moviegoers go, the movie subscription market caters to their needs pretty well at the moment. However, as far as any sort of multi-party plans are concerned, Sinemia is the only plan that offers the option of bringing another party without an out of pocket cost. Seeing as family movie trips and couple's date night are two big revenue drivers for movie theaters, whoever can guarantee a couple and/or family of four gets to go to the movies at least twice a month, at a reasonable monthly rate, will definitely make headway. Bonus points to whomever can nail down an annual rated pass, allowing all parties to pay up front for a year's worth of movie excitement.
Expect A Lot Of Experiments With Amenities
It cannot be stressed enough that with less pressure on getting audience members in the door, there's more of a chance that the concession stands at movie theaters could experience their own uptick in revenue. As concession profits are weighed in the favor of the theater, experimenting with the inclusion / discounting of food and drink in a subscription can benefit the theater itself, much as it does with Cinemark Movie Club's 20% concession discounts. Not to mention, should independent providers like Sinemia want to offer their Dinner and a Movie package linked to the dining options located within the theaters they partner with, they'd befriend consumer and corporate partners, alike. Once you're used to getting those asses in seats, this is going to be how you keep them there.
Technical Glitches Will Continue To Plague Users
So far, most of the major services offering movie subscriptions have dealt with outages and just plain failures in apps and online services. With an ever expanding base of subscribers, and more to come after the presumed demise of MoviePass, it's not going to get any easier on the digital end of things. It's unavoidable, especially considering we're still in the early phases of the market; but any currently existing service, or any movie subscription plan looking to make its debut in the next couple of years, should start to think about the infrastructure of their business in order to avoid being hampered by such flaws.
Senior Movies Contributor
CinemaBlend's James Bond (expert). Also versed in Large Scale Aggressors, time travel, and Guillermo del Toro. He fights for The User.
Your Daily Blend of Entertainment News
Thank you for signing up to CinemaBlend. You will receive a verification email shortly.
There was a problem. Please refresh the page and try again.