One Thing Ben Affleck Has Promised Jeremy Irons About The Batman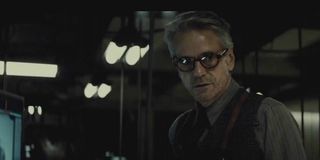 Jeremy Irons has had a rather busy 2016. Over the last 12 months he's popped up in High-Rise, Race, The Man Who Knew Infinity, and he'll round off the year with his performance in Assassin's Creed as the film's enigmatic villain, Alan Rikkin. But most moviegoers will remember 2016 as the year that Jeremy Irons made his debut as loyal butler Alfred Pennyworth to Ben Affleck's Batman in Batman v Superman: Dawn Of Justice. But this is only the beginning for Jeremy Irons in the DC Extended Universe, as he's had the cast iron guarantee from Ben Affleck himself that he's going to be much busier in The Batman.
Jeremy Irons made this revelation to me earlier this week when I sat down to discuss his work on Assassin's Creed. Of course, I couldn't pass up this opportunity without asking the 68-year-old about reprising Alfred Pennyworth and whether he's had a chance to sit down and chat with Ben Affleck about The Batman. This provoked Jeremy Irons to respond with:
What a genuinely superb man Jeremy Irons is. Not just because of his acting talents, which are of the highest order, but also the fact that he's so refreshingly honest about his work. Don't forget that that when Warner Bros. was working overdrive to try and save the reputation of Batman v Superman: Dawn Of Justice and the DC Extended Universe, Jeremy Irons simply came out and admitted that it deserved the bad reviews.
Jeremy Irons will be getting back to work as Alfred Pennyworth sooner than we thought, too. That's because not only was it confirmed over the last few days that The Batman is still on track to begin production this coming spring, but that its release date is scheduled for some time in 2018. Maybe even as early as July 27, 2018, as that spot was recently freed up when Aquaman was pushed back to October.
Of course, before then Jeremy Irons is going to pop up in Justice League next November. From the sound of things, though, he's not going to have much to do much as Alfred Pennyworth, who might be reduced to simply getting the tea and cleaning up the mess that Batman, Wonder Woman et al make. Which is understandable, because just one look at Justice League's trailer proves how packed it's going to be.
Those of you pining to see more Jeremy Irons can do so next week, as Assassin's Creed will finally be with us on December 21, 2016.
Your Daily Blend of Entertainment News
Your Daily Blend of Entertainment News
Thank you for signing up to CinemaBlend. You will receive a verification email shortly.
There was a problem. Please refresh the page and try again.