Check Out Aquaman's Ocean Master And Vulko Riding Cool Underwater Creatures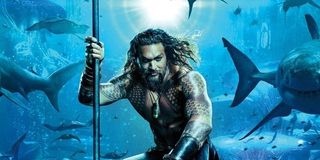 After years of waiting, Aquaman is finally heading to theaters in just a couple of months, and we're getting some cool looks at the ocean life we can expect to see in the latest DCEU blockbuster. The film has been teasing us with more shots of the action we'll be treated to and some of that might, apparently, include Vulko (Willem Dafoe) and King Orm (Patrick Wilson) riding some unlikely beasts. Take a look:
Of course, when I say unlikely, I only mean compared with what us land faring folks know about what types of animals can be used for reliable transport. Clearly, when it comes to getting from place to place in the ocean, we've been missing out.
Aquaman director James Wan posted this cool look at Vulko and Orm riding two very different animals throughout their underwater kingdoms. Vulko is on a hammerhead shark, while Orm is standing fiercely atop an animal I can admit to never hearing of before, a tylosaur.
While most of you will probably know what a hammerhead shark is, if you're not up on your prehistoric marine life, you'll be just as in the dark on the tylosaur as I was. More commonly known as tylosaurus, this animal was a predatory marine lizard that averaged 40 feet in length, which probably used its long snout to ram and stun its prey, and also for combat. So, you know, it was dangerous.
One of the coolest aspects of getting a look a these shots from Aquaman is seeing how these animals will be outfitted in the film. Not ones to be content with just throwing a saddle on a hammerhead shark or a tylosaur, each creature is clearly wearing some armor. With Vulko's hammerhead (Hammy? I think I'll call him Hammy.) being the most obviously outfitted in protective plating which covers almost its entire top half, and Orm's tylosaur (obviously named Ty) appearing to, at least, be wearing gear along its snout and upper back.
Vulko might appear totally calm in his photo, but considering how much armor Hammy is wearing, I'm going to guess he might be about to do battle, or at least be doing a training run so that he and Hammy are fully prepared for any upcoming conflicts. Orm, meanwhile, seems to be about ready to launch himself off of Ty, trident in hand, pissed and ready to engage whomever he believes has wronged him.
Part of what's finally been revealed about the plot of Aquaman is that Orm, who is Arthur Curry's half brother and has been ruling in his absence, will be eager to start a war with the surface world over the pollution of the oceans, while Arthur will be interested in trying to keep the peace and finding a non-combat solution. So, it makes complete sense that both images show battle ready beasts and a clearly angry Orm.
We'll all be able to feast our eager eyes on just how these scenes are used in Aquaman when the film opens on December 14.
Bachelor Nation, Gilmore Girl; will Vulcan nerve pinch pretty much anyone if prompted with cheese...Yes, even Jamie Fraser.
Your Daily Blend of Entertainment News
Thank you for signing up to CinemaBlend. You will receive a verification email shortly.
There was a problem. Please refresh the page and try again.