Why Steve Buscemi Was Originally Going To Pass On The Big Lebowski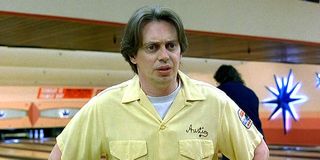 No one is a bigger punching bag in The Big Lebowski than Steve Buscemi's Donny. Sure The Dude goes through a lot more trouble in the movie, but Donnie spends the majority of his screen time being told by John Goodman's Walter to "Shut the fuck up," and by the end, he suffers a fatal heart attack. Initially Buscemi was going to turn down playing Donny because of how much the character was bullied, but then he changed his mind once he read The Big Lebowski's ending. As Buscemi recalled:
I can understand where Steve Buscemi's coming from. As you're watching The Big Lebowski, you can't help but wonder why Donny is put through so much grief for just asking questions or chiming into conversation. Granted, the Coen brothers have previously revealed this is a reference to Buscemi's role in Fargo, where Carl Showalter is quite the chatterbox, but still, one couldn't blame the actor for not being on board with this particular character.
However, as Steve Buscemi continued in his interview with Today alongside Jeff Bridges and John Goodman for The Big Lebowski's 20th anniversary, once he read how Walter reacted to Donny dying after their confrontation with the nihilists outside the bowling alley, then he changed his mind. Walter has a horrible way of showing love, but he nonetheless cares about his bowling buddy. That was what ultimately led to Buscemi deciding that this was a movie worth joining.
Of course, Donny's demise arguably leads to The Big Lebowski's final punchline, as when The Dude and Walter go to spread Donny's ashes on the coast, not only does Walter use it as an opportunity to talk about the Vietnam War, but then the wind blows Donny's ashes straight into The Dude's face. So yeah, Donny definitely doesn't get any respect in The Big Lebowski, but without him, the movie just wouldn't feel complete.
The Big Lebowski marked Steve Buscemi's fifth collaboration with the Coen brothers, the earlier ones being Miller's Crossing, Barton Fink, The Hudsucker Proxy and, as mentioned earlier, Fargo. Buscemi reunited with the duo for their portion of the 2006 anthology film Paris, je t'aime, but he has yet to star in another of their full-length features. Since neither he nor the Coen brothers' careers are slowing down, maybe another opportunity to team up again will eventually present itself.
Stay tuned to CinemaBlend for all the latest movie news. The Coen brothers' next movie, The Ballad of Buster Scruggs, hits Netflix on November 16, and if you're curious about what's heading to theaters over the next year, you can find that information in our 2018 and 2019 release schedules.
Connoisseur of Marvel, DC, Star Wars, John Wick, MonsterVerse and Doctor Who lore. He's aware he looks like Harry Potter and Clark Kent.
Your Daily Blend of Entertainment News
Thank you for signing up to CinemaBlend. You will receive a verification email shortly.
There was a problem. Please refresh the page and try again.