Which Steve Buscemi Death Scene Was The Best, According To Steve Buscemi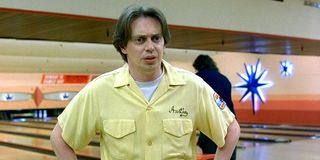 If there was ever a contest between Steve Buscemi and Sean Bean over who's been killed off more in the history of cinema, it would probably be a close call. Both men have been offed more times than anyone would care to count, and Buscemi knows this better than anyone else in the business. Though when it comes to his favorite death scene, it has to be the one he played as The Big Lebowski's Theodore Donald 'Donny' Kerabatsos.
During an interview on The Late Show with Stephen Colbert, Steve Buscemi was asked by the popular late-night host about which method of expiration was his favorite. Out of a long line of deaths in films and television shows such as Fargo and Boardwalk Empire, the one death that stuck with Buscemi was Donny's unfortunate demise at the hands of fate. He explained his reasoning in the following blurb:
Steve Buscemi has a point when it comes to the death of Donny, the man that was forever out of his element and just waiting for the hammer to drop. We can all relate to that first viewing of The Big Lebowski, when we've just finished watching Walter and The Dude clobber some Nihilist ass, only to realize that Donny was having a fatal heart attack. If we were expecting anyone to be injured and/or killed, it would have been either The Dude or Walter, more likely the latter as he'd always had that warrior spirit that was destined to die in battle. So when our heroes escape with nary a scratch, only to see Donny keeled over in the throes of death, the shock was enough to almost send us into the very same state.
To be killed in as many films as Steve Buscemi has, and to still keep getting back on the horse, shows a lot of dedication to his craft. It also shows how good of a sport that Buscemi is, thanks to his rather fruitful career as a well-known character actor. Whereas some actors might balk at the idea of a big death scene, Buscemi merely laughs it off and gets on with the job at hand. Which is why no matter how many times Hollywood may kill off Steve Buscemi, he'll always have lived more than most of his contemporaries.
Senior Movies Contributor
CinemaBlend's James Bond (expert). Also versed in Large Scale Aggressors, time travel, and Guillermo del Toro. He fights for The User.
Your Daily Blend of Entertainment News
Thank you for signing up to CinemaBlend. You will receive a verification email shortly.
There was a problem. Please refresh the page and try again.