Looks Like Gwyneth Paltrow Is Getting Her Own Iron Man Armor In Avengers 4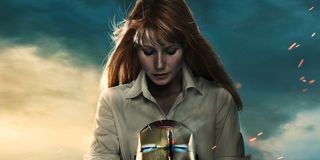 Just like in the comics, Pepper Potts is an important figure in Tony Stark's life in the Marvel Cinematic Universe. And sometimes she's even participated in the main action, particularly in Iron Man 3, where she briefly wore Tony's Mark 42 armor and got to kick Aldrich Killian's ass while juiced up on Extremis. But after more than a decade, it appears that Pepper is finally getting her own special armor to wear into battle for Avengers 4.
Although her fate at the end of Avengers: Infinity War wasn't addressed, we know that Pepper Potts was among the lucky half that survived the Thanos snap. Gwyneth Paltrow is already confirmed to be reprising Pepper in Avengers 4, but officially, as with the rest of the characters, nothing has been revealed about her role in the story. Unofficially, Avengers 4 details and looks continue to pop up, and a new leaked picture, with Paltrow seems to have taken as a selfie, shows the actress in purple and silver-colored armor. Rather than resembling one of the traditional Iron Man suits, this suit looks like it was designed specifically for Pepper.
You can look at this picture over at the uncannycomicbookquest Instagram page, but it appears to be legit. However, in case you're not entirely convinced, there's two pieces of information that support that this image is the real deal rather than a Photoshop creation. The first is that last week, some Avengers 4 toy designs appeared online, and one of them showed an action figure with the same purple and silver armor design.
The second is that there's precedence for Pepper Potts getting her own armor in the comics. During Matt Fraction's run on The Invincible Iron Man, Pepper discovered that Tony Stark had built a special suit of armor specifically for her. Going by Rescue, she followed in Tony's footsteps and used her armor's capabilities to protect the innocent during the Dark Reign era and beyond.
Although officially unconfirmed, there's been chatter about how rather than pick up immediately after Avengers: Infinity War, Avengers 4 will take place years after half of all life in the universe disappeared. Gwyneth Paltrow already implied that by this point, Pepper and Tony are married and have a child, but evidently during this time Tony has also given Pepper her own armor.
Whether this means that Pepper Potts is now part of the Avengers or if Tony Stark built it just in case she and their child are ever in danger, the fact that Gwyneth Paltrow is in costume rather than us seeing the armor in a display case means that Pepper will be getting her Rescue on in Avengers 4. The circumstances obviously won't be welcome, but after all these years watching Tony fight bad guys as Iron Man, you'd think Pepper is at least a little excited to be a bonafide superhero.
We'll finally see the full picture when Avengers 4 opens in theaters on May 3, 2019. In the meantime, feel free to look through our Marvel movies guide to learn what else the MCU has in the works.
Your Daily Blend of Entertainment News
Connoisseur of Marvel, DC, Star Wars, John Wick, MonsterVerse and Doctor Who lore. He's aware he looks like Harry Potter and Clark Kent.