Wait, Did Gwyneth Paltrow Drop A Big Avengers 4 Spoiler?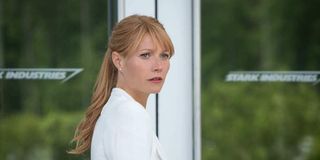 Warning: SPOILERS for Avengers: Infinity War and potential SPOILERS for Avengers 4 are ahead!
Tony Stark and Pepper Potts have been through a lot together in the Marvel Cinematic Universe, and while their relationship was briefly paused at the start of Phase Two, at the end of Spider-Man: Homecoming, we learned they were back together. In Avengers: Infinity War, the couple were still planning their impending nuptials, and Tony mentioned to Pepper that he'd had a dream where they had a child named Morgan, leading him to wonder if she was pregnant. Pepper said she wasn't, but Gwyneth Paltrow may have accidentally revealed that when we reunite with Tony and Pepper in Avengers 4 next year, they will actually be parents. The actress recently said the following:
Gwyneth Paltrow's comments to the official Avengers: Infinity War magazine (via Comicbook.com) indicate that she was one of the lucky individuals who survived being wiped out by the godlike Thanos at the end of Infinity War, so she and Tony are able to continue their relationship. More importantly, though, is that addition to the two of them being married (which we expected would happen), Paltrow is saying that Tony and Pepper do indeed have a child during Avengers 4, meaning that Pepper either was actually pregnant at the start of Infinity War or became pregnant after the movie. Either way, assuming that Paltrow's quote is accurate, then not only will get to see how Tony and Pepper are as parents, but it also suggests that a fair amount of time will have passed since Infinity War.
Interestingly enough, this isn't the first time it's been hinted that there will be a notable time gap between Avengers: Infinity War and Avengers 4. A few weeks ago, it was reported that actress Emma Fuhrman is playing Cassie Lang, daughter of Scott Lang, the current Ant-Man, in Avengers 4. Abby Ryder Fortson played Cassie in the first Ant-Man movie and the upcoming Ant-Man and the Wasp, but Fuhrman is currently 16 years old, while Fortson is 10 years old, suggesting that Furhman, if she is indeed showing up in Avengers 4, is playing Cassie as a teenager. Now with Gwyneth Paltrow saying that Tony Stark and Pepper Potts have a child, it would seem that Avengers 4 will take place at least several years after the devastating events of Infinity War, if not an entire decade.
Marvel is still keeping specific plot details about Avengers 4 under wraps, and it will be a while until we learn what the movie is even called. However, set photos that emerged last year showing that along with whatever the present day storyline is, we'll also revisit key moments from the MCU's past. Some of these photos showed Tony Stark, who had blonde-tinted hair and was wearing a S.H.I.E.L.D. jumper, with Ant-Man and Steve Rogers from the Battle of New York. Directors Joe and Anthony Russo later implied that these trips to the past are due to the use of Tony Stark's BARF technology, but even so, given how Avengers: Infinity War ended, we can expect the MCU to look a lot different when Avengers 4 begins, and that may include Tony and Pepper taking care of a child.
Avengers 4 opens in theaters on May 3, 2019. If you're interested in learning what movies are being released later this year, look through our 2018 release schedule.
Your Daily Blend of Entertainment News
Connoisseur of Marvel, DC, Star Wars, John Wick, MonsterVerse and Doctor Who lore. He's aware he looks like Harry Potter and Clark Kent.
Your Daily Blend of Entertainment News
Thank you for signing up to CinemaBlend. You will receive a verification email shortly.
There was a problem. Please refresh the page and try again.