Justice League's Reshoots Reportedly Changed Cyborg's Story In A Major Way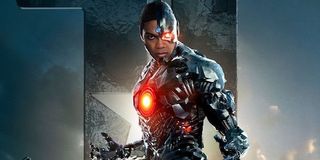 For decades Victor Stone, a.k.a. Cyborg, was best known in the DC Comics mythology as a member of the Teen Titans, but when the New 52 launched in 2011, Cyborg's backstory was reimagined so that he was instead one of the founding Justice Leaguers. He filled that same role in Justice League last year, and along with fully introducing Ray Fisher's Cyborg following his cameo in Batman v Superman: Dawn of Justice, the movie also brought back Victor's father, Dr. Silas Stone. Silas survived his encounter with Steppenwolf in Justice League, but apparently before the movie went through reshoots, the plan was for Silas to be killed.
This information comes from Vulture editor Kyle Buchanan, who stated that in an earlier cut of Justice League, Silas Stone was killed halfway through, presumably after he and the S.T.A.R. Labs personnel are kidnapped by Steppenwolf and his Parademon flunkies. At the end of Justice League, Cyborg finds a video of Silas, and his words are used to play over the final montage. But once the Justice League reshoots, which were overseen by Joss Whedon, went into effect, Silas was kept alive and his video message was taken out, with Amy Adams' Lois Lane delivering Justice League's final lines instead (excluding the post-credits scene).
It's no secret to anyone who paid close attention to Justice League's development that there were quite a few shakeups behind the scenes, particularly after director Zack Snyder departed and Joss Whedon, who had already been brought aboard for script rewrites, was tasked with seeing the movie to completion. This led to various story changes, though Silas Stone being kept alive is certainly one of the tamer alterations. Just like in the comics, Silas rebuilt Victor's damaged body after a car crash nearly killed him, only in the DCEU, Victor's robotic body was assembled by one of the three Mother Boxes left on Earth. When Steppenwolf arrived on Earth, Silas and other S.T.A.R. Labs scientists were taken because they'd been in contact with the Mother Box, but Cyborg, Batman, Wonder Woman and Flash managed to get Silas and the other survivors away. By the end of Justice League, Silas and Victor seemed be on better terms, and Silas was shown helping Victor further explore his cybernetic abilities, which included redesigning his body.
Although a Cyborg movie was one of the first DCEU movies to be announced, a lot has changed with the franchise in the years since then, and now it's incredible unlikely that Cyborg will arrive in 2020 as previously announced. If/when Cyborg does get off the ground, Joe Morton is expected to reprise Silas Stone, and the actor has said that the solo movie will focus on the Stone family, the specific circumstances that led to Victor becoming Cyborg and Victor's life as a superhero who can't hide his true nature from the public. Considering that Victor has already lost his mother, it's probably for the best Justice League didn't go through with taking Silas off the table. Now Cyborg can take the next step on his heroic journey with his dad supporting him.
Stay tuned to CinemaBlend for all the biggest updates concerning the DCEU, Cyborg included. If you're interested in what other projects this franchise has in the works, consult our handy guide.
Connoisseur of Marvel, DC, Star Wars, John Wick, MonsterVerse and Doctor Who lore. He's aware he looks like Harry Potter and Clark Kent.
Your Daily Blend of Entertainment News
Thank you for signing up to CinemaBlend. You will receive a verification email shortly.
There was a problem. Please refresh the page and try again.