How Bohemian Rhapsody Beat Back Average Reviews To Become A Smash Hit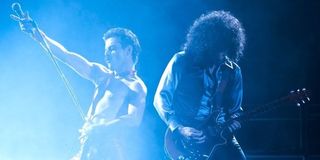 For the longest time, the jury was out on Bohemian Rhapsody. If you happened to pay close attention to the behind-the-scenes drama, you knew that director Bryan Singer was dismissed from the project and replaced by Dexter Fletcher (Eddie the Eagle) for reasons that only Singer and producer Graham King will actually know. There were additional rumors that the movie's star, Rami Malek, disagreed with Singer on several choices. Would it affect the overall movie, and would audience members care?
Well, both things ended up being true. The behind-the-scenes chaos and the movie's approach to facts definitely impacted critics' opinions of the movie. But audience members didn't care. Occasionally, movies will post wildly different stats on the review-aggregate website Rotten Tomatoes. This happened with Bohemian Rhapsody, which boasts a decent 60% Fresh grade from critics, but a whopping 94% positive for an Audience Score.
And on this election day, we point out that moviegoers also "voted" for Bohemian Rhapsody at the "polls" ... er, ticket booth. Now that weekend actuals are out, Bohemian Rhapsody far exceeded expectations to post a healthy $51 million opening, blowing out its closest competitor in The Nutcracker and the Four Realms ($20 million). This even prompted The Guardian to write a column calling movies critic-proof, citing Bohemian's success.
That's not accurate, but this movie did buck a trend by succeeding in a spot that many believed would lead to failure. And there are a number of reasons why. Two of them are connected, in my opinion. The music of Queen powered Bohemian Rhapsody to the top of the box office charts, and the use of Queen's music in the marketing helped sell the movie.
When CinemaBlend travelled to London to participate in press activities for Bohemian Rhapsody, we discussed Queen's popularity with the cast -- notably, whether the band received the respect that they deserved as a classic rock outfit. Co-star Gwilym Lee, who plays guitarist Brian May in the movie, summed it up best when he said:
To that end, the marketing for Bohemian Rhapsody only needed one Queen song to really hook audiences -- specifically, it only needed two foot stomps and a clap featured in "We Will Rock You" to help sell tickets to the movie.
You might not know every Queen song. But pretty much every person on the planet knows at least one Queen song, whether it be the song of the movie's title, or the combo of "We Will Rock You" into "We Are The Champions." And many audience members likely went to the theater to see the story of Queen so that they could HEAR those songs pumped through a Dolby speaker. Queen can't perform live anymore. The Live Aid scenes from the movie might be the closest that any of us will come to seeing Freddie Mercury and Queen on stage.
Ah yes, Freddie. The other selling point on Bohemian Rhapsody for the opening weekend crowd appeared to be the transformation of Rami Malek into spicy frontman Freddie Mercury. It's a performance that's bringing Oscar weight along with it. Malek has a following from his work on Mr. Robot, and even the lukewarm reviews for Bohemian Rhapsody praised the young actor's portrayal of the rock icon.
Sometimes, that's all it takes. Look at Joaquin Phoenix channeling Johnny Cash for the 2005 hit Walk the Line. Or Jamie Foxx, doing a spot on Ray Charles in Ray. Or the ensemble behind Straight Outta Compton, powering that movie to a staggering $60 million opening in 2015. Those guys embodied the controversial rap group. (It helped that Ice Cube's son played his dad in the movie, and is the spitting image.)
But the biggest difference between critics and crowds when it came down to Bohemian Rhapsody and how it was received seems to be one's opinion on facts, and how they are presented in the movie. Several reviews took Bohemian Rhapsody to task for sloppy mistakes. Here's one example: The band is shown playing their hit song "Fat Bottomed Girls" during a 1974 tour of the United States. In fact, they didn't write that song until 1978, for the album Jazz.
Semantics, right? Well, not when you are creating the biopic of Queen. Since there's unlikely to be another Queen movie any time soon -- precious few bands get multiple silver-screen biopics dedicated to their history and accomplishments -- this SHOULD be the one that gets the story right.
But the box office returns for Bohemian Rhapsody and the overwhelmingly positive Audience Score tell us that crowds who danced out of the movie theaters weren't interested in nitpicking the details of Bryan Singer's movie. They just wanted to be entertained, and the movie did that.
This won't always be the case. If a movie happens to come out on a band or an artist who we are extremely familiar with, and the film plays fast and loose with the facts, the audience might be less forgiving. Imagine a U2 biopic that mixes up the order of the band's album releases, or glances over Bono's activism in favor of a surface glance at his songwriting abilities?
But in the case of Bohemian Rhapsody, and fresh off the heels of the equally successful movie-music drama A Star Is Born, audiences just wanted to hear Queen songs, and they wanted to hear them loud. The movie wasn't treated as the definitive take on Queen's legacy. It was viewed more as a tribute to their contributions to our classic-rock landscape, and the initial push at the theaters was a rousing success... reviews and factual inaccuracies be damned.
Will it continue? It's hard to say. The competition steps up in two weeks, when Fantastic Beasts: The Crimes of Grindelwald and Instant Family roll into theaters. And it feels like The Grinch could dominate the box office in the upcoming frame, though it's going for a different audience than Bohemian Rhapsody, so they both could have winning weekends.
But Fox has to be very happy with the overall performance of Bryan Singer's Queen tribute, and now with some box-office clout at its back, BoRhap can focus on pushing Rami Malek in a Best Actor race that appears to have an open slot in its nomination category waiting for him.
Your Daily Blend of Entertainment News
Sean O'Connell is a journalist and CinemaBlend's Managing Editor. He's frequently found on Twitter at @Sean_OConnell. ReelBlend cohost. A movie junkie who's Infatuated with comic-book films. Helped get the Snyder Cut released, then wrote a book about it.