Why Spider-Gwen Should Lead The Planned Spider-Verse Animated Spinoff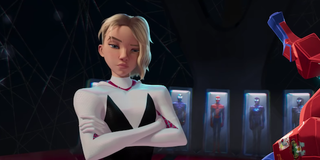 The Marvel Cinematic Universe's Peter Parker may not be feeling too good thanks to Thanos' doings, but Sony has been busy releasing films centering around other characters in the Spider-Verse with Venom and Spider-Man: Into the Spider-Verse coming to theaters next week. The upcoming animated flick will center on 13-year-old Miles Morales as he is mentored by a more-seasoned Peter Parker and meets Spider-Ham, Spider-Man Noir, Peni Parker and Spider-Gwen, the latter played by Hailee Steinfeld.
Followed by some seriously positive buzz from critics and just ahead of the film's release, it has been announced that a sequel to Spider-Man: Into the Spider-Verse and a female-fronted Spider-Verse spin-off is already in the works. It's exciting to see the wider universe be given a place on the big screen after so many iterations of Peter Parker's origin over the years.
For the female-centered project, Lauren Montgomery, who directed projects including Voltron, Superman/Batman: Apocalypse is set to helm the spinoff. All that is known about the upcoming animated flick is that it will feature a handful of female spider-heroes. It does follow a recent trend of rebranding male-dominated stories such as Ocean's Eleven and Ghostbusters to get women on center stage -- which I note is a bit of a problematic way to approach giving female characters more stories.
However, if the spinoff centered on Spider-Gwen, it could be the ample opportunity to give audiences a hip spider-hero that is far more captivating than being the female version of another thing we already love. Here's why:
She's This Generation's Spider-Woman
Spider-Gwen is a comic book character that is only four years old and has already found an audience, maybe best propelled by her beautiful supersuit that has gained popularity among cosplayers and comic book fan art. The character, created by Jason Latour and Robbi Rodriguez ,debuted on shelves in 2014 during a year-long Marvel Spider-Verse crossover event.
The spider-hero has roots in the iconic first girlfriend of Peter Parker, Gwen Stacy, but the Spider-Gwen comics is set in an alternative universe called Earth-65 where she is the one bit by the radioactive spider instead of Peter Parker. While the Gwen Stacy of the '60s was accidentally killed while Peter's Spider-Man was trying to save her from the Green Goblin, in this version Peter dies in the arms of Gwen after becoming The Lizard to get back at his high school bullies.
Gwen is very much a teenager rooted in this generation, juggling the stress of being the drummer of a punk band with her friends called the Mary Janes, keeping the secret of her superhero identity "Spider-Woman" from her police-chief father, and being constantly underestimated and judged by the media and the foes she is faced with.
Other iterations of Spider-Woman have come and gone throughout the years, such as Jessica Drew's in the '70s and Mayday Parker/Spider-Girl in the late '90s, but Spider-Gwen is uniquely of today, so placing her at the center of the Spider-Verse's first female-dominated film makes a lot of sense.
The World Around Spider-Gwen
In Spider-Man: Into the Spider-Verse, Miles Morales' Spider-Verse story revolves around a seasoned Peter Parker we know all too well from another universe jumping into Miles' universe and serving as his mentor. This version of Peter has been at the superhero game for a long time and has done everything from save the world to make a Christmas album. Spider-Gwen leading the upcoming spinoff would introduce a completely different universe where many of the characters you know and love have different roles to play.
Gwen's origin story begins due to the death of one of the most beloved characters in the world, so audiences already have an attachment to this character and can feel with her the absence of a lovable nerd such as Peter. Watching these parallels with a completely different character as she deals with similar struggles such as loss is a really cool way to freshen up the origin of a spider-hero.
The art behind Spider-Gwen is also uniquely stylish, making it the perfect character to work with through animation. If you also throw in how important music is to Gwen's life and story, it could make for a quirky cinematic experience as The Mary Janes play their songs against the backdrop of Gwen's life.. The punk flavor could also give the world an indie comic book flair, along the lines of what Edgar Wright's Scott Pilgrim vs. the World brought to screen in 2010.
In the Spider-Gwen comics, the hero also has quite a few run-ins with fan favorites such as Matt Murdock and Frank Castle. These characters, however, aren't the heroes of the story; they are some of the enemies she must fight against. For Marvel fans who have been watching Netflix shows such as Daredevil and The Punisher (and the comic book fans who already love them), this is the perfect time to give them some alternative roles in animation and this spinoff could provide this.
Recruiting Her Own Team
We know little about the plans for the female-centered spinoff for the Spider-Verse, but there is a tendency for female versions of other things to feel like they're being done just to be re-marketed to women. This can subsequently result in feeling as if the product is a lazily executed way to be "progressive" and include women too. Luckily for Marvel, there are plenty of female characters in the Spider-Verse to show off and give screen time too, but if it feels shoed in to mirror the situation in Spider-Man: Into the Spider-Verse, it will fall into this trap.
If the spin-off picked another character to lead the film such as Jessica Drew, it might feel like the plot is being forced on being a female version of a previous story and could find itself to be a rehash of Into the Spider-Verse.
Since Spider-Gwen is in Into the Spider-Verse, it shows that she already has experience with moving through other dimensions and has had success with teaming up with other spider-heroes in dire situations. Setting up this spinoff with her would build on the story already being told and feel natural that she has decided or ends up teaming up with other spider-women.
Her character is also rooted in the Spider-Verse as it began during the crossover event. Her origin issue has her running into Spider-Ham, and Into the Spider-Verse looks to have her capable and aware of the other universes. The planned spinoff could have her character going back to her beginnings before the 2018 film or after the events of it and still make sense as to why she is meeting spider-heroes from other universes seamlessly.
You can see the introduction of Spider-Gwen on the big screen when Spider-Man: Into the Spider-Verse comes to theaters on December 14. Check back with us about more information on the planned sequel and spinoff as they become available.
Your Daily Blend of Entertainment News
YA genre tribute. Horror May Queen. Word webslinger. All her writing should be read in Sarah Connor's Terminator 2 voice over.