All The Movies CinemaBlend Gave 5-Star Reviews To In 2018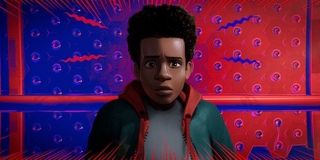 These days, it's rare to walk out of the movie theaters and find absolutely nothing to complain about related to the film you've just escaped into for a couple of hours. Audiences can usually find something to complain about, especially with the glut of sequels, remakes and reboots out there. Sometimes movies will also hit all of the technical buttons, but fail to sweep the audience away with its story or emotionality.
In 2018, quite a few movies have come quite close to perfection, such as some of our 4.5-star earners like Avengers: Infinity War, Hereditary, If Beale Street Could Talk and Mary Poppins Returns. However, eleven films were nabbed flawless 5-star ratings from our reviewers this year and it's time to revisit which ones exceptionally dazzled our critics.
The list ranges from buzzy blockbusters, high-acclaimed awards contender and under-the-radar gems. Some mark striking directorial debuts while others add to the careers of distinguished auteurs. The 5-star rating seems to have been awarded to films across just about every genre, setting and pocket of time. Did you see CinemaBlend's highest-rated films and do you agree? Take a look:
Paddington 2
It's rare for a sequel -- especially in a family film to earn itself a as much as praise as Paddington Bear's return to the big screen received early in the year. Perhaps the involvement of director Paul King in both films allowed Paddington 2 to land well with audiences so undeniably so effortlessly two times around. The family film had the perfect amount of adorable, humorous, heartfelt moments... and marmalade sandwiches.
From our review:
Annihilation
Following Alex Garland's 2014 directorial debut Ex Machina, this year's Annihilation solidifies the filmmaker as perhaps the most mesmerizing and unique sci-fi storytellers today. Centering on biologist and former military officer Lena, played by Natalie Portman on a secret expedition to mysterious zone called "The Shimmer" comes a horrifying, thought-provoking and beautiful addition to the genre.
From our review:
A Quiet Place
At a time when the horror genre is getting a resurgence, A Quiet Place certainly feels like one of those rare titles that will define it. It's built upon a simple but terrifying concept: maintaining silence is how this family will survive. John Krasinski's manipulation of sound and lack of it is the perfect recipe for some clever tension, along with it cleverly doubling as a heartfelt family drama too.
From our review:
Eighth Grade
This coming-of-age indie about a preteen's last week at an eighth grader before entering the depths of being a high school freshman is a strikingly believable and universal tale that even those who didn't grow up in an age of Snapchat and Twitter can identify with. Elsie Fisher plays protagonist Kayla Day, an introverted young girl who attempts to make a channel on YouTube to appear like she's got it all figured out and delivers one of the best performances of the year.
From our review:
BlacKkKlansman
Spike Lee has been directing critically-acclaimed films about the Black experience in America since the 1986's She's Gotta Have It. His latest film, BlacKkKlansman is a wild-yet-true story about a police officer (John David Washington) who infiltrates a local Ku Klux Klan chapter in the '70s when he enlists Detective Flip Zimmerman (Adam Driver) to help him investigate. BlacKkKlansman is unmistakably Lee's style that blends the issues of the time with humor.
From our review:
A Star Is Born
This may be a fourth film of the same name and core story, but thanks to a truly unique pairing of Bradley Cooper's first directorial efforts and sincere onscreen chemistry with Lady Gaga in her first leading role, it makes for something quite special to witness. A Star is Born is a heartbreaking relationship drama about a believable flawed romance full of stunning musical performances from both Gaga and Cooper.
From our review:
The Front Runner
Some true stories beg to be told on-screen, and the story of the fall of Gary Hart's 1988 presidential campaign has proven to be one of them in this year's The Front Runner. Hugh Jackman stars as the Democratic candidate who once was a shoe-in for the position until stories of a scandalous love affair started being followed by the press. The Front Runner is a balanced adaptation of Hart's story, perfect for starting discussions about the ever-relevant subject.
From our review:
Roma
Following the massive success of Alfonso Cuarón's Gravity back in 2014 comes Roma, a project that is much closer to home for the award-winning filmmaker. Roma comes from a loose-interpretation of Cuarón's childhood in Mexico City in the early '70s, making for a beautifully detailed work and an intimate drama. The fact that it's shown in black and white and is a foreign-language film made by Netflix makes it quite an experimental project; however, it feels like a universal story for all.
From our review:
Spider-Man: Into The Spider-Verse
Audiences have been oversaturated with Spider-Man over the years as multiple Peter Parker's have been continuously reintroduced. Spider-Man: Into the Spider-Verse brings the multiverse into play (along with yet another Peter Parker); regardless, it still manages to be the best of the bunch. Into the Spider-Verse is an incredible feat of animation centering around Miles Morales' origin story that opens up some exciting possibilities and impressively pays tribute to the comic books.
From our review:
Cold War
Who knew that not one but two foreign films (shot in black and white) would make for among the best of 2018? Cold War is from Polish writer/director Pawel Pawlikowski, best known for his highly-praised 2013 movie, Ida. Cold War is a love story between two people of different worlds during the rise of Communism. The couple's story is told over the span of a decade, with their ups and downs chronicled through brief snapshots over the years.
From our review:
Vice
Writer/director Adam McKay used to be best known for his Will Ferrell comedy hits Anchorman and Talladega Nights. Recently McKay has been exploring important stories that shaped the turn of the 21st century such as in 2015's The Big Short and now with Vice. The movie is about Dick Cheney, the most powerful Vice President of the United States to date. Christian Bale makes an incredible transformation in the role with frequent collaborator Amy Adams as his wife.
From our review:
What do you think? Are there any movies that you think should have deserved 5 stars but may have fallen short with CB's staff? Let us know in the comments below.
YA genre tribute. Horror May Queen. Word webslinger. All her writing should be read in Sarah Connor's Terminator 2 voice over.
Your Daily Blend of Entertainment News
Thank you for signing up to CinemaBlend. You will receive a verification email shortly.
There was a problem. Please refresh the page and try again.