Ghidorah Is Terrifying In New Godzilla: King Of The Monsters Image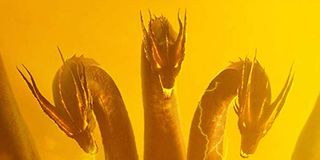 Godzilla's been keeping a low profile in the MonsterVerse since 2014, but this spring, he's jumping back into action for Godzilla: King of the Monsters. This time around, the giant reptile is colliding with Rodan, Mothra and, arguably the most dangerous of them all, the three-headed King Ghidorah. That last monster is described as Godzilla's "ultimate nemesis," meaning he needs to be especially terrifying, and thankfully, the latest picture of Ghidorah in King of the Monsters gives off just that kind of vibe.
from r/GODZILLA
King Ghidorah first appeared in 1964's Ghidorah, the Three-Headed Monster and has been a regular player in Japan's monster movie scene, but Godzilla: King of the Monsters marks his first appearance in American cinema. Thanks to the wonders of CGI and motion capture, Ghidorah is the most fearsome he's ever looked. Granted, you don't want to be near any of these monsters, but Ghidorah is definitely one of the ones that means to threaten humanity, not protect it.
Along with King Ghidorah looking extra ferocious, the other interesting element from this Godzilla: King of the Monsters photo is the aircraft headed towards the monster. As we've previously seen in Godzilla and Kong: Skull Island, there isn't that much humanity can do to put up a fight against these Titans, and an aircraft heading towards one of the flying monsters is likely to be destroyed. That said, this particular plane looks more technologically advanced than what the U.S. military is usually packing. One Reddit user noted that it looks like the Super X, a vehicle from The Return of Godzilla that was used against Godzilla, as its missiles could disrupt the nuclear reactions within the beast.
I'm guessing that this aircraft is something that Monarch built to study or even combat the Titans. However, given that there's a moment in the most recent Godzilla: King of the Monsters trailer where one of the Titans, which we can now assume is King Ghidorah, is chasing after an aircraft that looks like the one above, there's a good chance that the people on board will soon meet their demise. When Ghidorah is defeated, it's going to be at Godzilla's hands.
Besides featuring four towering monsters, Godzilla: King of the Monsters' human cast includes Kyle Chandler, Millie Bobby Brown, Vera Farmiga, Bradley Whitford, Ken Watanabe, Sally Hawkins, Charles Dance, O'Shea Jackson Jr. David Strathairn, Aisha Hinds and Zhang Ziyi. Michael Dougherty directed and co-wrote the script with Zach Shields. And for those of you worried about Godzilla's fate in this sequel, not to worry, because he'll be back next year to clash with an infamous gorilla in Godzilla vs. Kong.
Godzilla: King of the Monsters rampages into theaters on May 31, so keep checking back with CinemaBlend for continuing coverage. In the meantime, find out what other movies are coming out this year with our 2019 release schedule.
Connoisseur of Marvel, DC, Star Wars, John Wick, MonsterVerse and Doctor Who lore. He's aware he looks like Harry Potter and Clark Kent.
Your Daily Blend of Entertainment News
Thank you for signing up to CinemaBlend. You will receive a verification email shortly.
There was a problem. Please refresh the page and try again.