Is It Worth It For Disney To Make More Pirates Movies Without Johnny Depp?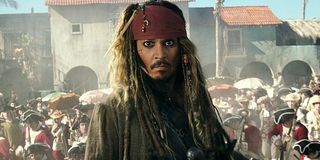 Disney has an accord with the Deadpool writers to write a Pirates of the Caribbean reboot without Johnny Depp. It could be a great film. But it could also cost Disney more than it saves.
Forbes just raised the internet's eyebrows with a casual figure drop of $90 million in reference to what Disney would save to write Johnny Depp's Captain Jack Sparrow out of the Pirates movies. Where did the outlet get that number? It's not clear. But there were rumors several years ago that Depp might make $90 million for Pirates 5, aka the 2017 film Pirates of the Caribbean: Dead Men Tell No Tales.
So it's possible that's why the $90M figure has re-emerged as what Disney could potentially save for this reboot. But since this is a franchise that has made more than $4.5 billion worldwide -- with Johnny Depp in every film -- you have to wonder if making a Pirates movie without him is worth the risk. Sure, Disney has plenty of money to throw around, but why risk harming a successful brand? The studio already disappointed many fans with Pirates 5. Unless this reboot is for an entirely new generation -- and maybe it is? -- it's hard to see how Disney can improve the Pirates franchise without the marquee star.
What if fans are disinclined to acquiesce to Disney's request that they watch Pirates without Jack Sparrow?
There's also the question of the films after the mysterious reboot -- which is meant to "bring in a new energy" and give the Pirates movies "a kick in the pants." It's possible the franchise will take off from there, with more sequels based on these other characters. There was talk of a Pirates 6, presumed to include Johnny Depp's Jack Sparrow, but it's not clear yet whether that will happen.
To be sure, $90 million is a lot of gold coins. It instantly ups the budget to blockbuster-level on its own. That said, it's not out-of-the-realm for major stars these days. Iron Man Robert Downey Jr. confirmed he was paid around $50 million for The Avengers, and it was rumored that he was paid a combined $200 million for Avengers: Infinity War and Avengers: Endgame. Whether that figure is accurate or not, he is reported by Forbes as having been paid $81 million from June 2017 to June 2018, landing him on the list of highest-paid actors -- but not even No. 1.
All that is to say it's very possible $90 million is Johnny Depp's going rate for a Pirates movie, since he has been the face of the franchise since the first movie. Depp's star may have faded a bit on the domestic front -- from some lackluster movies, and drama in headlines with his ex-wife Amber Heard. You know Disney is allergic to that kind of drama. These days, it usually drops anyone within reach of a scandal headline ASAP.
But Johnny Depp's brand is still strong, especially overseas, and he's currently tied to another family-friendly franchise with Harry Potter's Fantastic Beasts. That second movie didn't do quite as well as the first, but it's hard to quantify how much Depp had to do with it.
So would Disney really save anything by doing a new Pirates of the Caribbean movie -- or even several movies -- without Johnny Depp? Possible, but not probable. It's not like Disney doesn't know how to strike gold with fresh and unexpected casting. The studio has done it before. It did it with Johnny Depp as Captain Jack Sparrow. But let's crunch some numbers.
Here are the domestic, foreign, and total grosses for each of the Pirates movies so far, in order (per Box Office Mojo figures, not adjusted for ticket price inflation):
Since the worldwide total of the most recent movie was less successful than the previous ones, let's assume -- for speculation's sake -- the budget would be lowered to a total of $200 million for a future Pirates movie. Now let's remove $90 million of that, for Johnny Depp's presumed salary. That would leave a budget of around $110 million. The first film showed that a budget in that general area can still give a fantastic movie.
For a reboot, the studio may shave a few more dollars off, depending on the casting. If the franchise casts more big names -- with some out-of-nowhere picks that turn out to be perfect, like heartthrob Johnny Depp for Jack Sparrow and Oscar winner Geoffrey Rush for Captain Barbossa -- the budget may stay high. But it could hit gold again with relative (cheaper) newbies, as it did with Keira Knightley and Orlando Bloom in the first film.
The newcomers for Dead Men Tell No Tales (Brenton Thwaites, Kaya Scodelario) didn't seem to get huge buzz, and that film managed to disappoint for the franchise despite the presence of heavy-hitters Johnny Depp, Geoffrey Rush, and Javier Bardem.
When Disney came out with reboot idea, and sounded so confident about it, I was skeptical. But plenty of people were skeptical about making a movie off the Disney theme park ride. It's not like anyone really saw this popular film franchise coming. But how much is Johnny Depp directly tied to that popularity? After CinemaBlend's article on Disney's confidence in a Depp-free franchise, many fans commented that there is no Pirates for them without Depp.
You can't extrapolate too much from comments, but Johnny Depp does have huge popularity with the character -- and still huge popularity as an actor, especially overseas. It's the international market that I'm most skeptical about when it comes to a reboot. The foreign box office has embraced Johnny Depp even at his least impressive.
Remember The Tourist? The combined star power of Johnny Depp and Angelina Jolie only made $67.5 million at the domestic box office, but pulled in $210.5 million overseas. Which isn't to say moviegoers will put up with anything. The same team behind Pirates made Disney's The Lone Ranger, which had a reported production budget of $215 million and made just $89 million domestic and $171 million at the foreign box office. That was not a success, and it had the star power of Johnny Depp behind it. There were other issues, but it shows that Depp's name is not enough to sell a major movie -- even overseas, in a world where Aquaman is making $625M and Venom picked up $642M just from the foreign box office alone. THAT's where the real money is made these days.
So could Disney pull off a Pirates success without Johnny Depp? I would argue that Disney needs the following:
Disney probably knows this. It's Disney. But Disney has changed quite a bit since the first movie came out. According to Johnny Depp, the Disney suits didn't initially like or get his Captain Jack Sparrow. Now, they get that he makes them money, but they may be wary of any attachment to him as long as he's connected to negative publicity. That negative publicity + Johnny Depp's huge paycheck + the Pirates films appearing to lose box office steam means here we are in the understandable place of Disney wondering if there's Pirates life after Depp.
Right now, Disney has yet to make any official announcements about the future of the Pirates of the Caribbean franchise -- beyond rumors about Pirates 6, and the hiring of the Deadpool writers for some kind of reboot. As we wait for Disney to reveal their buried treasures, there are certainly more than enough movies coming this year to keep Disney's box office at record highs.
This poll is no longer available.
Gina grew up in Massachusetts and California in her own version of The Parent Trap. She went to three different middle schools, four high schools, and three universities -- including half a year in Perth, Western Australia. She currently lives in a small town in Maine, the kind Stephen King regularly sets terrible things in, so this may be the last you hear from her.
Your Daily Blend of Entertainment News
Thank you for signing up to CinemaBlend. You will receive a verification email shortly.
There was a problem. Please refresh the page and try again.