The Events That Led To Star Trek 4 Landing In Development Hell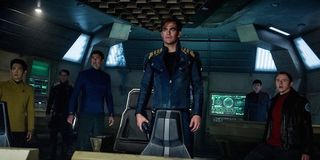 Way back in 2016, Star Trek Beyond opened in theaters. It was the third Star Trek film of the reboot series produced by Bad Robot and released by Paramount. In large part, the movie was a winner with fans; it felt like an episode of Star Trek, but kept the action blockbuster pace of the newer films. The problem was that Beyond only managed to make $343 million worldwide on a budget of $190 million. That's not good.
Despite the underwhelming performance, plans for Star Trek 4 were announced. However, the project hit some speed bumps, and infrequent updates on the project made things seem murky. Not that surprisingly, it has since been reported that Paramount has shelved Star Trek 4. So... what happened? If you haven't been following along, this might have come as a shock to you, so I've compiled the most significant news developments cataloging Star Trek 4's journey to nowhere.
Paramount Gets A Head Start
As always, the best place to start is the beginning. Before Star Trek Beyond was released in theaters, Paramount prepared for the possibility of a fourth installment. In 2015, it was reported that Chris Pine and Zachary Quinto (Kirk and Spock, respectively) had signed on for a potential fourth film. The two actors are key players in the franchise, and the studio was looking to lock them down in case it wanted to make Star Trek 4. Pine, Quinto and the rest of the cast were only contracted for three movies. The duo also received significant pay raises -- Pine reportedly doubled his salary to $6 million -- but this would ultimately come back to bite Paramount in the coming years.
Chris Hemsworth Joins Star Trek 4
J.J. Abrams announced that Star Trek 4 was in the works and early plot details began to emerge. The fourth film would see the return of Chris Hemsworth as Kirk's father, George, who died at the very beginning of 2009's Star Trek. The film would be a time travel adventure that would see the two Kirk's/Chris' teaming up to save the universe. It sounded like a pretty fun idea and one that capitalized on Hemsworth's massive rise to fame. The actor appeared in Star Trek before Thor and the Avengers franchise made him a household name. The cast of Star Trek has grown in fame over the years -- especially Pine and Zoe Saldana -- but having Hemsworth on board certainly added a big boost of star power to a financially struggling franchise.
Quentin Tarantino Pitches His Take
A curious, but exciting wrench was thrown into the works in the form of Quentin Tarantino. The Pulp Fiction director reportedly came up with an idea for a Star Trek movie and pitched it to J.J. Abrams and Paramount. They were apparently enthusiastic about the idea, which is kind of a no duh. If Tarantino comes to you about making a Star Trek movie, you probably aren't going to say no! Tarantino directing the movie that he pitched remained a possibility if his schedule permitted, and a writer's room was assembled to develop the idea. Mark L. Smith won that match and was hired to pen a script based on Tarantino's original pitch. At the time, it was unclear where this project lived alongside Star Trek 4. Was this an entirely new film or were they going to make it into Star Trek 4? Would it feature the same cast?
Star Trek 4 Staffs Up
Eventually, it was revealed that Paramount was working on two separate Star Trek films: Star Trek 4 and Tarantino's idea. Neither J.J. Abrams or Justin Lin would be returning to direct Star Trek 4, and S. J. Clarkson was soon named as the director, making her the first woman to direct a Star Trek movie. Along for the ride were the majority of the cast which included Simon Pegg, Zoe Saldana, Karl Urban, and John Cho. Abrams would return to produce alongside Lindsey Weber, and writers J.D. Payne and Patrick McKay would pen the script. The movie would go into production before Tarantino's, who still wasn't 100% confirmed to be directing his pitch. With all the important pieces assembled, one would think that it would be a straight line to production, but nothing ever quite simply is in Hollywood.
Two Kirks Walk Away From The Movie
It was reported that Chris Pine and Chris Hemsworth had walked away from negotiations about starring in Star Trek 4. The source of trouble: money. Essentially, the two actors had already signed deals to act in the film, but Paramount wanted to make pay cuts after the underwhelming box office of Star Trek Beyond. The studio argued that the franchise was not on the same scale as Marvel or Star Wars, and thus had to keep the budgets smaller. Pine and Hemsworth understandably wanted to be paid the amounts that was originally agreed upon. In Pine's case, he already had a deal inked years ago. (Remember that $6 million?), and the specifics of Hemsworth's contract are unknown. Negotiations eventually reached a dead end, and both parties walked away from the table.
Paramount Pulls The Plug On Star Trek 4
It seemed like development hell finally took its toll on the project. The next people would hear of Star Trek 4 was that Paramount had quietly canceled the movie. The news was revealed when S. J. Clarkson signed on the direct the Game of Thrones prequel for HBO, and people connected the dots from there. Paramount hasn't confirmed the news, but without two of the most important cast members and a director, it makes sense that Star Trek 4 was sent out to pasture, though it's unclear if the studio will attempt to pick up the torch again in the future. It's unknown how this affects Tarantino's project, but one would imagine that it's still happening pending the director's schedule/interest. The film likely has a smaller budget than Star Trek and no overlapping cast. Plus, it has the power of Tarantino's name keeping it alive.
After reading all that, it's not too hard to understand why Star Trek 4 was canceled. The Star Trek film series has never risen to the heights of other blockbusters, usually opening below expectations. Additionally, the pay cut negotiations were likely a big nail in the coffin. Star Trek is still alive and well over on TV, and while it's unclear if Star Trek 4 will see the light of day, I don't think we're done with Star Trek movies just yet.
Your Daily Blend of Entertainment News
Matt has lived in New Jersey his entire life, but commutes every day to New York City. He graduated from Rowan University and loves Marvel, Nintendo, and going on long hikes and then greatly wishing he was back indoors. Matt has been covering the entertainment industry for over two years and will fight to his dying breath that Hulk and Black Widow make a good couple.
Your Daily Blend of Entertainment News
Thank you for signing up to CinemaBlend. You will receive a verification email shortly.
There was a problem. Please refresh the page and try again.