The Lego Movie 2 Reveals Surprising Cameo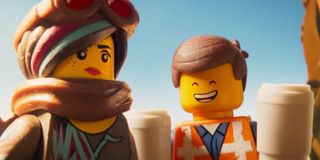 The LEGO Movie was a surprisingly fresh and fun movie that did a number of different things to keep the audience on their toes. Going into the sequel, we all fully expected The LEGO Movie 2: The Second Part to try to outdo the first outing in that regard, but one surprise appearance that was revealed over the weekend I doubt anybody saw coming. The upcoming film includes a cameo from current Supreme Court Justice Ruth Bader Ginsberg, in LEGO form.
One of the more entertaining elements of the first LEGO Movie was the way so many different characters had a chance to interact. We saw everybody from DC comics characters to Michaelangelo the Ninja Turtle to Michaelangelo the actual Rennaissance painter make an appearance. The newest trailer for The LEGO Movie 2, which debuted during the Sunday football games, shows that the new movie will follow suit, but include even more surprising cameos.
However, while many of the LEGO Movie characters appeared briefly, simply to make a joke out of their own appearance, it sounds like that won't exactly be the case for Ruth Bader Ginsberg. USA Today reveals that Ginsberg's LEGO character will have a part to play in the plot of the film. It doesn't sound like it's anything too significant, she's not the new LEGO Batman, which is unfortunate, but it's more than simply showing up as we saw in the trailer.
While Ruth Bader Ginsberg apparently did not have to record any dialogue for the film, she did give her blessing to have her likeness used in the film. LEGO Movie 2 director Mike Michell says she said it would be "cool" to become a LEGO figure.
This will mark Ruth Bader Ginsberg's second theatrical appearance of sorts in just a few months. the new film On the Basis of Sex sees Felicity Jones play the future Justice during one of her early legal battles.
Check out the character's appearance in the promo below.
As to why Ruth Bader Ginsberg was specifically chosen to make an appearance, LEGO Movie producers Phil Lord and Chris Miller have said that when figuring out what people would appear in the film, they considered people who should be immortalized in LEGO who would also be fun at weddings.
And as it happens, her appearance in The LEGO Movie 2 means that Ruth Bader Ginsberg will now become an actual LEGO minifig. She'll be one of the figures created as part of the film merchandising campaign, so if you want to put the Supreme Court Justice into your own LEGO world, that option will be available.
Just as the first LEGO Movie left us a bunch of surprises that we didn't see until the film opened, I'd expect that there will be many more cameo moments like this that we'll have to watch the movie to see. We'll have that chance when The LEGO Movie 2 The Second Part hits theaters February 8.
CinemaBlend's resident theme park junkie and amateur Disney historian. Armchair Imagineer. Epcot Stan. Future Club 33 Member.
Your Daily Blend of Entertainment News
Thank you for signing up to CinemaBlend. You will receive a verification email shortly.
There was a problem. Please refresh the page and try again.