10 Marvel Actors You'll Probably Never See In An MCU Movie After Endgame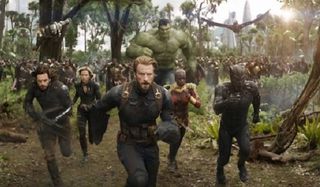 Avengers: Endgame is fast approaching, and while that's super exciting, it's also bittersweet. The MCU will change, and we're guessing a lot of actors we've grown accustomed to seeing over the past decade will no longer don their heroic roles for future films. In no particular order, here's a list of some of the actors we're guessing won't be around for Phase 4 and beyond
Robert Downey Jr.
The actor, who helped kick off the MCU with Iron Man, will likely get a send-off of some kind in Avengers: Endgame, although we're not entirely sure what will happen. That said, Endgame will probably bring a permanent end to Robert Downey Jr.'s Tony Stark considering his contract is up and he hasn't been cheap to bring on these past few adventures.
Killing Iron Man seems like the obvious way to write off Robert Downey Jr., and it would be a callback to the hero almost sacrificing his life to save the world in The Avengers. If Stark doesn't die, he must be somewhere far removed from his superhero life, as he hasn't been spotted in any Spider-Man: Far From Home footage just yet. Nick Fury stepping in to instruct the young hero may mean Stark's not doing the job anymore, so what happened?
Jeremy Renner
Of all the main Avengers who won't be in another MCU movie following Avengers: Endgame, Hawkeye seems like the safest bet. Jeremy Renner's character hasn't been a major fixture in the MCU in general, and he was nowhere to be found throughout the events of Avengers: Infinity War. Renner has expressed interest in a standalone Hawkeye movie, but warned it'd have to happen sooner than later due to his increasing age.
Marvel doesn't seem to be interested in making a Hawkeye movie, however, so his last hurrah might be coming in Avengers: Endgame. If that's true, it could be as good of a send off as any, as the hero has donned the identity of Ronin and could be getting his most meaningful story arc to date. Hawkeye could die, but given that he's known to hang out with his family and skip out on adventures, he may just retire.
Tom Hiddleston
Tom Hiddleston's Loki died in Avengers: Infinity War, and while some have been skeptical on whether or not this death will stick, there's evidence that says it might. For starters, rumors surrounding Loki's upcoming Disney+ series have mentioned Hiddleston will not be the star of the series, and may have a lesser role as a narrator. There's also a rumor this tale follows a young Loki, which means the villain may be recast.
If that's the case, there's a good chance that Avengers: Endgame won't feature Loki showcasing how he managed to cheat death once again. Unless his cheating death involved reincarnating into a child, of course, which has happened before. In either case, Hiddleston can't play an age as low as Kid Loki, so his time in the MCU is likely up if these rumors hold true.
Mark Ruffalo
The Hulk has been one of the most exciting MCU characters to date, so it's a shame Marvel hasn't gotten to utilize the character as much as it would've liked. Despite that, Mark Ruffalo revealed that Kevin Feige approached him about creating a story arc for the character that began in Thor: Ragnarok, and ends in Avengers: Endgame. That would seemingly be a good place to end the character's run, especially given Ruffalo's contract is up soon.
With that said, it's interesting to think of what the final part of Hulk's character arc may be. Thor: Ragnarok established Hulk as a separate person and Avengers: Infinity War showed Bruce stepping up to fight when Hulk was too afraid. Avengers: Endgame might see the merging of the two personalities into Professor Hulk, which would may keep the character alive, but keep Ruffalo off-screen. Hulk could also die, although we're hoping Marvel won't "smash" our hearts like that.
Peter Dinklage
Peter Dinklage appearing as Eitri was a surprise to many during Avengers: Infinity War, and it's likely he won't be seen beyond Avengers: Endgame if he's seen there at all. This is especially true if Chris Hemsworth is done as Thor, as Eitri's appearances are mostly tied to the God of Thunder's neck of the woods.
With that said, it would be great to see Peter Dinklage return to the MCU in another role, as he was brilliant in X-Men: Days of Future Past. Audiences pushed for him to play M.O.D.O.K. for a long time, although no concrete plans were ever made for that to happen. His appearance in the MCU as Eitri makes the odds of him appearing as anyone new far less likely, so perhaps fans should just be happy with what they got.
Benicio Del Toro
Benicio Del Toro's The Collector may be a smash hit at theme parks, but he's a little more obscure in the world of the MCU. He made brief appearances in Thor: The Dark World, Guardians of the Galaxy, and Avengers: Infinity War, and hasn't been a huge player. Plus, it looked like Thanos killed him in Infinity War, despite Del Toro's statements that Collector survived the encounter.
Quite frankly, there doesn't seem to be a lot of reason why Marvel would choose to keep The Collector alive. For that reason, I'm more inclined to believe Thanos killed the character, and Benicio Del Toro was confused or just making a joke when he made the statement.
Chris Hemsworth
Yes, it does appear that the MCU is losing its resident dream boat actor. What's worse is that it seems to be happening right as the MCU found a cool direction for Thor, which could be coming to an end in Avengers: Endgame. This is mainly due to his contract being up at the film's conclusion, meaning he might want to move on to other things that don't involve playing the God of Thunder.
With that said, director Taika Waititi could rope him back in to doing another Thor film. After all, Thor: Ragnarok was heralded as the best of the Thor franchise, so it wouldn't be surprising if Waititi could rope the hero back in for one final adventure just for the fun of it. Of course, Avengers: Endgame may make that impossible, so perhaps it's best to wait for the movie before speculating too much on Thor's next adventure.
Gwyneth Paltrow
If Robert Downey Jr. is out as Tony Stark in the MCU, it makes little sense to keep Gwyneth Paltrow involved as Pepper Potts. She will be missed in her portrayal as Tony's better half, so hopefully her exit in Avengers: Endgame isn't her violently weeping over Tony's grave. Pepper deserves a better ending than that, right?
Perhaps Iron Man doesn't bite the dust after all, and instead he and Pepper use his massive amount of money to retire and go somewhere where they'll never be bothered by anyone ever again. That doesn't seem realistic, but it is ideal for the Marvel fan not hoping to get their hearts ripped out seeing Marvel's power couple without their better half. Ugh, just thinking about it makes my stomach hurt.
Don Cheadle
Much like how Pepper was tied to Tony, Don Cheadle's War Machine doesn't seem long for the MCU if Iron Man is out of the picture. A cameo appearance in Falcon and Winter Soldier's Disney+ series could possibly happen, but War Machine getting a standalone film or an invite to a future Marvel ensemble adventure doesn't seem likely.
Also, War Machine feels like the perfect hero who's relevant enough to kill off in Avengers: Endgame, but not so relevant that killing him has any massive implications. That's usually not a good spot to be in any film where characters are dying, so don't be surprised to see War Machine meet a violent end before Thanos is fully thwarted.
Chris Evans
This is the one most people expected to see. Sure, Chris Evans has danced back and forth on whether or not he's truly done as Captain America, but the fact is his contract is up and the character has already done so much. It feels right to give Steve Rogers a proper send off, and pass the mantle on to Falcon or Bucky to become the new Captain America in Phase 4.
With all of that said, Joe Russo has said that Captain America's job isn't done after Avengers: Endgame. Is it a fake out or are there really going to be more Captain America films on the way? That feels unlikely, but one can never truly predict everything Marvel has up its sleeve!
Avengers: Endgame hits theaters Friday, April 26, and all the world's questions about which actors are staying and leaving the MCU will probably be answered during that. For more on the upcoming superhero ensemble, check out the latest toy leak that reveals something about what one character on this list may be up to during the movie.
Your Daily Blend of Entertainment News
Mick likes good television, but also reality television. He grew up on Star Wars, DC, Marvel, and pro wrestling and loves to discuss and dissect most of it. He's been writing online for over a decade and never dreamed he'd be in the position he is today.