All The Marvel Shows Rumored To Be Heading To The Disney+ Streaming Service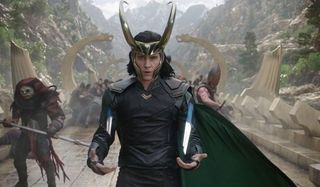 With Disney planning to launch its streaming service Disney+ at some point in the year, the world should be excited for all the exciting originals that are on the horizon. Of course, one can only get so excited when their only aware of a handful, and not the many other unconfirmed projects rumored to be in development. With that said, here are the confirmed and rumored shows chocked into one post, with some more rumors as to what they're about.
Loki
What We Know: News about Disney+'s Loki series initially leaked out, but has since been confirmed by Disney in an official press release. Bob Iger stated the series is based on the God of Mischief, and that Tom Hiddleston was on board to star. Disney labeled the project as a live-action series, although the leaked report labeled it and others as a limited series rather than ongoing.
What's Been Rumored: A popular rumor is circulating at the moment that the upcoming Disney+ series will not actually star Tom Hiddleston, but rather a younger version of Loki. Much like Jim Parsons does with Young Sheldon, Hiddleston is said to be the narrator for part of an adventure that features Loki's youth in Asgard, or possibly his new life post-death as Kid Loki.
In the first rumor, Tom Hiddleston is to split time with a younger actor and will narrate the younger portions of his life. A younger Thor is believed to make an appearance as well, as the series will encompass a tale of the Norns and Loki's attempt to save his soul from Hel. The rumor states that Karnilla and Ulik are the villains of this adventure. It's also stated Anthony Hopkins is not expected to reprise his role as Odin.
The second rumor is based on speculation that Loki was able to resurrect in the comics in the form of a young child. That child would eventually link up with the Young Avengers, who have been speculated to make an appearance in Avengers: Endgame. There are no real details as to how a series like this would play out, but Tom Hiddleston's secrecy surrounding it would make more sense if the show's concept directly involved the upcoming Avengers film.
Scarlet Witch
What We Know: The Scarlet Witch adventure is not officially confirmed by Disney, but rumors of its existence leaked out the same time as the Loki show. That could mean it's as legit as that rumor was, but nothing will be known until the House of Mouse gives the official thumbs up.
What's Been Rumored: It was revealed in December that the unconfirmed Scarlet Witch project had a title, and that Paul Bettany's Vision was going to co-star alongside her in Vision and the Scarlet Witch. The title has since been removed from the Deadline article it originated from, but the widespread reporting on it remains. Provided the title was legit, Disney may have requested its removal due to both characters' fates in Avengers: Infinity War.
Presently, there's a rumor floating around that Vision will be rebuilt in Avengers: Endgame, and the Disney+ project will revolve around Wanda attempting to make their relationship work without the Mind Stone. Apparently, that bit made Vision a lot more human, and Wanda will attempt to bring his personality back with a spell. This effort results in Vision being possessed and will lead up to an introduction of the villain Grim Reaper.
It's an oddly specific rumor, which even states that actor Dominic West is in consideration for the role of Grim Reaper. The character Agatha Harkness is also said to make an appearance, and Wanda and Vision's romantic relationship and the public's perception of it will reportedly be an underlying theme of the story. It's certainly a strange concept for a series, but remember, it's all just a rumor at the moment.
Winter Soldier and Falcon
What We Know: Disney hasn't spilled the beans on this one yet, but Variety reported that Empire writer Malcolm Spellman had been tapped to develop a limited series based on the two characters.
What Is Rumored: With Chris Evans' stint as Captain America potentially coming to an end, it's been thought that this project may result in either Winter Solider or Falcon ultimately becoming the new Captain America. That said, there's reason to doubt Evans might not be done with the role after all, which means this rumored show would cover something completely different.
Regardless of what Chris Evans has to say, there's a rumor out there that this project would feature a new Captain America, and the mantle would be handed over to John Walker. Marvel comic fans are likely familiar with that name, as Walker took the mantle in the comics and ultimately became the extremist U.S. Agent. Much like in the comics, he'll become a problem, and Winter Soldier and Falcon must reel him in.
Other characters teased for this adventure include General Ross, Nick Fury and Agent 13. Additionally, this project is said to set the stage for Phase 4 and will see a new S.H.I.E.L.D. going up against Ultimatum as opposed to HYDRA. It sounds like a good time, but fans would do well to take this information in addition to most internet rumors with a grain of salt.
Lady Sif
What We Know: In one of the more surprising rumors, it's being said that Lady Sif may be getting her own limited series. Disney and Marvel, of course, have no comment. Sif hasn't been seen in the MCU since Thor: The Dark World, but she did have a brief run on the ABC series Agents of S.H.I.E.L.D. The Russo Bros have confirmed she was snapped away by Thanos.
What Is Rumored: Discussing Film reported the alleged project was given a budget similar to that of Jon Favreau's live-action Star Wars series The Mandalorian. It's also rumored this project would allegedly have Blindspot actress Jaimie Alexander back to reprise the role of Lady Sif. While Sif is a fairly minor character in the MCU thus far, Alexander's extensive television series does make this project feel plausible.
As far as what the show may be about, a rumor surfaced the adventure will show Lady Sif teaming up with Beta Ray Bill (via We Got This Covered) and others in a fight against Enchantress. Enchantress is one of Thor's greatest enemies, so it's rather unsurprising Sif would require the aid of others in order to bring her down. If this rumor is true, this will certainly be an adventure worth recalling in the halls of Asgard.
Rocket Raccoon And Groot
What We Know: Rocket Raccoon and Groot had a series of animated shorts on Disney XD, but That Hashtag Show reported Disney+ may have plans for something bigger. The report is that the CGI'd duo are headed for their own limited series adventure, and that Bradley Cooper and Vin Diesel may be on board to lend their voices.
What Is Rumored: All of it technically, and that's also about the most exciting part as there have been no big rumors revealing what this project could be about. With that said, Rocket and Groot's relationship predates the Guardians of the Galaxy, and with both characters CGI animated, a prequel adventure isn't out of the question. There's also a chance the two have something shaking post-Avengers: Endgame, provided Groot gets brought back of course.
It's also easy to believe Disney might be looking for a way to keep the Guardians on fans' minds, what with Guardians of the Galaxy Vol. 3 indefinitely delayed. A prequel adventure with Rocket and Groot could do that, while not necessarily charting a course for the Guardians that marries them to any pathway the next film could take. With that said, would Disney really drop the money it would take to make a Rocket and Groot-based adventure?
Nebula And Gamora
What We Know: We Got This Covered has confirmed that a source close to says Disney is in the early stages of getting together a TV series centered on Gamora and Nebula. It is not known whether or not Karen Gillan or Zoe Saldana is involved.
What Is Rumored: This is one of the freshest rumors out there, and as such, there hasn't been much reported beyond the initial rumor. With that said, the points brought up in the rumored Rocket and Groot series still stand here, and it's very possible Disney is looking to use these characters to continue the Guardians franchise while it figures out what to do with Guardians of the Galaxy 3. Provided Avengers: Endgame brings back Gamora, this one feels possible.
Nick Fury
What We Know: News that Disney+ was eyeing a Nick Fury limited series came from MCU Cosmic, which admitted the series is still in rumor territory and not a sure thing.
What Is Rumored: No reported story details have surfaced about this potential project, but with Captain Marvel proving it has the technology to de-age Samuel L. Jackson, it feels as though the sky is the limit for possibilities. A limited series could feature Nick Fury's past, present or future, and fans would in all likelihood be here for it provided Samuel L. Jackson is on board.
Hawkeye
What We Know: The Hawkeye Disney+ project reportedly started out as a movie idea, according to MCU Cosmic, but is now in "some stage" of development in what could end up being a limited series.
What Is Rumored: This Hawkeye project is supposedly going to chronicle the hero's journey as he trains a younger archer to be the new Hawkeye. This is interesting considering the rumors that Avengers newcomer Katherine Langford is playing Kate Bishop in Avengers: Endgame, although that itself is far from a sure thing. Additionally, Clint Barton will apparently take up the mantle of Ronin in the new adventure, which may mean his Hawkeye persona is up for grabs.
Disney+ is scheduled to launch in 2019, and when it does, who knows what rumored Marvel shows on this list or off will be confirmed? CinemaBlend will, of course, be the place to look for said confirmation, so be sure to keep up on our latest television news and see what's coming to television in 2019 with our midseason premiere guide.
Your Daily Blend of Entertainment News
Mick likes good television, but also reality television. He grew up on Star Wars, DC, Marvel, and pro wrestling and loves to discuss and dissect most of it. He's been writing online for over a decade and never dreamed he'd be in the position he is today.