No, We Don't Need A Tom Brady Biopic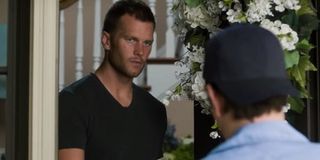 The Super Bowl has come and gone, and the New England Patriots are six-time champions thanks largely to the efforts of one man. It's hard to dispute at this point Tom Brady is the G.O.A.T. of the NFL, and he should get all the acclaim in the world for the things he's accomplished through his career. With that said, a biopic is not the way to immortalize this man's greatness and should absolutely never happen.
I bring this up because months before the Super Bowl, when it seemed as though the Patriots may not make the big show, the idea was first floated by the athlete. Tom Brady was asked during a radio interview who would play him in a movie about him, and without missing a beat, Brady had his answer. The quarterback revealed (via NESN) that if he had to choose an actor to play him, it would be "Boston Legend" Mark Wahlberg.
He may be one of the greatest ever to play the game, but Tom Brady is bad at casting. Beyond the fact that Brady himself is from California and isn't a Boston native, most people would agree the two look nothing alike. Additionally, Wahlberg is six years older, so he seems like a weird pick in general. Is Brady that eager to repay the favor for his cameo in Ted 2, or was he just giving a shout-out?
No one, Patriots fan or not, wants the answer to that question. Sure, doing a film about one of the greatest athletes to play the game sounds good on paper, but making one in practice would be difficult. For starters, a living legend like Tom Brady would likely want some creative input, which could lead to suggestions like the one above. A couple more suggestions like that, and a studio would prepare for a box office bomb opening weekend.
There's also the issue of what to cover, as Tom Brady's career from college to the present is long and spread out. Trying to tell his story from his draft in the sixth round to the present would be near impossible, or result in a movie that only lightly touches on pivotal moments of his career. It would feel rushed and frankly not service the full story behind the quarterback's career in a way satisfying to fans and critics.
Additionally, most of Tom Brady's greatest moments have happened in games, and while movies have perfected the art of capturing some things on film, there's room for improvement in regards to American Football. Sure, Friday Night Lights and Remember The Titans have told emotional stories, but the look and feel of NFL Football on the big screen is still something to be desired. If a story about Tom Brady would be told, it couldn't take place entirely on the field.
Which is where the problems of a Tom Brady biopic really starts to show. Brady is a tremendous athlete and an inspirational figure, but his life and personality don't really measure up to others who have gotten biopics. That's not to say Brady hasn't faced hardship and lacks charisma, but when he's going up against sports cinematic classics like The Blind Side, Rudy or the multitude of classic boxing films, nearly missing the NFL draft doesn't seem like a huge deal.
With that said, there is definitely one well-publicized and riveting off-the-field event from Tom Brady's career that some in Hollywood have deemed screen-worthy. While no news on that project has surfaced as of late, there's no denying that plenty of sports fans will continue to debate the relevance of Deflategate, and whether or not it tarnishes Brady's career for years to come. It's the most significant controversy of his, and a film about it would have a lot of people talking.
With that said, that subject feels like appropriate for a documentary than a feature film. The prospect of whether or not Tom Brady requested footballs below regulation is interesting, but his reaction or actions throughout the process aren't. Sure, him winning the Super Bowl the same season he served his suspension was cool, but again, how does one capture that in a movie?
Plus, let's not forget that a movie about Deflategate or one that referenced it runs the risk of dividing audiences one way or another. Those who dislike Brady will want strong implications that he did it, while New England fans want the narrative pushed that the NFL pushed a false narrative after it took the situation too far. One side is going to be pissed either way, which would ultimately keep some audiences from showing at the box office.
Which leads into another audience splitting problem with a Tom Brady movie: not everyone likes him. Brady's success in the AFC has made him a villain in the eyes of fans whose teams were denied Super Bowl greatness and for those who view his achievements as the product of the Patriots' great system or a weak division. Talk to any Peyton Manning fan and they can run down the full list of reasons Brady is overrated without fail.
Does this mean Tom Brady can't have a movie ever? Of course not, but it's really hard to see a biopic about him seeing successful in the near future. That said, perhaps he could get the Space Jam treatment and be the guy that brings that ushers in a shared Looney Tunes cinematic universe. A story about his life doesn't seem like the right play for any studio to invest in, especially if Brady's adamant on Mark Wahlberg being attached.
For now, New England Patriots fans will have to satisfy their urge to see Touchdown Tom on television, and haters will continue to wonder when the fateful day of his retirement finally comes. In the meantime, both parties can unite in their love of football and read up on how Maroon 5's Super Bowl performance was eviscerated online or check out the top commercials of the night.
Mick likes good television, but also reality television. He grew up on Star Wars, DC, Marvel, and pro wrestling and loves to discuss and dissect most of it. He's been writing online for over a decade and never dreamed he'd be in the position he is today.
Your Daily Blend of Entertainment News
Thank you for signing up to CinemaBlend. You will receive a verification email shortly.
There was a problem. Please refresh the page and try again.