5 Times Tom Brady Guest Starred On TV Shows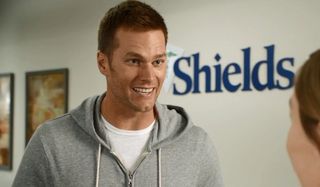 Whether you love him or hate him, Tom Brady is best known as one of the most successful quarterbacks to have ever played the game of football. As such, the athlete has gotten the honor of appearing in a handful of television shows. Brady has appeared in both live-action and animation over the years. Check out some of his more notable appearances on television throughout the years outside of the world of football:
Entourage
Entourage creator and actor Mark Wahlberg is a huge fan of the New England Patriots, so its no surprise he rang up Tom Brady for an appearance on the star-studded series. What is surprising, however, is that Brady's episode, "Fore," was actually written for two of his biggest football rivals, quarterbacks Peyton and Eli Manning. When the Manning brothers had to back out last minute, Brady was there to step in after a few quick rewrites.
Tom Brady's Entourage episode might have been better than whatever was planned for the Mannings, as it opened up a hilarious plotline between Brady and the die-hard New York sports fan Turtle. Turtle, excited to tell Tom Brady what he really thought of him, is made to feel a bit awkward when Brady cuts him off and invites him and his girlfriend to his house for dinner. Brady enjoyed his time on the show so much he turned back up for the movie in a brief but memorable cameo. Whether or not he enjoyed being in the film as much as teammate Rob Gronkowski is up for debate.
The Simpsons
The Simpsons has mentioned Tom Brady many times throughout the years, which isn't too surprising considering the show has covered nearly everything in its long run on television. While Tom Brady and references to the New England Patriots have appeared frequently in the series, Brady has only voiced himself in one episode. Brady's Simpsons cameo came in the episode "Homer and Ned's Hail Mary Pass," where the quarterback and other famous athletes sought out Homer Simpson for his dancing skills.
Brady wasn't the only professional athlete featured in The Simpsons' episode, as he was joined by Lebron James, Yao Ming, Michelle Kwan, and Warren Sapp. The all-star team aided Homer and Ned Flanders in a Super Bowl halftime show of biblical proportions. Beyond that episode, the animated series has made other references to Brady and the New England Patriots. In fact, the show has captured the portrayal of Brady and the team in other ways that don't require his voice. Here's one example:
Saturday Night Live
Athletes hosting Saturday Night Live can be hit or miss, and Tom Brady's performance is no exception. Brady was hot off his third Super Bowl win at the time, and while he was used to football's big show at this point, sketch comedy was another story. Many of those who love Tom Brady love the episode, and those who don't have plenty of ammunition to rip this one to shreds.
That said, the episode has its moments. Brady's sexual harassment PSA sketch is still one that's often talked about, although nowadays it may be a little more off-color than it was back in 2005. Even if his Saturday Night Live episode wasn't the greatest, surely even Tom Brady would concede it wasn't the worst thing New York has put him through. It's worth mentioning that since his initial hosting, the host has not returned to the series following other Super Bowl wins. That's probably for the best, as there's no telling how bad New York Giants fans would taunt him now if he ever showed his face again on the show.
Family Guy
Seth MacFarlane has never confirmed whether or not he's a big fan of the New England Patriots, but he sure seems to be a fan of Tom Brady. Macfarlane (who was raised in the New England area) featured Brady in Ted 2 and has referenced the athlete a fair number of times in his animated series Family Guy. Brady voiced himself in the episode "Patriot Games," which saw the quarterback become teammates with Peter Griffin for a short while.
Tom Brady and Peter Griffin's time as teammates didn't last long as the fame quickly went to Peter's head. Eventually, Peter got traded to a fictional team, the London Sillinannies, who were the only team that would take him after his shenanigans. Angered by the trade, Peter challenged the Patriots to a football game only to lose when the rest of his team fled the matchup out of fear. Though he lost, Peter won the respect of Brady and the Patriots, who commended him for taking on the team alone. Beyond that episode, Brady gets some love from the series from time to time.
Huang's World
Tom Brady is in such good shape that he seems like a genetic oddity. The quarterback looks better at 40-years-old than most adults do in their late 20s, and a lot of his health can be attributed to the diet and training regimen he's crafted over the years. When Brady recently started hawking his diet and training regimen to the masses, Huang's World host Eddie Huang saw the perfect opportunity for the two to cross-promote when he filmed an episode for his food-related Viceland show titled "Cape Cod."
The interaction between Tom Brady and Eddie Huang is a bit weird, to say the least. Things kicked off with a joke when Huang showed up to Brady's training facility wearing a Washington Redskins jersey. Strike two came when Huang referred to Brady's book (The TB12 Method (opens in new tab)) as a cookbook, after which Brady corrected with a bit of an edge in his voice. The first two violations could be seen as innocent, but when Huang made sure to use the word "deflated" in reference to his own body (which was an obvious nod to a past controversy between Brady and the NFL), the Huang's World crew didn't hang out much longer. To his credit, if Brady was bothered by any of that, he took it all in good humor and even took part in a humorous bit that went on throughout the episode, so maybe it was all in good fun.
Tom Brady competes in Super Bowl LII Sunday, February 4 at 6:30 p.m. ET. For a list of upcoming programming in 2018, visit our midseason premiere guide.
Mick likes good television, but also reality television. He grew up on Star Wars, DC, Marvel, and pro wrestling and loves to discuss and dissect most of it. He's been writing online for over a decade and never dreamed he'd be in the position he is today.
Your Daily Blend of Entertainment News
Thank you for signing up to CinemaBlend. You will receive a verification email shortly.
There was a problem. Please refresh the page and try again.