Star Wars: Galaxy's Edge Is Going To Be So Big Disney Isn't Even Bothering To Market It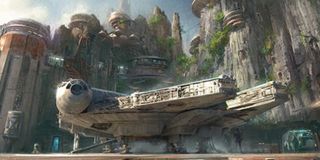 Star Wars: Galaxy's Edge will be opening very soon at two different Disney Parks, but don't actually expect to hear much about it from Disney. The fact of the matter is that everybody already knows that Galaxy's Edge is coming and the company knows that the minute an official opening date is announced, everybody will know that too, so Disney won't need to spend a lot of money promoting the fact. When asked during a recent earnings call what sort of expenditures were expected in advance of the new land's opening, Disney CEO Bob Iger said not to expect much, because spending a lot of money won't be necessary. According to Iger...
When ever Disney Parks opens something new there is usually a pretty big marketing push. You see commercials for a new attraction or land on TV or online and, as I live in California, I frequently drive by billboards advertising the newest thing that Disneyland has going on. While there will almost certainly be some of that still happening when Star Wars: Galaxy's Edge opens at both Disneyland and Walt Disney World later this year, it might not happen as much as it has in the past.
To be fair, Bob Iger isn't wrong. This is very much a "if you build it, they will come" sort of situation. Most everybody who cares already knows that Galaxy's Edge is coming. Many are probably already waiting to make their hotel reservations, all they need are the specific dates the new land will be opening in order to know when to book the room.
Disney almost certainly already has internal estimates regarding how many people the company expects will show up when Star Wars: Galaxy's Edge opens. If those numbers are anything close to the 150,000-200,000 that independent organizations are pegging for opening day at Disneyland, then saying the new land doesn't need to be marketed is an understatement. Considering that about half that many people can actually fit inside the park, what's the point in promoting the land's opening and drawing in even more people who won't be able to get in? All Disney will accomplish is making people mad.
Besides, you don't really need to spend your own money when others will do the work of promotion for you. Bob Iger goes on in the Disney's Q1 FY19 Earnings Results Conference Call to say that the new lands at Disneyland and Walt Disney World will be so impressive that the word of mouth and the media coverage of them will go a long way in promoting the land for them.
Of course, when you're talking about Disney, one of the biggest companies in the world, what constitutes a "really low" budget will probably still exceed the gross domestic product of a small nation. Millions will almost certainly still be spent, it may just be fewer millions than was spent to promote, say, Toy Story Land which opened at Walt Disney World last year.
For the people who are going to take a "wait and see" approach, Star Wars: Galaxy's Edge has to be able to deliver on everything that it promises, but Bob Iger seems to have no worries that it will.
Iger calls the new lands "innovative" and while we likely haven't seen everything that he's talking about, some details have emerged. We know that actions taken inside attractions like Millennium Falcon: Smuggler's Run can potentially impact the way guests are treated in other parts of the land. The planet of Batuu which is where Galaxy's Edge is set, is going to be its own part of the larger Star Wars universe and tell a story all its own, something now theme park has really tried before.
Disney Parks is so committed to this idea that the only merchandise that is expected to be available will be the sorts of things that alien merchants might sell, rather than the traditional Star Wars branded merchandise that you would otherwise expect.
Star Wars is one of the most popular franchises in the world and the fact is that if tickets went on sale for Episode IX right now they would likely set pre-sale records even though no trailer has ever been released and we don't even know the full title of the movie.
Star Wars: Galaxy's Edge is set to open at Disneyland this summer with a nearly identical land opening at Disney's Hollywood Studios inside Walt Disney World in the fall. Once they do open, you can expect them to be the most popular parts of their respective resorts for probably years to come. As each new group of tourists arrives, they'll want to be sure to experience the land, keeping those lines long for the foreseeable future.
Considering that the line for Flight of Passage, the most popular ride in the Pandora - World of Avatar land at Disney's Animal Kingdom still sees wait times an excess of two hours or more almost two years later, Star Wars won't have any problem matching that and will likely exceed it. The only real question is when the crowds at Galaxy's Edge will shrink down from "ludicrous" to simply "nuts."
It will be interesting to see just how true this apparent new edict from Bob Iger turns out to be. Will we see noticeably less advertising from Disney Parks in advance of Star Wars: Galaxy's Edge? It will certainly be telling if we do, and while not every property might be as successful trying something like that, it could be one aspect of a changing future in the age of instant word of mouth.
Your Daily Blend of Entertainment News
Content Producer/Theme Park Beat
CinemaBlend's resident theme park junkie and amateur Disney historian. Armchair Imagineer. Epcot Stan. Future Club 33 Member.