The 10 Greatest Rap Songs Created For Movies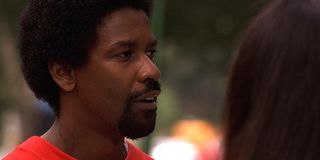 People may not initially tie the world of cinema and hip hop together, unless of course they're thinking of the various hip hop icons who have transitioned into the genre as actors. Despite the disconnect, hip hop and movies have gone together for quite some time and have given some great songs to the world. No, we're not talking about Eminem's "Venom" or that line in the song he dedicated to getting high off the scent of elephant manure.
Instead, we're talking about the 10 greatest rap songs that have been created for movies. Each song on this list is special in its own way and helped make the movie it was made for that much better. Listed in chronological order, here's the breakdown of the best hip hop songs to have come from movies over the years.
Teenage Mutant Ninja Turtles II- "Ninja Rap"
There isn't a lot to love about Teenage Mutant Ninja Turtles II: The Secret Of The Ooze, but that Vanilla Ice cameo was pretty sweet. Those who say the rapper was a one-hit wonder clearly forgot about his rap about the green machine, who's going to rock the town without being seen. If you're looking for a song that perfectly encapsulates the fun and sillier side of early 90s rap, this is it.
Deep Cover- "Deep Cover"
This Laurence Fishburne and Jeff Goldblum drama was a fun ride from start to finish, and the theme song that accompanies it is an added bonus that's been enjoyed long after the film. "Deep Cover" remains relevant in the hip hop world to this day not just because it's a good song, but it was Dr. Dre's solo debut and the first song from a relatively unknown rapper at the time, Snoop Dogg.
Dangerous Minds- "Gangsta's Paradise"
Fun fact, "Gangsta's Paradise" was originally eyed by the film Bad Boys to be its title track. Coolio told Rolling Stone Dangerous Minds offered more money, so the rights went to it. The move to Dangerous Minds wasn't all bad, as one of the film's producers ended up shooting the music video with Coolio and Michelle Pfeiffer. That producer was Antoine Fuqua who, as many may know, has since moved on to directing much bigger productions.
Space Jam- "Space Jam"
Quad City DJ's were riding high in the mid-'90s, and the success of "C'mon And Ride It (The Train)" got them on Warner Bros. radar. According to Spin, the artists weren't given any instruction beyond the song be "high octane" and mention Space Jam in the title. Suffice to say, the crew delivered in spades. Lemonhead later admitted he never saw the movie in theaters, making it the one film they contributed to he missed. That's looney.
Men In Black- "Men In Black"
Will Smith has done many songs over his career for things he's appeared in, and while "The Fresh Prince Of Bel-Air," may be his finest work, this is a close second. The song was Smith's first single that didn't include DJ Jazzy Jeff, and ended up being a track he included on his solo album Big Willie Style. It also has a catchy beat and easy to follow dance instructions, and who doesn't love that?
Bulworth- "Ghetto Supastar"
How many album covers of singles feature Warren Beatty in urbanwear next to Pras Michel in a three-piece suit? Just one, and what a glorious picture (opens in new tab) it is for a weird film like Bulworth. The song was featured on the film's soundtrack, and has become a classic arguably more noteworthy today than the film. Perhaps if Bulworth had won one of its three Oscar nominations it was up for that year, it would've been a different story.
He Got Game- "He Got Game"
This is perhaps the best film and hip hop combo on the list, as Spike Lee's basketball drama mixed with Public Enemy over a sample of Buffalo Springfield's "For What It's Worth" is something special. It's all elevated by phenomenal performances by Denzel Washington and former NBA superstar Ray Allen. In fact, it wouldn't be crazy to argue that Allen delivered the best on-screen performance of any NBA star prior and since then.
8 Mile- "Lose Yourself"
Even if his Venom track may be lackluster, there's no denying that Eminem has contributed one of the most popular rap songs and best rap films of all time. "Lose Yourself" is viewed as one of the rapper's greatest songs, and it pairs wonderfully with the movie loosely based on his time as an up and coming MC in Detroit. Also, some respect is due to the first hip hop song to ever get an Oscar.
Hustle & Flow- "It's Hard Out Here For A Pimp"
Eminem might've had the first rap song to be given an Oscar, but Three 6 Mafia managed to top him with one better. Their song "It's Hard Out Here For A Pimp" for Hustle & Flow also got the award, and was the first hip hop song to have ever been performed during the ceremony. Considering the other great songs that are on this list, that's kind of hard to believe.
Suicide Squad- "Purple Lamborghini"
One may not immediately remember Suicide Squad has a rap theme song, mainly because there's so much music in it to begin with. Rick Ross' song can be heard during the club scene, where Jared Leto's twisted and only briefly seen Joker is hanging out in the club. The song also got a music video, which will give fans of this film some additional scenes with Leto's Joker they may have felt robbed of.
Readers with songs they loved that they felt should've been included in the list can feel free to sound off in the comments. After all there's a surprising amount of songs beyond this list, many of which just barely missed the mark for appearing. For more on music in films, read up on James Wan's reasoning for including a Pitbull song in the midst of Aquaman.
Your Daily Blend of Entertainment News
Mick likes good television, but also reality television. He grew up on Star Wars, DC, Marvel, and pro wrestling and loves to discuss and dissect most of it. He's been writing online for over a decade and never dreamed he'd be in the position he is today.
Your Daily Blend of Entertainment News
Thank you for signing up to CinemaBlend. You will receive a verification email shortly.
There was a problem. Please refresh the page and try again.