Deadpool Creator Rob Liefeld Isn't A Fan Of The Wolverine Casting Rumors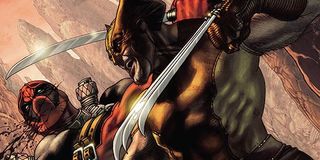 Sooner or later there will be a new Wolverine. That much is certain now that Hugh Jackman is done and the X-Men are almost assuredly bound for the MCU. Who will play Logan next is sure to be a point of rampant speculation and civil internet discussion, with everyone having their own opinion on the matter. Deadpool creator Rob Liefeld for one won't be happy if the recent rumors about the next Wolverine wind up being true. Take a look.
Well, consider Rob Liefeld not a fan of the whole Harry Potter actor Daniel Radcliffe as the new Wolverine idea. In fact, he seems like he'd prefer to cast Avada Kedavra on the whole thing and then obliviate himself to forget he ever heard it. He doesn't like the idea of Zac Efron in the role either, even if he has the muscles for it.
Rob Liefeld instead seems to prefer an unknown be cast as the next Wolverine, as was the case when Hugh Jackman took on the role. Hugh Jackman's credits were quite limited prior to his casting in 2000's X-Men and he was an unknown to most audiences. He still faced backlash for not looking the part, but we all saw how he became Wolverine.
In his tweet, Rob Liefeld inadvertently touches on something that any name actor will face when taking on the role of Wolverine. Hugh Jackman faced an uphill battle to win over fickle comic book fans who knew that Wolverine is 5'3", not 6'1", but he didn't have any established image in audiences' head either. Daniel Radcliffe is already primarily known for one massive franchise and that's probably how Rob Liefeld sees him.
Daniel Radcliffe and Zac Efron can certainly break out of their signature roles or types, but you can understand Rob Liefeld's argument that the next Wolverine ought to be an unknown so they can come in with a blank slate. That person can then have the best chance at being Wolverine in the way that Hugh Jackman was.
Rob Liefeld doesn't touch on any qualities that he would like the next Wolverine to have, but he wants him to be an unknown. Of course Rob Liefeld has little to worry about now, since the discussion around Daniel Radcliffe and Zac Efron in the role doesn't seem to be based on any real evidence. It is simply rumor that has served as fodder for fan discussion.
The Daniel Radcliffe rumor started when the actor jokingly said in an interview that he is the next Wolverine. This naturally started the rumor mill for people who didn't know the context and it resulted in some admittedly, pretty compelling fan art. The actor has since affirmed that it was just a joke.
While Daniel Radcliffe is not the new Wolverine, at least not yet, someone will have to wear the claws at some point. It could be a while before we find out whom though because there is not public ETA for the X-Men joining the MCU.
Personally, I'm not adamantly against the idea of Radcliffe or Efron as Logan, but I think that even if Marvel wants to go younger, they both look a little too young, though their height is right. I tend to agree with Rob Liefeld though that an unknown would be the best option if Marvel can find someone right for the role.
Let us know what you think in the poll below and check out our 2019 release schedule to see all the biggest movies you can look forward to this year.
This poll is no longer available.
Nick grew up in Maryland has degrees in Film Studies and Communications. His life goal is to walk the earth, meet people and get into adventures. He's also still looking for The Adventures of Pete and Pete season 3 on DVD if anyone has a lead.
Your Daily Blend of Entertainment News
Thank you for signing up to CinemaBlend. You will receive a verification email shortly.
There was a problem. Please refresh the page and try again.