7 Most Fierce Female Superheroes In Movies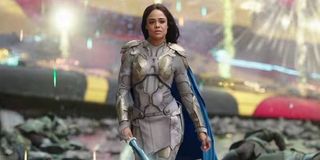 As Marvel appears primed to tentpole its Phase 4 around Captain Marvel, it feels as though female heroes are finally getting their due on the silver screen. However, that's not to say things only started now, as there's been plenty of great female heroes on screen over the years that have undoubtedly led to Hollywood making hero films less of a boys club. In no particular order, here's some of the fiercest female superheroes we feel deserve a shout-out.
Black Widow
A spy-turned-S.H.I.E.L.D. agent-turned-founding member of The Avengers, Natasha Romanoff's significance could easily be forgotten in films that feature Iron Man and Captain America. With that said, Marvel has always made a point to give Black Widow a purpose in each of her appearances, and Scarlett Johansson has done a good enough job with her role to the point fans are eager for more.
Marvel's been trying to oblige, and has had a Black Widow standalone film in development for some time. The latest word is that the script is getting a re-write, which may leave audiences waiting longer for a feature that highlights this wonderful character. At least they have Avengers: Endgame to look forward to, which may tease some of what's in store for the hero going forward.
Storm
Halle Berry's Storm wasn't front and center in any of the X-Men films, but damn did she manage to make her screen time count. The film franchise may not have gotten every mutant right, but it's safe to say they managed to get the look and immense power of Storm down rather well. Plus, that scene where she electrocuted Toad is still features one of the more badass lines in superhero cinematic history.
Storm wasn't on the level of Jean Grey in the X-Men films, but she was a solid team player with great moments throughout the franchise. That's not bad considering Rogue even managed to get a larger story arc than Storm, and folks still tend to remember Berry's standout performance.
Wonder Woman
There's a good chance Captain Marvel will build a massive following as one of the new faces of the MCU (on top of her existing fans, of course), but credit is due to the superhero film that proved female-driven hero films are viable money makers. Gal Gadot's Wonder Woman was strong evidence that audiences responded to more inclusive hero films, especially ones that do very little different than features that star a male hero.
It also helps that Gal Gadot is one of the better representations of a superhero we've seen in this modern era, and is equally as badass in real life is she is on screen. She'll have to stay that way for some time, as director/writer Patty Jenkins is already planning for her to do another film after Wonder Woman 1984. Who would've thought five years agom Wonder Woman could end up a trilogy while DC still struggles with Batman?
Wasp
Not that it's a really high bar to set, but Hope Van Dyne's Wasp is far more badass than Scott Lang's Ant-Man. Those who weren't convinced of that in Ant-Man were surely swayed in Ant-Man and the Wasp, which really showcased how awesome the character really is.
Hopefully the MCU will show more Ant-Man adventures with Evangeline Lilly's character in the future, assuming of course she's brought back to life at the end of Avengers: Endgame. That's also provided Marvel has plans for another Ant-Man, although Michael Douglas has us somewhat optimistic we'll get to see Wasp back in action yet again.
Gamora
Really, when it comes down to it, Gamora is the most capable member of the Guardians of the Galaxy. Compared to the rest of the Guardians, she's levels above all of them in just about every category there is in battle. That's not too surprising given her upbringing by Thanos, whose connection is really the only discernible weakness she has.
Unfortunately, that connection ultimately led to her death in Avengers: Infinity War, and while there's a solid shot the snapped Avengers will return, her future in the Marvel universe remains uncertain. That said, crazier things have happened in the Marvel comics, so it's not so crazy to believe Gamora's death will be reversed at some point in the distant future. We hope so anyway, because the Guardians would have a hard time getting anything done without her!
Valkyrie
Tessa Thompson's Valkyrie had fans really excited after her introduction in Thor: Ragnarok, and then confused post-Avengers: Infinity War. Audiences had only just gotten a taste of what she could do, and then it seemed she was all but forgotten the next time she could've appeared. Does this mean Valkyrie is done, and audiences will be robbed of seeing her more interesting powers (such as being able to travel to the realm of the dead) from the comics?
It's possible, although leaks make it seem as though Valkyrie is a strong candidate to appear in Avengers: Endgame. That's not surprising considering Joe Russo made a point to mention she escaped Thanos along with half of the other Asgardians. It's possible we'll see what became of all of them, and maybe even get to see Valkyrie take a trip to the realm of the dead? That could be a handy way to bring back a character who died pre-snap!
Hit-Girl
Who doesn't love Hit-Girl? The tough-as-nails young heroine gave fans quite the jolt with her rough language and her violent style in Kick-Ass, but it's safe to say it was a refreshing jolt. especially in 2010. It's surprising not many superhero films since have tried to replicate the angle, although doing so would mean finding another character that's similar to the original character.
Which isn't all that easy to do, obviously, as Dafne Keen's X-23 has only sort of lived up to the mantle of badass hero girl in the time since. It's still not quite as good as the standard set by Chloë Grace Moretz, who really brought her comic book character to life with her portrayal.
Is there a female superhero from the movies who was left off this list that needs to be included? Be sure to add a suggestion in the comments below, and get hyped for Captain Marvel to arrive in theaters March 8. For more on the upcoming adventure, check out a clip of Carol and Jude Law's character going head to head.
Mick likes good television, but also reality television. He grew up on Star Wars, DC, Marvel, and pro wrestling and loves to discuss and dissect most of it. He's been writing online for over a decade and never dreamed he'd be in the position he is today.
Your Daily Blend of Entertainment News
Thank you for signing up to CinemaBlend. You will receive a verification email shortly.
There was a problem. Please refresh the page and try again.