Brie Larson Had To Work On Her 'Cool' Face For Captain Marvel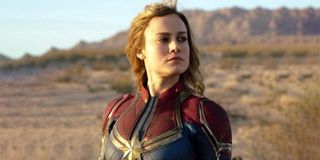 It took a lot for Room actress Brie Larson to become Captain Marvel. We've seen the posts of the months of workouts the actress accomplished to get into shape. However, it takes more than heavy lifting and donning an expensive suit in order to truly become the types of heroes we've come to expect in the MCU. Recently, Brie Larson revealed she actually had to train to learn what she dubs Carol Danvers' "cool face."
During a recent visit to Jimmy Kimmel Live, the actress revealed that she actually worked with the stunt coordinators on Captain Marvel's stances. There are moments we see the character in trailers and in posters looking extremely fierce, moments that did not come naturally to Brie Larson, who revealed her "cool face" was just one of "tons of things" she had to learn in order to play the character. She said:
In particular, Brie Larson mentions a scene that fans of the movie have already seen in the trailers. She said the scene is hard to miss because her hair is on fire and she looks somewhat otherworldly, but that it took a long time before she got to that point with the coordinators on set.
In fact, she even showed Kimmel what her original face looked like while she was practicing. Long story short, it's easy to see why her "cool face" ended up being something Brie Larson really had to work at to play the iconic character.
I mean, that's cute, but it's not exactly as worldly and wary as the look she ultimately gives, a look that's been splashed all over the marketing for Captain Marvel.
Millions of dollars are bandied about to make movies like Captain Marvel a reality. So while in some ways it's ridiculous to think about someone being at their job and being told they need to work on their "cool face," in other ways, we totally wouldn't buy Brie Larson looking wide-eyed and amused at the camera.
Studios really need to get these details right in order to sell a character to the audience and I suppose I'm as thankful that Brie Larson practiced this as much as she did myriad lunges and squats.
We won't have too much longer to wait and see if Captain Marvel is all that and a bag of potato chips. (Feel free to insert another nineties phrase if you have a better one.) The new MCU movie officially hits theaters on March 8, 2019. You can see the full list of all of the other fine movies hitting theaters in 2019 with CinemaBlend's release schedule or check out what reviews are saying about the flick.
Your Daily Blend of Entertainment News
Reality TV fan with a pinch of Disney fairy dust thrown in. Theme park junkie. If you've created a rom-com I've probably watched it.