Chris Evans' Marvel Characters Combine In Epic Image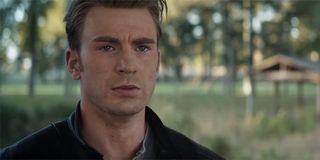 Given how totally and completely Chris Evans has become Captain America in the Marvel Cinematic Universe over the near decade he has played him, it would be easy to forget that Steve Rogers is not the actor's first superhero role. That was as Johnny Storm in Fox's Fantastic Four films. With those films, 21st Century Fox and the Fantastic Four now all under the Disney banner, some new fan art has combined Chris Evans' two superhero roles into one epic image.
As if Captain America didn't look badass enough already, setting him ablaze certainly does the trick. Johnny Rogers or Steve Storm (yeah, definitely that one, alliteration is a hallmark of superhero naming convention) has all the steely resolve of Cap and all the fiery intensity of the Human Torch.
Cap is already pretty darn formidable in his own right, but you give him the fire manipulation and flight powers of the Human Torch and the Avengers' odds of victory increase several fold. This image from BossLogic is especially cool because it isn't just imagining what an actor would look like as a character, it's combining two Chris Evans has already played.
Chris Evans has played both Captain America and the Human Torch and with the multiverses of comic book movies colliding in the Disney-Fox deal, this amalgamation seems appropriate to commemorate the occasion. Now we just need Josh Brolin as Nathan 'Thanos' Summers and Michael B. Jordan's Killmonger shrouded in fire yelling 'Flame on!'
This image is also fun because it reminds you of the very different types of superheroes Chris Evans has played. As Johnny Storm in Fantastic Four, he was the wild and cocky jokester who didn't take anything seriously. And as Captain America, he is the beating heart of the MCU, a serious and selfless hero. It just goes to show Chris Evans' talents.
How much longer Chris Evans will be using those talents in the MCU is an open question. Pretty much since Captain America: Civil War we've been speculating that Captain America will bite the dust in tragically heroic fashion, and that question will be at its loudest right before Avengers: Endgame, especially given that the trailer showed a worse for wear Steve Rogers gritting his teeth in what looks to be a brutal battle.
Of course, if Avengers: Endgame is Chris Evans' last appearance as Captain America, that would open him up to reprise the role of Johnny Storm when the Fantastic Four come to the MCU. Hey, it could happen! As far as what the future holds for The Human Torch and the rest of the Fantastic Four in the MCU, it is too soon to say.
The Disney purchase of 21st Century Fox just went through last week and it's presumed that the X-Men couldn't make their way to the MCU until 2021 at the earliest, so it would stand to reason that the same would apply to the Fantastic Four.
Before all that though, The Infinity Saga comes to an end when Avengers: Endgame hits theaters on April 26. Check out our 2019 Release Schedule to keep track of all this year's biggest movies.
Nick grew up in Maryland has degrees in Film Studies and Communications. His life goal is to walk the earth, meet people and get into adventures. He's also still looking for The Adventures of Pete and Pete season 3 on DVD if anyone has a lead.
Your Daily Blend of Entertainment News
Thank you for signing up to CinemaBlend. You will receive a verification email shortly.
There was a problem. Please refresh the page and try again.