7 Top Dave Franco Movies That Show He's Talented In His Own Right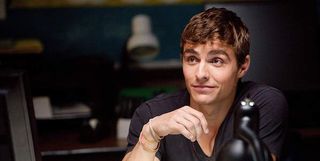 (Image credit: (Columbia))
Being primarily known as so-and-so's sibling can be a tough gig – one that Dave Franco was certainly burdened with a decade ago as his brother James Franco found early fame in his roles in Freaks and Geeks, the Spider-Man trilogy and Pineapple Express. It's not only that, though, James Franco certainly is no stranger to memorable performances, from chopping off his arm at the end of his Oscar-nominated role in 127 Hours to donning cornrows and platinum teeth in Spring Breakers.
In the past few years, Dave Franco moved out of the shadows, paved his own path as an actor and made a name for himself in the industry. The 33-year-old actor is primarily known for starring in comedies, but has made some interesting career choices and showed off dramatic chops we didn't know he had. Maybe a little sibling rivalry can do some good? On the surface, it may be easy to compare the brother's accomplishments, but there are movies that you can check out which really showcase Dave's talent on the big screen, so be sure not to ignore the films listed below!
21 Jump Street
The younger Franco first made a splash as the "cool" high school kid that buddy cops Channing Tatum and Jonah Hill have a run in with during the undercover mission in 21 Jump Street. He plays the perfect calm, cool and confident heartthrob much of the time, but then hilariously erupts into cry fits when the action of the film really takes hold in the third act of the movie. The role showed that Dave Franco can roll with big comedy stars and complement their humor in it, which isn't something that the typical high school "pretty boy" types have always been able to bring to a movie like this. Ja feel?
Now You See Me
Now You See Me was a fun ensemble thriller featuring an impressive cast including Jesse Eisenberg, Mark Ruffalo, Woody Harrelson, Isla Fisher, Morgan Freeman and Michael Caine. So, one might think a newcomer such as Dave Franco would get lost in the crowd and become forgettable in a big film like this. Franco comes to play, though, and helps make his street thief character amongst the team of magicians an intriguing one. He can do impressive card action stunts and even bring you over to his side with sympathy when the mission goes awry and the fate of his character comes in question. Franco complemented the star-studded cast well and stood out in all the right moments.
Neighbors
Dave Franco's casting in the Seth Rogen (who is often James Franco's partner in crime) comedy could have been due to some talking up by his brother, but Dave could certainly pull off playing a college student and the role became a great showcase of his "bro comedy" skills. With Zac Efron by his side as his fraternity brother, the duo make for some entertaining adversaries to the young parents (Seth Rogen and Rose Bryne) who live next to them. Efron and Franco spoof the stereotypical frat boys as they party and prank their new neighbors with some pretty funny scenes. And, Franco's Robert De Niro from Meet the Parents impression during their "De Niro" party? Flawless.
Nerve
Dave Franco was paired with American Horror Story's Emma Roberts in a fun thrill ride about two 20-somethings who participate in a vicious real-life game of "truth or dare" that serves as entertainment in the world they live in. The film was an adrenaline rush of a Black Mirror-esque story that showed off Dave Franco as a lead taking on the action, romance and drama of Nerve as his and Roberts' characters must push the boundaries and break rules in order to survive the game they find themselves in. The two stars made for an entertaining pair to watch as they bring some humor and heartwarming moments to the reality video game flick.
The Disaster Artist
In 2017, Dave Franco finally joined his brother for the Oscar-nominated The Disaster Artist, about the making of Tommy Wiseau's cult-classic The Room. While James Franco took on the role of director and lead to tell this unbelievable true story, he enlisted Dave to play Wiseau's other half, Greg Sestero. With some incredible makeup work, the two don't even look like brothers as they play actor friends trying to make it in Hollywood.
Dave's realistic portrayal perfectly grounds the film while James blows it out of proportion with his detailed portrayal of the larger-than-life personality of Wiseau. Part of why the movie works is due to the brothers' natural chemistry with one another and ability to play off each another. Dave has the job of playing a real person just as James does, and gives his most memorable performance to date.
The Little Hours
It's one thing to star in a comedy, but signing on to an ambitiously raunchy movie about nuns who say "fuck" every other word and roll their eyes at their priest is something else. Dave Franco starred in this peculiar indie comedy gem alongside Aubrey Plaza, Fred Armisen, Nick Offerman, John C. Reilly and Allison Brie, which was a very modern retelling of The Decameron, and it was epic. While the movie is certainly not everyone's cup of tea and won't go down in history as the actors' best works, it shows that Franco isn't afraid to commit to a weird bit for the fun of it – and, in my opinion, that's better than always opting for the same, average story.
6 Balloons
Dave Franco has also recently started working with Netflix, first as a guest star on the comedy Easy, and also in the recent drama 6 Balloons alongside Broad City's Abbi Jacobson. The emotional film has Franco portraying a heroin addict who has relapsed. His sister (Jacobson) attempts to confront and help him with his problem but they run into issues with paying for his health care, his 4-year-old daughter's presence and a party they are trying to attend. It's a harrowing watch with a message that certainly shows Franco is more than capable of carrying more dramatic fare.
The actor has certainly come a long way in making a name for himself and showing his own talents in the past decade, first as a scene-stealer in comedies and now as an accomplished lead actor. What will he do next? Well, Dave Franco is set to star in another one of his brother's directorial projects, Zeroville, later this year and a Michael Bay film called 6 Underground alongside Ryan Reynolds. He is also writing and directing his own horror movie called The Rental starring Alison Brie (his frequent collaborator and wife) and Dan Stevens.
What's your favorite role from Dave Franco and what would you like to see the actor take on next? Sound off in the comments below!
YA genre tribute. Horror May Queen. Word webslinger. All her writing should be read in Sarah Connor's Terminator 2 voice over.
Your Daily Blend of Entertainment News
Thank you for signing up to CinemaBlend. You will receive a verification email shortly.
There was a problem. Please refresh the page and try again.