The First 17 Minutes Of Toy Story 4 Finally Reveal Why Bo Peep Disappeared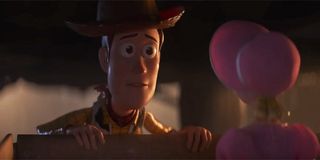 Spoilers, obviously from CinemaCon 2019 where Disney played the first 17 minutes of the upcoming animated sequel.
I saw the first 17 minutes of Toy Story 4 and at first it felt like time had stopped, looped and rewound to a simpler time when Woody and Buzz were Andy's toys. In fact, the movie kicks off with a flashback that hits on a lot of nostalgic notes, but also finally reveals a major secret: What happened to Bo Peep and why wasn't she in Toy Story 3?
Early on, we flashback to Andy's childhood home, where his sister Molly is getting rid of some of her early toys, including Bo Peep. Woody is making a daring rescue of another toy when Bo Peep is boxed up with her sheep, but he makes it to the car in time to say goodbye. He tries to save her from the box, but she gently reminds him that she's been made to be played with. Perhaps it's her time to go.
The clincher, however, is that she asks Woody to go with her, reminding him that toys "get lost" or "left outside." But he can't go. He still has Andy to think about. They part ways.
It's not exactly a tearjerker moment, but wow does the opener hit all the feels.
But we're off to the races afterward. The movie then cuts to the present day featuring the characters who have all mingled together since Toy Story 3. It's Bonnie's orientation day at Kindergarten, but she's really sad to leave her favorite toys behind. (She's less sad about Woody, who recently seems to have fallen out of favor.) The rest is the start of an adventure, an adventure that also features new character Forky's origin story and more.
In the trailer, we've seen Woody and Forky get separated from the group thanks to Forky's penchant for wanting to be trash and not a toy. Woody ends up reuniting with Bo Peep in the first trailer at a shop near a park of some sort, complete with a Ferris Wheel and lots to do! Bo Peep, for her part, has moved on from wanting to please children and Woody seems enamored by this new place and way of thinking.
From Pixar's point of view, we don't know exactly why Bo Peep was written out of Toy Story 3 or why she only popped up briefly in Toy Story 2. She just wasn't really a major component in the Toy Story narrative for the last couple of movies, but this first look capably presents a good reason behind why Bo Peep disappeared and the trailer reintroduces her as a stronger and wiser character.
But now she's back in a big way in Toy Story 4.
Of course, while it's nice to know why Bo Peep and Woody were separated and when exactly in the timeline it happened, the really notable moment may simply be seeing Woody back in Andy's world.
I'm not always fond of flashbacks, but in this case, it seems to have worked. Seeing Andy again – even though I knew it was going to happen – capably tied the movie to its roots. Andy's been a part of every movie and he's woven into Woody's fibers of being, even if Woody now has Bonnie written on his shoe.
Ultimately, we know Toy Story 4 is going to get emotional. The other movies in the franchise leave me blubbering every. single. time. Plus Tom Hanks has already said he had an emotional last day filming this sucker, and even didn't want to face the creative team as he finished up his recording.
Toy Story 4 opens on June 21, 2019. Stay tuned for more coverage from CinemaCon 2019 and be sure to keep an eye on what we know about the upcoming animated Pixar flick.
Your Daily Blend of Entertainment News
Reality TV fan with a pinch of Disney fairy dust thrown in. Theme park junkie. If you've created a rom-com I've probably watched it.