Disneyland Mishap Prompts Boat Evacuation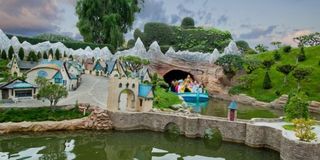 If you're looking for a thrilling experience at the Disneyland Resort, I would suggest checking out Space Mountain or perhaps the Incredicoaster. However, earlier this week guests found themselves having an unexpectedly exciting time in probably the least likely of locations, Fantasyland. While the Storybook Land Canal Boats are traditionally a pretty relaxing attraction, that changed for about 10 guests, a combination of adults and children, as one of the boats began to take on water.
Nobody was injured during the incident and guests were transported from one boat to another before being transported to dry land. The attraction then went down for inspection. It has since resumed normal operation, so whatever the issue was, has apparently been cleared up.
It sounds like everybody made it through the ordeal without issue. The situation may have actually been a serious gain for the affected guests. According to the Orange County Register, affected guests were provided with dry clothes and shoes by Disneyland, which likely means they got some free park merchandise out of the deal.
The attraction takes guests on a slow boat ride past miniature versions of many classic Disney movie locations, like Toad Hall and Geppetto's Workshop. A guide drives the boat around while pointing out the tiny buildings and you get to sit back and rest your feet for a few minutes while checking out the intricate work on display. It's basically the Jungle Cruise, but without animitronics or jokes.
The ride was part of Disneyland's opening day in 1955 and has remained in operation ever since. Although, like the park itself, it sees regular replacements and updates. While potentially overlooked by some, the Storybook Land Canal Boats represent an important part of Disney history. Miniatures were a particular passion for Walt Disney and he once planned to create a traveling exhibition of Americana which he called Disneylandia. Eventually, the exhibition was deemed too costly an impractical, but many of the concepts behind Disneylandia were incorporated into Main Street U.S.A. and miniatures themselves became part of the Canal Boats attraction.
Usually, the most important thing to worry about on that ride is proper weight distribution on the boat, as it does need to be properly balanced for a smooth ride, but it's difficult to imagine that had anything to do with a boat actually taking on water.
It's good to know that everybody is ok and that there's nothing seriously wrong with the attraction. It may have been that one of the boats was simply in need of repair and that the problem had been missed on a previous inspection. Considering how few accidents, even of this relatively small size, take place at Disneyland, and considering how long the park has been around, the cast members clearly do an amazing job keeping things in working order.
Content Producer/Theme Park Beat
CinemaBlend's resident theme park junkie and amateur Disney historian. Armchair Imagineer. Epcot Stan. Future Club 33 Member.
Your Daily Blend of Entertainment News
Thank you for signing up to CinemaBlend. You will receive a verification email shortly.
There was a problem. Please refresh the page and try again.