Zack Snyder Reveals Who Was Going To Play Darkseid In The DCEU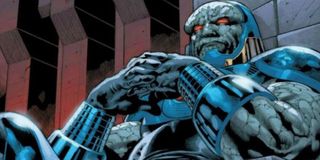 As time goes on, Zack Snyder's original vision for Justice League seems to get clearer with each passing revelation. There's been quite a bit of information that's come out about what was supposed to happen in the film that eventually became the final product released, and a lot of that information was about potential franchise villain Darkseid. We've learned so much about this character, from what his function would have been in the Justice League films to what he would have looked like; and now, we know who would have played him - actor Ray Porter.
Best known for supporting roles in shows like ER and Justified, Porter was going to play the Justice League baddie who was supposed to raise hell towards the end of the first planned film, only to come back in the planned Justice League 2 later. Zack Snyder confirmed this casting through social media, as he posted a photo of Ray Porter, along with captions merely stating, "He's the man. For Darkseid."
If the DCEU had stuck to its originally intended path, Darkseid was basically the Thanos of the Justice League story run, as he was searching for an equation that would allow him to control all sentient beings. References were baked in throughout the series of films contemporary to Justice League, with lines and renderings of Darkseid's visage that have been pointed out by Zack Snyder through his official Vero account. Ray Porter being drafted into the Justice League mix as the actor who would be his cinematic avatar only further confirms that not only was the two film structure scrapped pretty quickly, but the Snyder Cut just might be out there. For reference, take a look at this photo of Porter, below:
Though it may surprise people that Porter's long-locked look would be chosen for a character that typically is seen with a helmet covering a bald head, Justice League probably would have used some sort of motion capture process to bring the character to life. So Ray Porter could have put on the standard bodysuit with ping pong balls or whatever rig that Zack Snyder would have used to get the look right, and that hair could have been secured and eliminated from the film. Though that hasn't stopped people from joking about the character taking a rather Aquaman-like approach to his looks, despite the fact that Darkseid is some serious business in the DCEU.
A formidable villain in the DC Comics universe, Darkseid was someone that was being talked about quite heavily ever since the initial clues were placed within Batman v. Superman: Dawn of Justice. With Bruce Wayne dreaming of a nightmarish apocalyptic future, and a massive field with the Omega symbol burned into it, the pump was primed for this villain's eventual usage towards the end of Justice League's first part and his eventual full-on baddie status in Justice League 2.
With a fandom further calling for the release of the fabled Snyder Cut, further drips and drabs of information towards the original vision for Justice League's defunct two-parter seem to only stoke those fires. Whether we'll get that cut and what further information will come out about the original two part structure of the Justice League film in the future is something that's open ended, but intensely intriguing.
However, as it stands, Justice League's final cut is on home video at the moment, with Shazam! being the current DC Comics film in theaters. Though for the record, Ray Porter would make a hell of a relative for Jason Momoa's Aquaman, should the DCEU want to retain him.
Your Daily Blend of Entertainment News
Senior Movies Contributor
CinemaBlend's James Bond (expert). Also versed in Large Scale Aggressors, time travel, and Guillermo del Toro. He fights for The User.