All The Franchises Idris Elba Is In, (Plus 5 More We'd Love To See)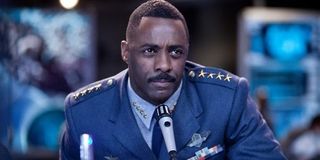 With a fresh Coachella set, a Netflix original series and a slew of films on the way, it's a good time to be Idris Elba. The actor is doing a lot these days, so much so that it may be hard to keep track of every franchise he has a hand in at the moment. For that reason, we've compiled a list that highlights what all he has a hand in, and some of the things we'd like to see from him in the future.
Franchises Idris Elba IS In
Let's start off with all the major franchises he's already appeared in or officially has lined up for the future, like this first entry.
The DCEU
Idris Elba has joined the DCEU via James Gunn's The Suicide Squad, and was originally slated to replace Will Smith and play Deadshot. That plan has since changed, and Elba will be playing a different character, although we can only guess who. Hopefully whoever is picked has some crossover potential into other projects, and maybe the ability to get Elba his own spinoff movie.
The MCU
Idris Elba entered The MCU via Thor in the role of Heimdall. After heroically sacrificing his life in Avengers: Infinity War, one would assume his time in the franchise is over, but who can ever know when it comes to superhero features. With that said, Elba's had his complaints about the role as far back as Thor: The Dark World, so don't be surprised if his death tends to stick in the events following Avengers: Endgame.
Pacific Rim
In the role of Stacker Pentacost, Idris Elba delivered one hell of a speech that solidified Pacific Rim's status as a cult classic. Unfortunately, his death meant no future appearances in a sequel, but there are opportunities for Stacker to return should the Pacific Rim franchise venture into the prequel territory. That's a possibility given the amount of source material on the events before Pacific Rim, so fingers crossed Elba's feeling the urge to kick some kaiju ass again.
Disney/Pixar
While it's not necessarily as specific of a franchise as other entries, Idris Elba has done a decent amount of work for Disney and Pixar. Outside of his MCU work, he's exclusively played an animal in The Jungle Book, Finding Dory and Zootopia. That's a crazy coincidence, although maybe not given how many Disney films tend to revolve around animals in general. We're always down to see him in more projects. Perhaps next time in a live-action feature?
Star Trek
For Star Trek Beyond, the third adventure featuring the Kelvin timeline version of the original USS Enterprise crew, Idris Elba hopped in as Krall, an alien warlord who sicced his minions on Captain Kirk's crew, destroyed their ship and stranded them on his planet. Later revealed to be a Starfleet captain from more than a century ago, Krall nearly succeeded in carrying out his revenge against the organization, but he was defeated and killed before that could happen. So one can logically surmise Elba won't be popping back up in this franchise.
Fast & Furious
Soon, the world will get to see Idris Elba in the world of Fast & Furious, although probably not in a way some would've thought. Fast & Furious Presents: Hobbs & Shaw features Elba as a villain who has been genetically enhanced and basically has super powers. Somehow we've reached a point where this franchise isn't about fast cars, although there's few people complaining. After seeing Elba in action, it isn't hard to see why.
Alien
This is one of the only roles in which Idris Elba played a character that shared his first name, as the actor portrayed Idris Janek in Prometheus. It was a one and done role, and surprisingly, ended in the way similar to Pacific Rim. Given his character's death and the Alien franchise's massive aversion to Prometheus, it's pretty safe to say that we shouldn't expect any more appearances from Elba in this franchise.
Honorable Mention: Ghost Rider: Spirit Of Vengeance
The Ghost Rider movies aren't considered part of the MCU, but we'd be remiss if we didn't mention the other Marvel character he played before the MCU really got legs. Idris Elba played Moreau, who offered to remove the "Spirit of Vengeance" curse from Johnny Blaze. He ended up being unable to fulfill the promise, and ended up dying at the hands of Blackout.
Franchises We'd Love To See Idris Elba In
That concludes the current franchises Idris Elba is/has been involved in, although we're sure he'll be a part of some in the future. With that in mind, here are a handful of film franchises the actor has yet to join that it'd be great to see him in.
James Bond
Was there any doubt this would be on the list? Folks have called for Idris Elba to be cast as James Bond for ages, and his name floated around quite a bit following Daniel Craig's confirmation that he was leaving as Bond. Unfortunately, Elba has been pretty adamant that he won't be replacing him, but there's still hope he could join one day as another character. He'd make a killer Bond villain!
Star Wars
Idris Elba is a bit late to the game to be a part of the Skywalker saga, but there's still a chance he could appear in a Star Wars film in the future. Personally, I think he'd be a great fit for the Game of Thrones showrunners' trilogy, which is rumored to involve The Old Republic. Imagine Elba playing an ancient Jedi, Sith or bounty hunter in an era before the Empire!
Fantastic Beasts
The Harry Potter spinoff series is still rolling strong despite less than favorable reviews of the last film, and why shouldn't it? It'll take more than one bad movie to turn fans off to this franchise, and bringing in someone like Idris Elba could make some forget all about how The Crimes of Grindelwald was a bit of a letdown outside of that one twist. He'd make a great villain or Auror.
Austin Powers
Idris Elba's comedic prowess is a highly underrated aspect of his acting, and one that could really shine in the Austin Powers franchise. With Mike Myers interested in getting a fourth movie made, Elba could appear in a comedic role for some spy-filled adventure. This may be the closest we'll ever get to seeing him play James Bond, so producers should try to get him involved if Austin Powers 4 actually has a shot at happening.
Pirates Of The Caribbean
As Disney's Pirates of the Caribbean reboot continues development, they're going to need a few big names to convince audiences to jump back into this franchise so soon after the the original run. Idris Elba is a name that can put butts in seats, and considering he's already ingratiated within the Disney family, getting in touch with him shouldn't be too hard to do.
Those with other wishes for franchises they'd like to see Idris Elba join can share their thoughts in the comments below. Stick with CinemaBlend for updates on the actor, his films and other goings on in the entertainment world.
Mick likes good television, but also reality television. He grew up on Star Wars, DC, Marvel, and pro wrestling and loves to discuss and dissect most of it. He's been writing online for over a decade and never dreamed he'd be in the position he is today.
Your Daily Blend of Entertainment News
Thank you for signing up to CinemaBlend. You will receive a verification email shortly.
There was a problem. Please refresh the page and try again.