The Percentage Of Avengers Fans Who Think Each Main Character Is Going To Die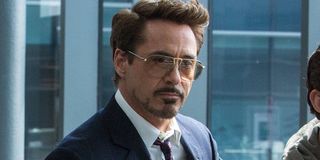 The end is near, my fellow Marvel fanatics. And all that audiences really want to know as we prepare for Avengers: Endgame is… who will survive?
OK, fine. There are a lot more questions that need answered by Joe and Anthony Russo's Avengers: Endgame. But the mortality rate of the key Avengers characters is top of mind as the culmination movie in the MCU makes its way to theaters. With that in mind, we launched a questionnaire for Endgame fans to make predictions about what's going to happen (you can take the survey here). In all, we talked to more than a thousand readers, and not surprisingly, a lot of fans are worried about a lot of different characters.
Who will live? Who will die? We won't know until the film premieres, but you can head down the page and check out what most fans are thinking.
Captain America (81% Vote Dead)
The fans are pretty convinced that Avengers: Endgame will be Steve Rogers' last dance in the MCU. And if Endgame requires a mighty sacrifice, few will hit harder than Captain America (Chris Evans), who has been the spiritual and physical leader of the Avengers since the team was formed in Joss Whedon's initial superhero team-up film.
Thanos (72% Vote Dead)
A lot of fans vote that Thanos (Josh Brolin) won't just be defeated in Avengers: Endgame, he will be killed. But if Infinity War told us anything about the hulking, purple Mad Titan, it's that he's really hard to kill. If only Thor (Chris Hemsworth) had gone for the head…
Phil Coulson (57% Vote Dead)
This would kind of be a running joke, but if Agent Coulson were to somehow return in Avengers: Endgame and then be killed off, we'd have a meme of Dead Coulson on our hands. He "sacrificed" himself in The Avengers, only to return on the S.H.I.E.L.D. TV show. Captain Marvel brought the character back, but that's a prequel set in the 1990s. Still, 57 percent of y'all think Coulson will eat it in Endgame.
Tony Stark (55% Vote Dead)
Truthfully, we thought this number would be higher. If Captain America stands as a symbolic sacrifice, so too does Tony Stark (Robert Downey Jr.), and we think the odds are high that he trades his life for another team member in Avengers: Endgame. You guys don't agree, however, with just over half of you thinking the MCU's latest chapter will end with Stark's death.
Nebula (55% Vote Dead)
This one makes sense. Nebula (Karen Gillan) largely exists so she can achieve vengeance against her dad, Thanos. Avengers: Endgame puts her on the path to reach that goal, and why wouldn't she die in pursuit of this personal quest? Her sister, Gamora (Zoe Saldana), died in the previous film. And Nebula isn't essential to the announced Guardians of the Galaxy Vol. 3. This could be her swan song.
James Rhodes (33% Vote Dead)
Justice for Terrence Howard! I'm kidding. If Endgame plays out in a way where Tony Stark has to be compelled into action by the death of a friend, Rhodes (Don Cheadle) could be the victim. However, Marvel had a golden opportunity to take out this character back in Captain America: Civil War, and they opted for temporary paralysis over death, so why kill him off now?
Hank Pym (32% Vote Dead)
Hank Pym (Michael Douglas) is a founding member of the Avengers team in the comics, and he has been a crucial mentor to Scott Lang (Paul Rudd). But the Ant-Man franchise has avoided emotional deaths, and losing Pym in battle could break a few hearts. Also, how much longer do we think Douglas wants to be making these movies?
Carol Danvers (1.94% Vote Dead)
We jumped from Hank Pym all the way down to Carol Danvers (Brie Larson), because the character received the fewest votes total in the poll. Maybe it's all the talk from Marvel President Kevin Feige about how Captain Marvel will lead the studio into the next phase of films. But only 20 people picked her to die in Avengers: Endgame, so it's likely she lives on.
The answers are coming. We are less than a week away from Avengers: Endgame opening in theaters on Thursday, April 25. Do you have your tickets for opening weekend yet?
Your Daily Blend of Entertainment News
Sean O'Connell is a journalist and CinemaBlend's Managing Editor. He's frequently found on Twitter at @Sean_OConnell. ReelBlend cohost. A movie junkie who's Infatuated with comic-book films. Helped get the Snyder Cut released, then wrote a book about it.