Salma Hayek Is Sporting A New Chest Tattoo For The Hitman's Wife's Bodyguard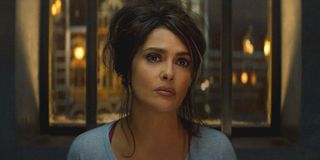 We've known for a while now that Salma Hayek would be returning to The Hitman's Bodyguard universe for the impending sequel, and this week the actress gave us a fun glimpse at her character in the new movie, Sonia Kincaid. But we don't just get to see the actress; instead, we also get a look at her tattoo for the movie.
Lest you think this were Salma Hayek's personal tattoo, the actress makes it very clear in her "sneak peek" at the new look that this isn't her own body adornment.
There are a few locations on a woman's body where she would be able to hide a secret tattoo, but for The Hitman's Wife's Bodyguard, it's going directly on her breast. The tattoo belonging to her character Sonia Kincaid looks to be a bird of prey.
The image has been exceedingly popular on Instagram, where it has racked up more than 354 thousand likes.
In the 2017 movie, Salma Hayek also played Sonia Kincaid, who happens to be the wife of Samuel L. Jackson's Darius Kincaid. Sonia is a major catalyst in the first movie, as Darius only agrees to testify as part of a deal that will allow his wife to be released from prison. She ultimately -- and spoiler -- gets out of prison at the end of the movie, assumedly leading to a series of events that will allow a sequel to make sense.
In the upcoming The Hitman's Wife's Bodyguard, the new movie will again bring back the original cast members, as well as add a few new faces for a story that will be set in the Amalfi coast. (Because if you are doing a sequel, why not set it in a beautiful place?) Antonio Banderas, Frank Grillo, Morgan Freeman and Tom Hopper have all joined the franchise for the new movie.
Other filming locations include Bulgaria and Croatia for the new sequel.
The Hitman's Wife's Bodyguard was confirmed to be filming by Samuel L. Jackson and Ryan Reynolds earlier this spring and a few weeks later, Ryan Reynolds also mentioned he had wrapped on the flick.
Salma Hayek has also shared other stuff from the set of The Hitman's Wife's Bodyguard.
Unfortunately, there's still going to be a little bit of time for the flick to undergo the editing process. The movie isn't slated for release until 2020, but while we wait, be sure to take a look at our full 2019 movies schedule.
You can also catch Ryan Reynolds, or at least his voice, coming up in Detective Pikachu, which hits theaters in May. Samuel L. Jackson will next star in the big summer release Shaft, unless he pops up in Avengers: Endgame, which kicks off it's preview night tonight. And Salma Hayek can currently be seen in Drunk Parents.
Amazing Race & Top Chef superfan with a pinch of Disney fairy dust thrown in. If you've created a rom-com I've probably watched it.
Your Daily Blend of Entertainment News
Thank you for signing up to CinemaBlend. You will receive a verification email shortly.
There was a problem. Please refresh the page and try again.