Avengers: Endgame Has A Deep-Cut Iron Man 3 Reference That's Surprising Fans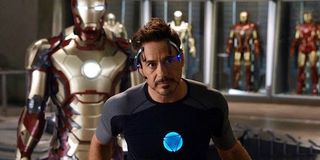 Warning: MAJOR SPOILERS for Avengers: Endgame are ahead!
Tony Stark has been one of the most important characters in the go since it launched, but let's not forget that it's been six years since his solo film series wrapped up. Iron Man 3 marked the last time Tony embarked on a standalone journey on screen, and while that movie wasn't nearly as important as other past MCU entries in the now-released Avengers: Endgame, the Phase 3 capper did reference Iron Man's last solo outing through one of the characters it introduced: Harley Keener.
As some Marvel fans guessed in the lead-up to Avengers: Endgame, the movie saw Tony Stark being killed, as he was mortally wounded when harnessing the power of the Infinity Stones to turn Thanos and his forces to dust. Tony's funeral was held soon after, and Ty Simpkins' Harley Keener was one of the people in attendance.
Unlike most of the other familiar faces in that crowd, Harley Keener only had the one Marvel Cinematic Universe appearance under his belt. That, plus the fact that it's been six years since we last saw the character (within the MCU timeline, around a decade has passed) and he's grown up a lot, and one couldn't be faulted for not recognizing that Harley was back to honor Tony.
It is worth pointing out that if you followed the development of Avengers: Endgame closely, Harley Keener's appearance might not come as a total shock. Back in October 2017, it was reported that Ty Simpkins, who has since appeared in movies like Jurassic World and The Nice Guys, would reprise the role. So that ultimately came to fruition.
What didn't pan out was a separate rumor that claimed that Harley Keener would appear alongside Tony Stark as he used his B.A.R.F. (Binarily Augmented Retro-Framing) technology to study the Battle of New York. B.A.R.F., which was first shown in Captain America: Civil War, didn't appear at all in Endgame, as the heroes were revisiting key moments in MCU history through actual time travel.
Tony Stark and Harley Keener crossed paths in Iron Man 3 when the former was transported to Tennessee by J.A.R.V.I.S. after the Stark mansion was destroyed by The Mandarin's minions. With Harley's help, Tony learned about Extremis, and at the end of the movie, Harley came back to his garage filled various mechanical and robotic presents from Tony, a.k.a. The Mechanic.
There was potential for Harley to become Tony Stark's protege down the line, but that role was eventually filled by Peter Parker, a.k.a. Spider-Man. Still, it was nice that Avengers: Endgame brought Harley back for a cameo to remind us of an earlier era in the MCU and in Tony's life. Who knows, even though Iron Man is dead, perhaps Harley could pop up in a different corner of this franchise in the coming years.
Don't forget to read CinemaBlend's review of Avengers: Endgame, and stay tuned for more updates about the future of the MCU. Those of you interested in what other movies are coming out later this year can find that information in our 2019 release schedule.
Connoisseur of Marvel, DC, Star Wars, John Wick, MonsterVerse and Doctor Who lore. He's aware he looks like Harry Potter and Clark Kent.
Your Daily Blend of Entertainment News
Thank you for signing up to CinemaBlend. You will receive a verification email shortly.
There was a problem. Please refresh the page and try again.