So Many People Are Going to Galaxy's Edge, Disneyland Has To Actually Expand Entryway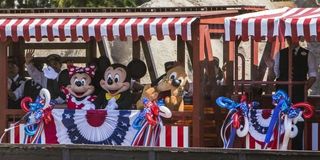 We're coming into the home stretch before Star Wars: Galaxy's Edge opens at Disneyland, but the park still has a lot of work to do to get ready. In anticipation of the major crowds that are expected to swarm the park, Disneyland recently took to modifying the entrance to Adventureland, which will be one of the major pathways to Galaxy's Edge, in order to allow it to accommodate more people. This included removing the iconic sign above the hub entrance, though the word is Disney Parks plans to reuse as much of the sign as possible for the brand new entrance.
Disneyland's hub and spoke design is an iconic part of the park's layout that allowed guests to enter any of the park's major areas once they reached the end of Main Street USA. However, even with the park's first major expansion back in the 1960s, this concept began to fall apart. New Orleans Square was built out of a corner of Frontierland, meaning guests had to go through either Adventureland or Frontierland to get there.
Mickey's Toontown likewise requires guests to trek all the way through Fantasyland to see it.
The only space that Disneyland has had available for expansion has been in the back of the park, in an area previously holding offices and other "behind the scenes" cast member areas. This is going to make traffic a serious concern at Disneyland as the new area that everybody is going to be headed towards requires guests to pass through the rest of the park, making pretty much the entire park feel more crowded.
Adventureland Sign Removal
In order to make this a little more painless, Disneyland recently widened the path between the hub and Adventureland. One problem, that has DIsney fans a little sad, is that the wider path means the existing Adventureland sign no longer fits.
The permit to remove the iconic Adventureland sign was first uncovered by theme park fan Matthew Gotula in early April. The new entrance has been largely completed, and now has a very small sign denoting your location.
While there is only a small sign there now, a new larger sign is planned to be created, which will utilize as much of the previous sign as possible. The plan, according to the OC Register, is to have the new sign in place in time for the Galaxy's Edge opening May 31.
Dole Whip Diversion
A number of other changes are being implemented to help deal with crowds. One potentially surprising change is that the Dole Whip stand in front of the Enchanted Tiki Room will be closed on busy days, in order to prevent the crowds that often line up to get the popular soft serve pineapple treat.
Fear not, however, Dole Whip will still be available at the new Tropical Hideway, the grab-and-go food stand that opened late last year. Dole Whip is always available there. Also, you can get it with rum at the Disneyland Hotel coffee house, if you're inclined to such things.
The Dole Whip stand situation shows just how important these changes are. Normally, on a busy day, Disneyland would want to have as many places to buy Dole Whip, or anything else for that matter, as possible. However, in this case traffic flow is actually even more important than selling more food.
Project Stardust
All of these changes are part of a large, park wide, traffic review called Project Stardust (Star Wars+ Pixie Dust). Everything from seating and planter locations to stroller parking has been under review, and much of it has been moved or removed, in order to make it easier for people to make their way through the park.
Early estimates were that Disneyland could see as many as 200,000 people on the opening day of Galaxy's Edge. While the exact capacity of the park is unknown, estimates put the number at someplace around 85,000 people.
It's unclear if things will be quite that dire, since Disneyland has instituted a reservation system for the first three weeks after Galaxy's Edge opens. You can secure a reservation for Galaxy's Edge by making a Disneyland Resort hotel reservation. Everybody, booked into the room is guaranteed entry into Galaxy's Edge during one day of the booked stay, for a period that appears to be four hours long.
Anybody not staying on property will have an opportunity to book a reservation for Galaxy's Edge on May 2.
While the reservation system will likely keep those that don't have reservations away, the four hour block will mean that those waiting for their reservation time will be all over the rest of Disneyland, making traffic flow important not only in the areas that lead to Galaxy's Edge, but everywhere in the park.
Of course, the big question is just how long the massive crowds are expected to fill Galaxy's Edge? The interest in Galaxy's Edge clearly exceeds anything that has ever come before. The new attractions will likely be the most popular in the park for years to come. Does that mean the crowds won't die down for years?
One item that could prolong the popularity of Galaxy's Edge is that the initial opening will actually only be the beginning of phase one for Galaxy's Edge. Only one of the two E-ticket attractions, Millennium Falcon: Smuggler's Run will be open on say one. The second attraction, Rise of the Resistance will come later. Exactly when has not been announced, but it will come later in 2019.
This means that even those that get to experience Galaxy's Edge early will have every reason to want to return if only to get a chance to ride the second attraction.
It's also unclear just how much you'll be able to do in a four window. Will that be enough time to ride Smuggler's Run and have dinner, or will you have to come back if you want to do both?
Star Wars: Galaxy's Edge opens at Disneyland May 31 and will come to Disney's Hollywood Studios at Walt Disney World on August 29.
Content Producer/Theme Park Beat
CinemaBlend's resident theme park junkie and amateur Disney historian. Armchair Imagineer. Epcot Stan. Future Club 33 Member.
Your Daily Blend of Entertainment News
Thank you for signing up to CinemaBlend. You will receive a verification email shortly.
There was a problem. Please refresh the page and try again.