Disney Brought Avengers: Endgame To Troops In The Middle East Thanks To Viral Tweet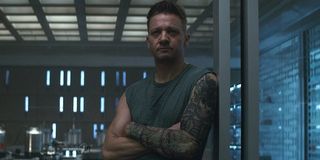 While Avengers: Endgame is pretty much the box office king at this current time, and it feels like a lot of people have seen it at least once, we must remember that not everyone gets to see Joe and Anthony Russo's comic book opus at the same time. This is especially true when it comes to those men and women who are deployed overseas, in the enduring effort of protecting the world and our nation. But for those who were lucky enough to attend, there were several screenings of Avengers: Endgame brought to troops in the Middle East, as a viral tweet from a military spouse sent the right message to Disney CEO Bob Iger.
Kat Lancaster, wife to Air Force Major Joshua Lee Lancaster, was the person to spur this all on. Starting with a simple tweet, asking the Disney CEO if there was any chance of bringing Avengers: Endgame to the troops, this lead to Iger not only promising to check on the possibility of bringing the film to bases in Afghanistan and Al Udeid, but eventually delivering on said promise.
Bagram Air Base and Al Udeid Air Base were then allowed to host several showings of Avengers: Endgame for soldiers stationed in those areas. And it was all thanks to the efforts of a wife who missed her husband so much, she wanted to share a huge cultural moment with him and his colleagues.
Of course, in true Disney fashion, Stars and Stripes reported that the hard drive carrying the $1 billion+ grossing blockbuster to our men and women in the military was guarded in transit, and required an encryption key to activate. Once everything was set up though, the fun could begin, and in the case of Bagram Air Field, the film was actually shown eight times.
For those of you keeping score, that's basically a whole entire day's worth of Avengers: Endgame screenings, clocking in at approximately 24 hours and 16 minutes. Which is comforting to know, as if the civilian population could find themselves offered such a convenience on our home soil, it's nice to know that for one day out of their lives, military personnel could feel like they were back home again.
Sending a theatrical experience as fantastic as Avengers: Endgame to the troops in the Middle East is a real good guy move on the part of Bob Iger and The Walt Disney Company, and it's something that even Captain America could fully support. And while these sorts of screenings do tend to happen from time to time, it'll be nice to see if Disney is already in talks to make sure that Star Wars: The Rise of Skywalker gets that same treatment come Christmas time.
Avengers: Endgame is in theaters now, and we salute Kat Lancaster in her effort to bring some normalcy and entertainment to our men and women serving abroad.
CinemaBlend's James Bond (expert). Also versed in Large Scale Aggressors, time travel, and Guillermo del Toro. He fights for The User.
Your Daily Blend of Entertainment News
Thank you for signing up to CinemaBlend. You will receive a verification email shortly.
There was a problem. Please refresh the page and try again.