Dwayne Johnson Shares Jumanji 3 Set Photo With Karen Gillan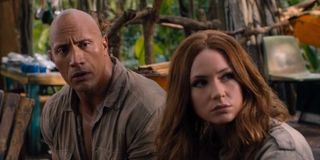 Jumanji: Welcome to the Jungle was a massive hit that ended up giving Star Wars: The Last Jedi more of a run for its money at the box office than anybody ever expected. Jumanji and Star Wars are now getting ready to go head-to-head once again as Jumanji 3 is set to go up against Star Wars: The Rise of Skywalker. Dwayne Johnson recently shared a new photo of himself and co-star Karen Gillan which shows the pair in a brand new setting, a desert.
If you didn't actually see Jumanji: Welcome to the Jungle, then the title is still a pretty big give away that the last movie took place entirely within a jungle setting. Since we don't know what the plot of the new film is, it's been unclear how it would plan to differentiate itself from the last movie, and it seems that at least part of the reason is that the story will unfold outside of the jungle setting that Jumanji has been so closely related to .
Dwayne Johnson's Instagram post shows sand as far as the eye can see. Other images that we've seen from production show the main cast in different outfits, including clothing that's clearly meant to keep them warm, which would imply they also end up somewhere very cold. I assumed we'd see them in the snow, though it's possible they could just end up at the desert at night.
Beyond that, the only changes come in the form of additions to the cast. Danny Devito, Awfwafina, and Danny Glover have been confirmed to be in the film, but their roles have not been revealed, so whether they're real world characters, in-game characters, or any two of them combine to make up a single character inside and outside the game, is anybody's guess.
Beyond the backdrop, the image doesn't tell us much. It's just two of our favorite characters from Jumanji: Welcome to the Jungle looking sufficiently badass, but really that's good enough.
Karen Gillan herself responded to Dwayne Johnson's post with some great comments. She says "Awkward teenage love and crime" is the name of her autobiography. Gillan also gets a very positive response from her current on-screen dad, Josh Brolin.
The only real question right now about the project is that the film began production only this past February, and with a December release date, the movie isn't going to have a lot of time for post-production compared to your average blockbuster. While there weren't necessarily a lot of digital effects in the last film, there were some, and it looks like the post production team may end up with a tighter than usual window for getting that work done.
Overall Jumanji 3, or whatever it ends up being called, is looking to be a lot more of the same fun that made Welcome to the Jungle a hit with audiences.The next Jumanji is set for release December 13.
CinemaBlend's resident theme park junkie and amateur Disney historian. Armchair Imagineer. Epcot Stan. Future Club 33 Member.
Your Daily Blend of Entertainment News
Thank you for signing up to CinemaBlend. You will receive a verification email shortly.
There was a problem. Please refresh the page and try again.