How Nebula Would Kill Thanos, According To Karen Gillan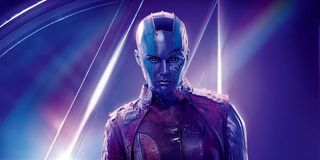 Half of the universe turned to dust at the end of Avengers: Infinity War, but Nebula was part of the fortunate half that survived Thanos' snap of doom. As if she wasn't already gung-ho on killing the Mad Titan, now she has extra incentive to kill the man who made her life a living hell. As for how she would go about doing that, the character's actress, Karen Gillan, thinks that Nebula would simply take Thanos' prized possession and use it against him. In Gillan's words:
Just to be clear, this comment was not Karen Gillan spoiling what will happen in Avengers 4 next year, though I suspect many Marvel Cinematic Universe fans would be okay with seeing this happen. This was just the actress giving her take on how a hypothetical 'Nebula murdering Thanos' scenario would go down while at ACE Comic-Con this past weekend. This would be extremely difficult to pull off given that Thanos currently has the powers of a god, but we certainly couldn't blame Nebula for trying.
Of all the people in the MCU who have a bone to pick with Thanos, Nebula is arguably the most entitled to eliminating him. Like the Mad Titan's other "children," she was taken at a young age and raised to be an assassin, but every time Nebula lost a sparring match with her sister, Gamora, one of her body parts was replaced with a cybernetic enhancement. So when an opportunity presented itself in Guardians of the Galaxy for Nebula to betray Thanos, she understandably took it, even though it ultimately didn't pay off.
After resolving her issues with Gamora in Guardians of the Galaxy Vol. 2, Nebula made it her mission to kill Thanos. She was nearly successful, but ended up being captured and subsequently tortured in Avengers: Infinity War to force Gamora to reveal the location of the Soul Stone. When we last saw Nebula, she and Iron Man were the only heroes left on Titan, as Mantis, Drax, Star-Lord, Doctor Strange and Spider-Man were among the unlucky individuals wiped out.
Like the rest of Avengers 4, Nebula's role in the upcoming movie is shrouded in secrecy. Her desire to kill Thanos is undoubtedly stronger than ever given how he committed universal genocide and killed Gamora to obtain the Soul Stone. Whether this means she'll work with the surviving heroes to undo what the Mad Titan did or she'll strike out on her own again remains to be seen, but one would imagine she'll be a more important player this time around.
We'll see what's in store for Nebula when Avengers 4 opens on May 3, 2019. In the meantime, browse through our Marvel movies guide to learn what else the MCU has coming down the pipeline.
Your Daily Blend of Entertainment News
Connoisseur of Marvel, DC, Star Wars, John Wick, MonsterVerse and Doctor Who lore. He's aware he looks like Harry Potter and Clark Kent.