Avengers: Infinity War Almost Had Captain America And Sharon Carter Living Together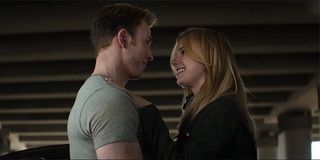 Warning: SPOILERS for Avengers: Endgame ahead!
When we reunite with Captain America in Avengers: Infinity War, we get the impression that he and fellow fugitive Black Widow have been conducting clandestine missions on their own outside of the law. Cap and Nat enter the film right in the middle of the action though, so we never really get clear answers on what they've been up to other than that or their living situation in the two years since Captain America: Civil War.
The assumption is that they have either been living on the run or basing themselves out of Wakanda. However, according to screenwriters Stephen McFeely and Christopher Markus, Infinity War almost had Captain America and Emily VanCamp's Sharon Carter living together. The Marvel scribes said:
In an effort to address all the lingering plot threads in the Marvel Cinematic Universe, including the heroes' various romantic entanglements, Christopher Markus and Stephen McFeely initially had Chris Evans' Steve Rogers living with Sharon Carter in Avengers: Infinity War, as they told Yahoo Entertainment. This setup would have continued the relationship between the two characters that started in Captain America: The Winter Soldier.
But despite the function it would have served, addressing a lingering plot thread and providing some background for what Cap was up to and where he has been in the two years since Civil War, this part of the script got the axe. Elsewhere in the interview, the screenwriters said that anything that didn't really propel the plot forward of the fast-paced film had to go. As they've said in the past, there simply wasn't time for "previously on the life of Steve Rogers."
What exactly the reason that led Kevin Feige to hilariously wonder 'what the hell' they were doing by having Cap and Sharon live together is unclear. Although I expect, if having Cap and Sharon live together was part of a romance between the characters, I'm not sure many people would have loved the idea of having the two in a troubled relationship. Nobody wants to see Cap be a bad boyfriend.
If Sharon Carter was included though, and she and Steve were on the rocks, her potentially dying in the Snap would have affected him in a major way. Beyond just being one more person Cap lost that meant something to him, it would have had an extra sting because it would have made their domestic struggles seem insignificant.
The great niece of Peggy Carter was introduced in Captain America: The Winter Soldier as a S.H.I.E.L.D. agent living undercover as Steve's neighbor and spying on him for Nick Fury. She eventually helped Cap fight Hydra and then joined the CIA. In Captain America: Civil War, Sharon Carter helped Steve, Bucky and Sam when they were on the run, getting them their equipment back, including Cap's shield.
After this assist, Captain America and Sharon Carter share their first kiss. Therefore it wouldn't have been out of left field to see these two in an actual relationship and living together. Of course, with the government presumably after them both at that point, it would make sense for their relationship to be a little strained.
We haven't seen Sharon Carter since Captain America: Civil War and it would have been nice to get some closure on her relationship with Steve Rogers, but Avengers: Infinity War didn't need it and turned out great without it. You can still include Steven and Sharon living together in your head-canon if you want, but given how he goes back to Peggy at the end of Avengers: Endgame, it's probably best to forget their brief tryst.
Just because she and Steve never got to live a blissful domestic life together on the big screen doesn't mean that we've seen the last of Emily VanCamp's Sharon Carter in the MCU. The actress is in talks to reprise her role for the Falcon & Winter Soldier mini-series on Disney+ alongside Daniel Brühl's Zemo.
Check out our 2019 Release Schedule to keep track of all this year's biggest movies.
Nick grew up in Maryland has degrees in Film Studies and Communications. His life goal is to walk the earth, meet people and get into adventures. He's also still looking for The Adventures of Pete and Pete season 3 on DVD if anyone has a lead.
Your Daily Blend of Entertainment News
Thank you for signing up to CinemaBlend. You will receive a verification email shortly.
There was a problem. Please refresh the page and try again.