The 5 Best Jennifer Aniston Movies, And The 5 Worst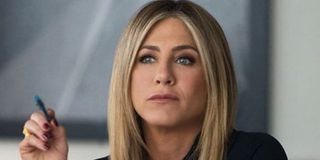 Though some folks might know her best as Rachel Green during her long-standing stint on NBC's Friends, Jennifer Aniston has been on the big screen more than a few times, in a variety of different movies — including the upcoming Netflix picture Murder Mystery with Adam Sandler. For more than twenty years, she has split her time on screens both big and small, although a few of her cinematic performances remain her best to date. Some of these films are well-known. Other titles are often forgotten — or, in some cases, best forgotten.
There are several good Jennifer Aniston movies, and there are several other Jennifer Aniston movies that make you wish she chose a different project altogether. Or maybe fired her agent. Opinions may vary. Jennifer Aniston has, of course, been in some great comedies. But of course she has, unfortunately, been involved with a few stinkers in her career. Not every film can be a winner. Let's take a look at the best and the brightest, and some of the worst.
It should be noted there are a few popular titles that didn't make the list, for several different reasons. For instance, I still consider The Iron Giant to be the best movie that Jennifer Aniston has ever been in. But while she did lend her voice to a prominent role, it's not necessarily a "Jennifer Aniston movie." At least, not in the way most people would categorize that distinction. Additionally, Horrible Bosses 1 & 2, for better or for worse, fall under a similar umbrella. They're movies that star Jennifer Aniston, but they're not quite "Jennifer Aniston movies" in my view. I hope that makes sense.
The Best Jennifer Aniston Movies
The Good Girl
Simultaneously one of Jennifer Aniston's best and most underrated movies, Miguel Arteta's The Good Girl was well-regarded by critics, particularly during its film festival runs. However, it never earned a wide audience — despite Jennifer Aniston's enormous celebrity and fame from Friends. That's really a shame, because it's a fantastic character study, built quietly and impeccably by Aniston's graceful, compelling performance.
Playing Justine Last, a discount store clerk stuck in a dead-end town in a passionless marriage, our titular good girl starts to make some morally-grey decisions (at best) when she fancies an affair with a stock boy, played by Jake Gyllenhaal. Bolstered by lovely cinematography and another fantastically resounding screenplay by Mike White (School of Rock), The Good Girl is a stunner, and it deserves to be acclaimed and celebrated more than it is. In my view, Jennifer Aniston gives a career-best performance in here. She's not just good; she's great.
Office Space
A true cult classic, Mike Judge's often-quoted dark comedy Office Space initially didn't find its audience when it first rolled into theaters back in 1999. Yet, once it made its way onto home video, there were folks everywhere who found themselves relating to the exhausted struggles of its lead characters, as well as their desire to rebel against their brain-dead managers. In the midst of these office struggles, however, is Peter's (Ron Livingston) fostering a relationship with a waitress named Joanna, played by Jennifer Aniston.
A similarly disgruntled employee who also doesn't appreciate her management, to put it mildly, Joanna seems like the right match for Peter. Sure enough, she and Peter begin to form a relationship through their distain for their jobs. And it provided Jennifer Aniston with one of her most relatable, down-to-earth performances. That's particularly noteworthy since the movie was filmed in between seasons of Friends, which was easily becoming one of the most popular sitcoms in TV history. Foxy, funny and strong-willed, Jennifer Aniston's performance in Office Space is a stand-out. There's no denying that Office Space holds a special place in people's hearts for many reasons, and Jennifer Aniston's involvement is certainly one reason why. Work might suck, but Office Space most certainly does not.
The Break-Up
In Peyton Reed's charming, endearing anti-rom-com, The Break-Up, Jennifer Aniston acts alongside Vince Vaughn as one-half of a disgruntled couple who decide to call it quits, only to continue living together in their luxurious Chicago condo. Not too far-fetched as far as comedy premises go, truth be told. And that is part of what makes this movie work. Acting alongside one another, Aniston and Vaughn have an enjoyably prickly chemistry — which sounds like an oxymoron, but it actually fits the film's surprisingly effective tonal mix of loose comedy and serious drama.
There are no meet cutes here; only un-cute, well-established disgruntlements. That doesn't roll off the tongue quite so well. While this premise could've easily been a major turn off if it had been done wrong, Jennifer Aniston and Vince Vaughn (who actually became a couple after filming The Break-Up), strike the right off-kilter balance and sell the hardships of their uncoupling in amusing, yet believable, ways. And Aniston fully commits to this premise. Whether it's creating authentic, convincing arguments with her on-screen partner or prancing around the apartment naked in order to spite her ex-lover, Aniston is dedicated to this break-up comedy. The movie is all the better for it.
Bruce Almighty
Admittedly, Bruce Almighty might be more of a Jim Carrey picture than a Jennifer Aniston film. Much like the main character, I'm bending the rules a little bit here. Still, this original, inspired early '00s comedy, which imagines what would happen if an average man were given the powers of God, finds Aniston playing a good romantic and comedic companion to the typically-hysterical Jim Carrey in one of his most liberating cinematic performances.
No doubt, it's hard to go toe-to-toe with Jim Carrey — most particularly at the height of his cinematic fame. Yet, Jennifer Aniston was far from a nobody at this point in her career. She confidently brings the comedy and heart, helping to craft the romantic centerpiece that's at the root of this farce. As a result, as funny as Bruce Almighty can be, it wouldn't be quite as memorable or winning if it weren't for Jennifer Aniston's performance. It's divine.
Dumplin'
A winsome and warm-hearted adaptation of Julie Murphy's novel of the same name, Dumplin' is the tale of Willowdean Dickson (Danielle Macdonald), also known as "Dumplin," an overweight teenager who decides to spite her beauty queen mom, played by Jennifer Aniston, by participating in the local beauty pageant. The result is an inviting, good-natured and emotionally rewarding coming-of-age story that would've made quite a splash in theaters as an underdog hit if it had been made 10 years earlier. Alas, in 2018, however, it was put on Netflix with only moderate fanfare. That's a shame, truly, because Macdonald and Aniston each give one of their best performances to date.
Empowered by good morals and the wonderful guiding music of Dolly Parton -- who also produced a pair of original tunes for the film -- Dumplin' gives Jennifer Aniston a role that benefits her comedic and dramatic talents, while not always taking the center stage. Nevertheless, in the movie's best moments, Aniston provides a commendable, heartfelt performance that showcases what she can do with her talents as an actress. Notably in a way that other recent movies like Cake tried and didn't succeed in doing (at least in this writer's humble opinion). Netflix's Dumplin' is most certainly a winner.
The Worst Jennifer Aniston Movies
The Bounty Hunter
Much like relationships, romantic comedies don't always work out. You can try your best to squish two bankable stars together, but if the sparks don't fly, there's nothing worth celebrating. Sure enough, 2010's grating, unlikable rom-com The Bounty Hunter is a poorly-calculated, constantly overblown flop that tries to sell the the idea of Gerard Butler having a cold-then-hot on-screen relationship with Jennifer Aniston. It simply doesn't work. At all.
The story wants us to fall in love with a bounty hunter who discovers that his next target is his ex-wife, only to finds themselves on the run with their lives on the line. You can definitely see why these two ex-lovers wouldn't want anything to do with each other, and never get the understanding of why they might want to fall in love again. The result is a painful, unrewarding studio comedy that isn't worth the finder's fee. Try to find a better movie.
Leprechaun
Before she became Rachel Green, Jennifer Aniston was a young up-and-coming actress trying to make a name for yourself. You can't be too picky at that stage in your career. And when you're given your first leading role, you take it — even if the movie might not win you any Oscars. Sure enough, Jennifer Aniston made her movie debut (if you're not counting her brief, random appearance in Mac & Me) in 1993's schlocky horror flick, Leprechaun.
As Tory Reding, Jennifer Aniston did the best she could with the material. Leprechaun was the first in the series, before the franchise fully embraced its comedic side, and Aniston is given no favors as she tries her best to sell the idea that a leprechaun is running around town and killing people. Not even Meryl Streep could sell this convincingly. While the film would spawn an oddball series, it wouldn't be until her days on NBC when Jennifer Aniston found fame and popularity for her acting work. She certainly didn't find a lot of luck with her pre-fame role in Leprechaun, however. Oh well. At least it gave us this memorable scene from Wayne's World 2.
Mother's Day
The movie that has the unfortunate distinction of being director Gary Marshall's final picture, Mother's Day is yet another loosely-assembled ensemble piece based around a commercially-popular holiday. In this case, it's not Valentine's Day or New Year's Eve, but rather — as the title would suggest — Mother's Day. In the film, Jennifer Aniston plays Sandy, a recently-divorced mother of two whose husband has recently remarried a younger woman.
While generally harmless in its cutesy execution, this deeply bland family dramedy plays like a bad sitcom with an overqualified cast playing broadly-drawn characters that are beneath their established talents. It's a waste of a great cast, and that's certainly true for Jennifer Aniston. It's also lazy and woefully generic, much like a tacky Mother's Day card that you would pick up at the supermarket for 99 cents. In that case, with many sincere apologizes to the late, great Gary Marshall, Mother's Day is far from a holiday.
Rumor Has It ...
With The Princess Bride and When Harry Met Sally..., director Rob Reiner proved himself to be one of the best romantic comedy-makers of the 20th century. Unfortunately, when it came time to transition into the 2000s, something got lost in the last millennium. That was made evident with Rumor Has It..., a deeply mediocre, poorly realized rom-com with a fun premise: What if you found out your mother AND grandmother inspired The Graduate?
A film with a troubled production, with screenwriter Ted Griffin fired from the director's chair 12 days after filming began and Reiner coming on at the last minute to retool it, the result is a middling, meandering, dull and deeply forgettable comedy that never makes good use of Jennifer Aniston's on-screen talents. She does the best she can, but there was no sense trying to save this sinking picture. Perhaps some rumors are better left unsaid.
Along Came Polly
I used to have a running gag with a couple of my friends where I start to describe the trailer for an exceptionally generic romantic comedy with two miscast actors. And it always (intentionally and unintentionally) turned into the plot synopsis for 2004's Along Came Polly. The film, which finds a neurotic Ben Stiller learning to let loose and have fun when he falls in love with free-spirited Jennifer Aniston, hits almost all of the expected corny beats of a predictable, run-of-the-mill early 2000s romantic comedy, and it never strives to do anything better or worse than its other contemporary romantic comedies.
Instead, Along Came Polly is the type of movie that once used to fill the shelves of Blockbusters and became an easy pick for couples to select on date night, only to turn it off or not pay attention. It's not necessarily the worst rom-com out there, but it has nothing to make it particularly noteworthy or distinctive — beyond the absurdly weird choice to have the late, great Phillip Seymour Hoffman plays second fiddle to Ben Stiller's nervous antics. You can move along. There's nothing to see here.
Also, we didn't find the time to write about a few other Jennifer Aniston movies, including We're the Millers, Cake, Marley & Me, Wanderlust, Picture Perfect, Rock Star, Just Go With It... or Friends with Money, though each of those movies have their fans and critics. Even though they're not included, they were not forgotten. Do you think these are Jennifer Aniston's best and worst movies? Let us know what you think below if you agree or disagree with our Jennifer Aniston movie selections and tell us your personal favorites/least favorites.
Your Daily Blend of Entertainment News
Will is an entertainment writer based in Pittsburgh, PA. His writing can also be found in The Playlist, Cut Print Film, We Got This Covered, The Young Folks, Slate and other outlets. He also co-hosts the weekly film/TV podcast Cinemaholics with Jon Negroni and he likes to think he's a professional Garfield enthusiast.