8 Times Scarlett Johansson Should Have Been Nominated For An Academy Award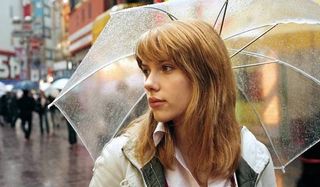 You know you've made it when you have a celebrity nickname as catchy and memorable as "ScarJo." The 34-year-old actress officially known as Scarlett Johansson is best known for her role in the MCU as Black Widow has risen through the ranks to become one of Hollywood's most well-known actresses (and 2018's highest paid) since her film debut at 10 years old in North. But one thing she hasn't gotten during her career is Academy Awards attention.
Admittedly, Scarlett Johansson may be more easily recognized as a badass action star in movies such as Avengers, Lucy and Ghost in the Shell, but she has also starred intense dramas, quirky comedies and thoughtful sci-fi films over the past two decades, and many of them are critically acclaimed.
Did you know the actress was nominated for four Golden Globes within a span of three years? She's worked with famed directors such as Christopher Nolan, the Coen Brothers, Sofia Coppola and Wes Anderson. Eighteen of the films she's starred in has been nominated for an Oscar in some capacity as well.
The blockbuster darling has come quite close to golden statue status, but she's been overlooked by the Academy for her performances time and time again. So let's go through ScarJo's most impressive roles that deserve another glance at. Was the actress snubbed for Oscars recognition?
The Horse Whisperer
If you were watching closely some 20 years ago, Scarlett Johansson was already riding the Hollywood radar as a 14-year-old. The young actress starred as Grace in 1998's The Horse Whisperer alongside big league legend Robert Redford, who played a trainer hired by Grace's mother to help her and her severely injured horse following a tragic accident that kills her best friend.
Stricken with grief and injury, Robert Redford's "horse whisperer" character assists them to recovery. It's a heartwarming film that was met with high acclaim and box office success. Redford was nominated for his role and Johansson's early breakout role should have easily placed her name in the ring as well. Only a select few child actors have been nominated for Oscars, with Beasts of the Southern Wild's Quvenzhané Wallis holding the record at age 9 for actress in 2012.
Ghost World
At just 16 years old, Scarlett Johansson starred in her first comic book adaptation with dark comedy Ghost World with fellow child actress Thora Birch (from Hocus Pocus). The indie also starring Steve Buscemi may have only made $8.7 million worldwide on its $7 million budget, but it caught the eye of critics, earning a 97% score on Rotten Tomatoes score.
This cult comedy follows two social outcast besties who recently graduated high school. Their biggest post-grad plans are to move in together until Birch's character takes an interest in Steve Buscemi's character, who posts a hopelessly romantic note to a woman in a newspaper. However, the writing alone behind Johansson and Birch's angsty, deadpan teens were nominated for an Oscar, not the actual performances.
Lost In Translation
Sofia Coppola's 2003 dramedy Lost in Translation is a modern classic. While the writer/director scored an Oscar for her clever original screenplay, Bill Murray and Scarlett Johansson's grounded chemistry really made it the endearing film it is still known to be today. Lost in Translation had a ton of other awards buzz when it came out with a Best Picture nomination, Best Actor nomination for Murray and Best Director nomination for Coppola… but what about ScarJo?
She plays a young woman named Charlotte who crossed paths with Murray's character, a washed-up movie star named Bob, while they are in Tokyo. Through their budding relationship, the movie explores loneliness, boredom, sleeplessness and culture shock in subtle ways that entrance the audience, much to the effect of their performances. The actress' first Golden Globe nomination was earned that year for her intriguing role, but it didn't appeal to the Academy the same way.
Girl With a Pearl Earring
During the same year as Lost in Translation, Scarlett Johansson also dazzled on the big screen as the subject of a famous Vermeer oil painting called Girl With a Pearl Earring. The period drama also starring Colin Firth as the Dutch painter follows a peasant girl who shares his passion for art with the artist. The two share a love affair, but it's the strength and spirit Johansson showcases despite her character's status that really shines in this movie.
Girl with a Pearl Earring earned Oscar nods for its cinematography, art direction and costume design, and Scarlett did earn another Golden Globe nomination for her role of the gorgeous Greit. Perhaps because she was running against herself in the same year in the Drama and Comedy categories, the Academy couldn't settle on how to recognize her when it came to the Oscars.
Match Point
Scarlett Johansson continued her love affair with critically-acclaimed performances with her first collaboration with writer/director Woody Allen in 2005's Match Point. The romantic thriller following a tennis pro who falls for ScarJo's Nola whilst both are in other relationships is an exciting and intense film that places the actress' gifts to play a seductress on center stage.
Again, she was nominated for a Golden Globe and then snubbed when it came time for the Academy Awards, but it's still one of her most notable performances along with being the beginning and best of her work with the filmmaker. Scarlett has also worked Allen in 2006 in Scoop and in 2008 with Vicky Cristina Barcelona. The latter earned her co-star Penelope Cruz an Oscar for Best Actress in a Supporting Role.
Don Jon
Okay, so comedies are seriously under-recognized on Oscars night, but if we could give Scarlett Johansson a nomination for her chops in the genre, it would be for Joseph Gordon-Levitt's Don Jon. The 2013 film, which Gordon-Levitt also wrote and directed, examines how porn and romantic comedies sometimes create unrealistic expectations for and about the opposite sexes.
In the film, Scarlett plays a hot and hilarious Jersey girl who has "Don Jon" meeting her own courtship hoops as his porn addiction tears them apart. The actress is well-known for her ability to play the flirtatious leading lady by now, and this role tested her chops by playing at some of these characteristics, while still grounding the movie as well. We'd love to see the actress take on more comedy roles because in Don Jon, she's quite the scene-stealer.
Her
You certainly have seen ScarJo, but you've heard her as the personal operating system to Joaquin Phoenix's character in Her. It's a peculiar love story about a future where "Siri" can become someone you can fall in love with. It's a beautiful and thoughtful film about the evolution of technology and nature of love itself.
Spike Jonze's 2013 film was a hit at the award circuit, earning five Oscar nominations, including a win for Best Original Screenplay. The ability for Joaquin Phoenix and Scarlett Johansson to make us believe and feel for a new kind of romance, especially with the presence of Scarlett's voice is truly special and would have certainly been given recognition if there was some sort of "voiceover" Oscar.
Under the Skin
Lastly, Scarlett Johansson's grittiest role to date is as "The Female" in in dismal sci-fi film Under the Skin. The 2014 film about an alien who disguises itself as a woman to pick up guys in Glasgow, have sex with them and then murder them in this disturbing, yet incredibly memorable movie. Due to the film's low budget of $13 million budget, many of the men in the film were non-actors who Scarlett actually approached while in character before they appeared in Under the Skin.
The movie also has some commentary to say about sexual desires and humanity. It's not a film everyone has seen of the actress, but it's an off-the-radar performance that critics raved over. Johansson has played a "seductress" many times over, but in Under the Skin it's used especially effectively to terrify audiences in a way she's never presented herself on screen. Few women in the industry have played such an unsettling character and it's a surprise she wasn't recognized more for it.
It's, of course, not realistic for Scarlett Johansson to have been nominated for all of these roles. Who ended up being nominated each year certainly was up to the stiff competition and the success of Oscar campaigns. However, she's had a really impressive career thus far, starring in movies that have challenged her and showcased her talents. It's probably why she's such a success!
Coming up, the actress will finally be getting her own Black Widow movie in Phase 4 of the MCU alongside David Harbour and Florence Pugh, she'll star in Taika Waititi's Jojo Rabbit, a comedy about Hitler, and she'll reprise her role as Ash the singing porcupine in Sing 2.
Scarlett Johansson perhaps has the biggest chance for an Oscar nomination for her untitled project with Frances Ha writer/director Noah Baumbach, which follows unfolding divorce between a couple from New York to Los Angeles. The film also stars Adam Driver, Laura Dern and Ray Liotta.
What's your favorite Scarlett Johansson performance? Let us know in the comments below!
Your Daily Blend of Entertainment News
YA genre tribute. Horror May Queen. Word webslinger. All her writing should be read in Sarah Connor's Terminator 2 voice over.