All The Reasons Why Black Widow Absolutely Deserves Her Own Movie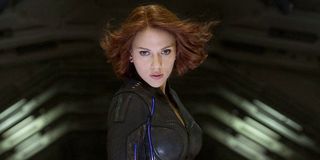 As development on Scarlett Johansson's Black Widow movie continues to inch forward, some MCU fans may be wondering why it's even a thing. Of the Avengers who still have yet to get their own standalone movie, why is Black Widow at the top of the minds of so many people? She doesn't even have superpowers, and it's not like Avengers: Endgame set the stage for some big feature on her end. There was once a time a solo movie would've been perfect for the character, but has that time passed?
The answer, in short, is absolutely not. There's plenty that's been written on this topic already, but as more details on the Black Widow movie have come to light, it's high time for us to talk about all the reasons Black Widow absolutely deserves her own movie, starting with why the character is so fabulous.
Black Widow Is Lowkey The Greatest Hero In Avengers: Endgame
Avengers: Endgame is jam-packed with big moments for its heroes, which makes it really easy to forget why they all came together in the first place. While Tony was pouting and Cap was attending support groups, Natasha stepped up as the leader of The Avengers and did all she could to continue to keep tabs on all the world's heroes and ensure those left behind were still safe from tyranny.
Plus, let's not forget that her massive sacrifice that gave the Avengers a shot at defeating Thanos and bringing everyone back from the dead. It was all the more noble, considering she forced Clint Barton to live so he could be with his family, and gave her life knowing there's a solid chance she may never know whether or not the mission succeeded or failed.
She Can Hold Her Own Alongside Almost Any Hero
Black Widow is one of the only Avengers who lacks super powers or special gear, and yet she's always in the thick of it with everyone else. She's firing shots, doing cartwheels, and taking down bad guys all with a minimal armor and little fear. She's been the ultimate sidekick to accompany any hero in the MCU, so why can't she take the lead for once?
After all, a Black Widow movie doesn't have to be devoid of other Marvel heroes. Natasha could pair up with just about anyone, and somehow still find a way to make herself useful even amongst the strongest of allies. Personally, I think it would be great to see a Black Widow movie where she and old-school Hulk teamed up on some S.H.I.E.L.D. mission, although given the big gap in Hulk's time on Earth that may not be a realistic dream. But there are plenty of routes to go in.
Black Widow's A Hero, But Also Stone Cold When Necessary
While they typically tend to stray on the side of what's right and protects the innocent, the MCU's superheroes have a bit of grey area when it comes to taking down enemies that threaten the things they love. Like, are we really supposed to believe that when Thor slams down in the middle of those enemies every single one of them was conveniently knocked unconscious and just never got back up?
Let's also remember that Natasha was a straight-up assassin, and while she's not necessarily the high-profile killer she once was, she's more or less shown to have little remorse or second thoughts in bringing down a target if things come down to it. This makes a Black Widow movie a potentially darker affair than it would be for other core members of the Avengers, which makes the prospect of one all the more exciting.
There Are Parts Of Black Widow's Past That Are Still Unexplored
We've seen glimpses of Black Widow's past in Avengers: Age of Ultron, but beyond that, there are huge gaps in her history that are unexplored. We don't know the full story behind her road to S.H.I.E.L.D., what she did when she was apart from The Avengers, and next to nothing about what happened in Budapest. Could a Black Widow movie with Scarlett Johansson front and center provide any of those answers?
It's possible, although there's a rumor floating around Twitter that Sebastian Stan mentioned the upcoming Black Widow movie takes place after Captain America: Civil War. If that's true, it will be an interesting time as the movie showed her to be one of the heroes torn between Tony Stark and Steve Rodgers. A film like this isn't exactly what audiences may be expecting, but arguably better than an origin story where we see her do some horrible things.
There's Still A Chance Black Widow May Return To The MCU
Now, it was said in Avengers: Endgame that Black Widow couldn't come back, but there's no denying the movie also proved that's not the case. After all, Gamora was originally sacrificed for the Soul Stone, but had a past version of herself pulled into the present. It stands to reason the MCU could pull something similar with Black Widow, and have zero impact on the timeline in doing so.
So while the MCU ponders whether or not it will bring back Natasha Romanoff, a Black Widow movie would be a good measuring stick to see how big of a priority it is for fans to see her again. Expanding out her mythology, and perhaps giving her a grounded background to thrive in would give her somewhere to go other than ensemble films if she returns, which may not be as feasible with the MCU geared to go more cosmic.
Fans Still Haven't Seen How Natasha Became Black Widow
Now, it's more than fair to say superhero movie fans are growing increasingly tired of origin movies, but it's certainly worth considering in the case of Natasha Romanoff. Her origin is fairly darker than most other Marvel heroes, which would make the tale of her journey from KGB assassin to S.H.I.E.L.D. operative a bit more interesting than the average origin story in the realm of superhero content.
Now that she's become a vital part of MCU lore, it's time we put some respect on Black Widow's name and honor her with a true standalone movie. Especially since Scarlett Johansson has been the trooper and showed up in most of the Marvel ensemble films in a supporting role. It's about high time she gets to sit in the driver's seat and show MCU fans why she's not to be overlooked.
Related: Scarlett Johansson Might Make More Money For The Black Widow Movie Than We Thought
As far as when the world may get to see Scarlett Johansson star in a Black Widow movie, we're still in the dark, although rumors have stated production is slated to start in June or it's possibly already underway. Stick with CinemaBlend for more updates on that, and for more on the latest in movies, television, and pop culture.
Mick likes good television, but also reality television. He grew up on Star Wars, DC, Marvel, and pro wrestling and loves to discuss and dissect most of it. He's been writing online for over a decade and never dreamed he'd be in the position he is today.
Your Daily Blend of Entertainment News
Thank you for signing up to CinemaBlend. You will receive a verification email shortly.
There was a problem. Please refresh the page and try again.