Captain Marvel Had A Secret Agents Of S.H.I.E.L.D. Easter Egg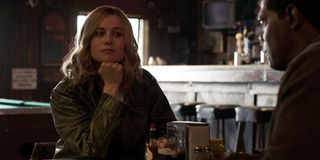 The relationship between Agents of S.H.I.E.L.D. and the films of the Marvel Cinematic Universe has been a bit strange for many years now. There have been times over the years when they have been closely linked, with episodes of the shows directly connected to events happening on the big screen, but at the same time there are certain elements of the series that don't quite sync up with what is happening in the blockbuster world.
Further separating the two worlds is the fact that we're now at a point where it seems very unlikely that any of the main characters originally created for the ABC show will make appearances or have roles in any of Marvel's upcoming films - but for what it's worth, apparently the recently-released Captain Marvel does have an interesting connection to an episode from Agents of S.H.I.E.L.D.'s first season.
The episode in question is titled "Providence" (the eighteenth of the series), and the little Easter egg revolves around the character Marcus Daniels. On the show, Daniels was played by actor Patrick Brennan, and is featured as a Darkforce-powered stalker of Audrey Nathan - the Portland-based cellist and former flame of Agent Phil Coulson's who is first mentioned in Joss Whedon's The Avengers. He is a one-off villain from Agents of S.H.I.E.L.D., and has not yet returned since his first appearance, but an Eagle eyed fan has gotten confirmation that Marcus Daniels a.k.a. Blackout has a small role in the 1990s-set Captain Marvel.
Credited as "Bartender," Patrick Brennan briefly appears as basically a background actor in the 2019 blockbuster, namely during the scene where Carol Danvers and Nick Fury sit down to really talk for the first time, but now Marvel Studios producer Victoria Alonso has made it known that the "cameo" is an official Agents of S.H.I.E.L.D. Easter egg. The filmmaker recently took part in an Ask Me Anything session on Reddit, and when specifically asked about Brennan's role and the TV connection she basically confirmed it by responding, "You noticed?"
It's hard to say if this was actually entirely intentional or not, but for what it's worth it does fit with Marvel Cinematic Universe continuity - or, more accurately, it doesn't not fit. We don't know much about Marcus Daniels background beyond the fact that he was formerly an assistant at a physics lab doing experiments involving the aforementioned Darkforce, and it's not totally outside the realm of possibility that prior to that job he was making ends meet by tending bar while living in Los Angeles.
And given the fact that Captain Marvel marks Clark Gregg's first return to the big screen as Phil Coulson since The Avengers, we'd like to believe that the production purposefully also included a quick nod to the show that is currently airing its sixth season.
If you didn't catch Marcus Daniels in Captain Marvel when you saw the movie on the big screen, the good news is that you can now spot him in the comfort of your own home. Following its billion dollar run at the box office, the blockbuster is now available for digital download, and will be hitting stores on Blu-ray and DVD next Tuesday, June 11th.
Assistant Managing Editor
NJ native who calls LA home and lives in a Dreamatorium. A decade-plus CinemaBlend veteran who is endlessly enthusiastic about the career he's dreamt of since seventh grade.
Your Daily Blend of Entertainment News
Thank you for signing up to CinemaBlend. You will receive a verification email shortly.
There was a problem. Please refresh the page and try again.