J.J. Abrams' Superman: Flyby Storyboards Revealed, Thanks To Spider-Man: Into The Spider-Verse Director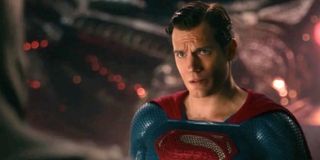 It's a consistent fact that sometimes in Hollywood, the most interesting stories are the ones not told. Peter Ramsey -- co-director of the Academy Award-winning Spider-Man: Into The Spider-Verse -- knows that better than most, as he's recently shared some key details about one of the holy grails of unmade comic films: the J.J. Abrams scripted Superman: Flyby.
An attempt to revive the then dormant Superman franchise, Superman: Flyby was a script that was set to be a 2004 release for Warner Bros, with J.J. Abrams penning a Superman origin story that would have seen our hero fighting against Ty-Zor, a newly created villain that would have debuted in the film.
We see Ty-Zor and Superman, cousins in the world of Superman: Flyby, ready to fight it out in the first set of storyboards, as both Kryptonian warriors fly past the camera. We start with a shot of what looks like Superman, also known by the Kryptonian name of Kal-El, flying outside of the earth's atmosphere, only to come back into frame in the middle of a Metropolis war zone.
On the ground, we see a wrecked bus, as Superman and Ty-Zor fly past the camera. You can practically hear the theme music swelling as these titans prepare to fight, in a film that came oh so close to existing as the first modern revival of the Superman mythos.
The story only gets more interesting when Rim of the World writer Zack Stentz, no stranger to comic adaptations himself, asked Peter Ramsey whether this concept art was drawn during McG's tenure as the film's director, or if it was created when Brett Ratner took the director's chair after his departure. The answer was definitive, but also exceedingly interesting:
As the short version of Superman: Flyby's history goes, J.J. Abrams was hot off of the success of Alias, as well as his screenwriting career that churned out hits like Armageddon. So naturally, Abrams was seen as the guy to bring Superman back to the big screen, which led to Charlie's Angels director McG being selected as the first choice to direct the film.
However, the eventual director of Rim of the World would find himself fired off of Superman: Flyby, due to an unfortunate fear of flying preventing him from making a crucial Warner Bros. meeting. That led to director Brett Ratner's eventual hiring, and that's where things get interesting. Should Ratner's film have gotten off the ground, we'd have potentially seen either Josh Hartnett or Jude Law as Superman; Christopher Walken as Perry White; and Anthony Hopkins as Jor-El, Superman's father.
However, another firing took place, and this may have been where those rogue days that Peter Ramsey mentioned took place. And in that time, more of the art you can see below, shared through Ramsey's Twitter, came to be:
In this next set of storyboards for Superman: Flyby, we see Superman clock Ty-Zor right in the face, sending him flying towards the ground and into a recovery roll as we pan down to follow his action. The last storyboard from Peter Ramsey's sharing session looks to be a shot of Superman flying over the earth, through a particularly rough looking rainstorm.
The eventual fate of Superman: Flyby saw the film land back in McG's hands after Brett Ratner's firing, only to see him leave the project yet again. At this point, two crucial events would take place: Warner Bros would pull the trigger on Superman Returns, and Henry Cavill would start his journey to eventually becoming Superman, thanks to shooting some test footage under McG's reign.
The DCEU is currently in another period of limbo pertaining to Superman and his place in the company's cinematic firmament. With a script that eventually evolved into a draft that people fell in love with, and Peter Ramsey being the accomplished animation director that he is, there's always the possibility that if DC Comics wanted to make an offer, we could see Superman: Flyby become the first big screen DC animated adventure in quite some time.
Of course, that depends on the status of whatever Spider-Man: Into The Spider-Verse follow up is in store over at Sony. For now, though, these storyboards -- and various drafts of the script floating around the internet -- are all that tell the story of what Superman: Flyby could have been. And judging from what we've seen, it's kind of sad that we never truly got to see it.
Spider-Man: Into The Spider-Verse is on digital HD and home video, with Netflix adding it to their streaming library as of June 23rd.
Your Daily Blend of Entertainment News
Senior Movies Contributor
CinemaBlend's James Bond (expert). Also versed in Large Scale Aggressors, time travel, and Guillermo del Toro. He fights for The User.