That Time Jeremy Renner Turned Down A Role In Hellboy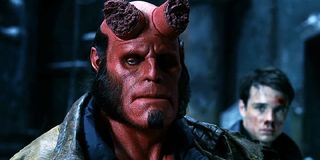 Perhaps best known for playing eagle-eyed Avenger Clint Barton (a.k.a Hawkeye), Jeremy Renner has become one of the biggest, most prolific stars in Hollywood. He's also well-known for his roles in 2016's masterful Arrival and in The Bourne Legacy, but those are just a few of his credits. He seems pretty open to most roles, ensuring that he's always got work. And the movies he's in are mostly pretty good. It may come as a surprise, then, that Jeremy Renner turned down a chance to play a role in Hellboy.
No, not the ill-fated Hellboy film released earlier this year with David Harbour. He passed on the 2004 Hellboy directed by Guillermo del Toro, with the title role ultimately going to Ron Perlman.
UPDATE: Apparently there was a misunderstanding after Jeremy Renner's podcast comments. Guillermo del Toro corrected the confusion on Twitter to say Jeremy Renner was never up for the title role of Hellboy. He was up for Agent Myers, which went to Rupert Evans.
Back to original post:
Jeremy Renner's recent comments on Justin Long's podcast (via EW) make his lack of interest in the film abundantly clear.
Jeremy Renner added there was "a lot of money" in the potential deal, but he clearly felt no draw to the character or story. He didn't mince words when asked if he had any regrets.
You don't need to beat around the bush there, Jeremy Renner. Critics and fans gave the 2004 Hellboy two thumbs up, but that doesn't mean Renner had to like it. And he's allowed to say so without feeling the least bit bad about it. After all, before that contract is signed and your soul is sold, you've got the leverage. But it sounds like he just recognized he wouldn't have anything to offer the role. Things turned out how they were supposed to, at least for Ron Perlman's two Hellboy movies.
Created by Mike Mignola, Hellboy became of one Dark Horse Comics's most popular, most marketable characters, spawning two fantastic movies (the sequel being even better than the first) from Guillermo del Toro and becoming a sensation in the comics world. It sounds like Jeremy Renner's dislike toward the character had nothing to do with who was directing, writing, or making it. He just didn't connect with the role.
The Neil Marshall-directed Hellboy reboot (starring David Harbour, Milla Jovovich, and Ian McShane) released on April 12, 2019 to overwhelmingly negative reviews. Even the film's star, David Harbour, admitted the film had issues. And no one is too shocked that it will not be getting a sequel.