Why Spider-Man: Far From Home's Surprise Cameo Could Be An Even Bigger Deal For The MCU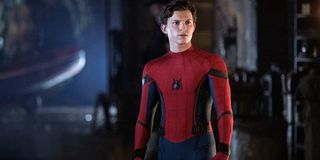 Warning! The following contains spoilers for Spider-Man: Far From Home**. Read at your own risk!**
Spider-Man: Far From Home features lots of surprises, and a fair bit about the MCU post-Avengers: Endgame, but few things were as surprising as the cameo at the end. In a casting very few expected, J.K. Simmons returned to the Spider-Man franchise to reprise the role of J. Jonah Jameson. Jameson came out of nowhere in the film's final moments and announced to the world that Spider-Man was responsible for the "hero" Mysterio's death, and that Spider-Man is Peter Parker.
Sure, that announcement was shocking, but it wasn't as wild as J.K. Simmons reprising the role of a Marvel character he played prior to the creation of the MCU. That could make this cameo a much bigger deal than folks may have initially thought, as it signaled Marvel is not opposed to bringing back past actors to play their characters in the MCU.
Was this a one-off deal, or does Marvel have plans to do this again? We don't have an explicit answer to that, but there is some other interesting info that suggests it could happen again, and what the rules may be for any and all reprisals of character roles within the MCU. Strap on that speculation helmet, and prepare for a ride that explains just how this recent cameo just may be the first of many.
So, Can Any Former Marvel Actor Come Back As Their Character In The MCU?
It's a question that folks had pondered long before Spider-Man: Far From Home, but one that got a lot more interesting after J.K. Simmons' cameo. It appears Simmons is now the MCU's J. Jonah Jameson, and could appear in future films as the character despite the fact he was in Sam Raimi's Spider-Man franchise.
Now, this may cause some to jump to bizarre conclusions, which is why Marvel's Kevin Feige got ahead of it (via Screenrant) and confirmed this Jonah Jameson is a "completely different" character than the one from the Sam Raimi films. There's no story connection between the two, and obviously, he and Peter's relationship will be different. For those who are confused, it's like he's basically the Spider-Men in Into The Spider-Verse. They're all the same type of hero, but also different.
The "same but different" narrative seems important for Kevin Feige to get out there, which may mean other reprisals like this are on the way. So yes, it seems like Hugh Jackman could maybe return as Wolverine (as unlikely as that sounds) and even exist within the MCU without being a part of a different multiverse. He'd just have to be "different," although we'd have to think any different Wolverine would still make enough noise the Avengers would've sniffed him out by now.
Will The MCU Actually Bring Back More Old Actors To Play The 'Same But Different' Characters?
It seems like this cameo could have been testing the waters, and that more reprisals like this could happen in the near future. Obviously we have no clue who would be on the table, here, but it's no secret fans want to see folks like Hugh Jackman and Patrick Stewart appear in the MCU under their namesake Marvel characters.
One thing we do know is there were rumors a while back about Marvel discussing a Blade movie with Wesley Snipes attached. At the time, it seemed like a crazy idea, especially since the move seemed to mean the Blade franchise would technically become a part of the MCU. Now that it seems Marvel could simply bring Snipes back as a new Blade, the rumor sounds a lot more feasible.
What sounds less feasible is that Marvel would make long-term deals with older actors like Snipes to appear in multiple films over the next decade when they're a bit older than the typical Marvel heroes. It just doesn't seem like 2030 would roll around, and Snipes is 66 and still available to appear as Blade. Then again, Samuel L. Jackson is out here playing Nick Fury at age 70, so never say never!
This Isn't The First Time Marvel Has Done This
What makes the J.K. Simmons reprisal so amazing isn't simply that it happened, it's that it happened within the MCU. Marvel did this before when it rebooted Ryan Reynolds' Deadpool from X-Men Origins: Wolverine into the Deadpool that's had a hell of a run at the box office. Again though, this happened in the wildly inconsistent X-Men franchise, and not the meticulously structured MCU.
What's funny though is the rules for Deadpool's reboot were largely the same as the approach Marvel took for re-introducing J.K. Simmons as J. Jonah Jameson. As stated earlier, that means keeping the actor the same, but making it clear this is a different character than the one from before. Marvel achieved this by changing up the haircut of Jameson from Raimi's version in Spider-Man: Far From Home, and had Deadpool literally kill his reject counterpart.
It's two wildly different approaches, but the end result is the same. No one can mistake these are two separate characters, and therefore are in no way connected to the past films this same actor/character combo was a part of. It seems like something that shouldn't need to be laid out so clearly, but not everyone is as die-hard as the most loyal of Marvel fans, so it's good Kevin Feige and the crew are going to such lengths to explain the situation.
Again though, this could be a complete fluke casting that was only done because it's so hard to find a more perfect casting than J.K. Simmons as J. Jonah Jameson. This could be the first and last time the MCU does anything like this, and fans will have to forever wonder why it never happened again. I'm feeling optimistic that won't be the case, but who can really be sure about anything when it comes to the future of the MCU?
Related: Kevin Feige Clarifies The Snap Vs The Blip In The MCU
Do you hope Marvel will bring back other former Marvel characters to reprise their characters within the MCU? List names in the comments below, and continue to stick with CinemaBlend for all things related to Marvel and other superhero films.
Your Daily Blend of Entertainment News
Mick likes good television, but also reality television. He grew up on Star Wars, DC, Marvel, and pro wrestling and loves to discuss and dissect most of it. He's been writing online for over a decade and never dreamed he'd be in the position he is today.