Is Spider-Man Trying Too Hard To Fill The MCU's Iron Man Void?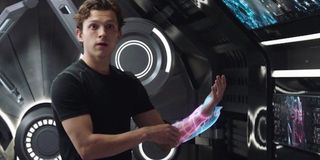 (Image credit: (Marvel))
This article contains tons of SPOILERS for Spider-Man: Far From Home**! If you haven't seen it yet, swing out of this page now, but feel free to return when you have!**
Tom Holland's Spider-Man first made his grand entrance to the MCU thanks to Tony Stark's desperate recruitment for Team Iron Man in Captain America: Civil War. Since then, Robert Downey's iconic character has played a key role in mentoring the hero. He was the cool rich uncle who always has sweet new gadgets for him to try in between teaching him formidable lessons about superhero work.
Alas, that's no more. The most heartbreaking Avenger: Endgame moment was when Spider-Man had to watch Tony Stark sacrifice his own life so the universe could live. It was this Spidey's Uncle Ben moment. Spider-Man: Far From Home then had the task of following a grief-stricken Peter Parker and introduce a world without Iron Man in the MCU and conclude Phase 3.
Did anyone feel like the story was stepping on Iron Man's red and gold boots a bit this time around? There were quite a few beats in the movie that made it feel like Tom Holland's Parker is more a continuation to Downey's legacy than the character growing into his own superhero merits.
Spider-Man: Far From Home is set in motion by Nick Fury's mission (which he hands off to the shapeshifting Skrulls) to give Peter a pair of Tony Stark's signature glasses, and it makes complete sense for Tony to leave Peter a little something. Peter starts rocking Stark's look with the pair on, though it's clearly not the teen's style. It feels borrowed. This is why it seems fitting for Peter to hand off the glasses and the responsibility that goes with it to Jake Gyllenhaal's Mysterio.
We then learn of Quentin Beck's true intentions in the story. He's the infamous villain we know and love in the comic books and has tricked Spidey into handing them to him for his larger evil plot. Peter was also gifted a piece of tech from Tony in 2017's Spider-Man: Homecoming that he plays with for much of the film. However, when things start to get serious with the Vulture that time around, he is left without the fancy Spidey suit. All he has is his handmade suit to save the day, and it proves he doesn't need Stark to be Spider-Man.
So, the Spider-Man: Homecoming finale redeemed this Parker's early reliance on Stark's gadgets. But in Spider-Man: Far From Home, he has Happy come in on a private jet and save him, before crafting a fancy new Stark suit and blasting Led Zeppelin... sorry, AC/DC on the way there. While Peter does defeat Mysterio with his own wits by the end of Far From Home, I can't help but shake how bothersome that scene is. Even as a fan of Downey's Tony Stark who will miss him dearly in the MCU, it felt like it leaned into a strange place. Spider-Man doesn't have Iron Man's shoes to fill and they just don't need to be.
With a less interesting character than Spider-Man, I'd get it. Sometimes compensating for a gap in the story with a bit of nostalgia or clever parallelism is a good way to keep fans happy and involved. But this isn't the case. Spider-Man is one of the most character-rich and relatable comic book superheroes out there. There's zero need to borrow from Robert Downey Jr's legacy for Tom Holland's version to tie in with the MCU.
It's not just the private jet moment either. One big reveal in Spider-Man: Far From Home is during the mid-credit scene where J.K. Simmons' J. Jonah Jameson has an awesome and unexpected cameo: he outs Peter Parker as Spider-Man thanks to some doctored footage from Mysterio, placing him at fault for his orchestrated drone attack in London. If the scene is in fact not another blatant misdirect in Parker's reality, he's about to live a very high-profile life. This plot point is so much more Iron Man than it is Spider-Man.
The beauty of the young web-slinging hero is how accessible he is to audiences. He has homework to do, bills to pay and a girl to awkwardly crush on in between his crime fighting work. Now, what's stopping this Spider-Man from nabbing a job from Stark Industries, borrowing a little from the company's savings and getting any girl he wants once the secret's out? Don't tire us with the "with great power" phrase, his core dilemmas would simply become unrealistic.
Maybe the MCU is a bit lost after the fate of Iron Man. He has been the central character and common thread in the universe, and Spider-Man: Far From Home was tasked with delivering fans a world without him. The void is unquestionably there; it's open like a fresh wound, but these choices felt like quick-fix band-aid on the empty suit in the room with some uninspired choices.
What about utilizing Spider-Man characters in a fresh way instead of more of Iron Man's old hat? Marisa Tomei's Aunt May could have taken the place of Jon Favreau's Happy in his grieving process and reinvented the character further with some added doses of her unique wit?
Spitballs aside, the franchise just isn't doing itself any favors by making Tom Holland the next Iron Man if that's the plan here. Fans have said their heartfelt goodbyes to Iron Man with the conclusion of Avengers: Endgame. The movie's attention to the impact of his death was important and necessary. Shoeing in too many parallels and passings of the baton was not.
I do have faith in Jon Watts and Marvel Studios as filmmakers to continue to do right by Peter Parker, and they have! The two MCU Spider-Man films feature some of the most incredible and most Spidey moments a fan could ask for. Tom Holland is the best Spider-Man and Peter Parker hands down. Shaking up the character from past iterations with Tony Stark as a mentor and the Avengers in the background has been nothing short of amazing to witness.
Spider-Man: Far From Home is up there. It's one of the best Spidey movies, ever but as we stand, I'm a touch sour about this aspect. You never know how the MCU has in store! It may completely turn around these concerns right around for the future Spider-Man movies.
What do you think about this? Is the MCU's Spider-Man trying too hard To fill the void left by Robert Downey Jr's exit from the franchise? Leave a comment below!
YA genre tribute. Horror May Queen. Word webslinger. All her writing should be read in Sarah Connor's Terminator 2 voice over.
Your Daily Blend of Entertainment News
Thank you for signing up to CinemaBlend. You will receive a verification email shortly.
There was a problem. Please refresh the page and try again.