Why Robert Downey Jr. Wasn't The Highest Paid Actor In Iron Man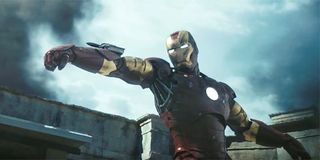 Since his first appearance in the role back in 2008, which has now become iconic for a wide slew of reasons in the past 11 years, Robert Downey Jr. has renewed his career status, rose straight to the A-list and made a hell of a lot of money becoming Tony Stark, i.e. Iron Man, in Jon Favreau's Iron Man. But while his paycheck for Avengers: Infinity War and Avengers: Endgame, respectively, were most certainly Tony Stark-level mountains of cash, the actor's earnings for the original Iron Man weren't as plentiful as you might think. In fact, he wasn't even the highest paid actor on set, if you can believe it.
In a surprising turn of events, Robert Downey Jr. didn't walk away with the biggest paycheck on Iron Man, believe it or not. And it wasn't Jeff Bridges or Gwyneth Paltrow either. Nope. According to a report from Entertainment Weekly, the actor who walked away with the biggest payday was Terrence Howard. The reason why Terrence Howard had the biggest salary relates to a number of different factors related to the making of the superhero film.
Before the Marvel Cinematic Universe became what it is today, Iron Man had a lot to prove. It was a tentpole movie based on a comic book property that wasn't obscure, by any means, but it wasn't Superman, Batman, Spider-Man or X-Men. It was 2008, just when the superhero movie boom was about to take place.
And with that in mind, superhero movies weren't proven properties, and the journey to bring the character to the big screen wasn't quite as easy as it would be to green-light, say, anything producer Kevin Feige wanted to see happen today. As such, the casting process took awhile.
There was a lot of back-and-forth regarding who should play the role of Tony Stark. There were several big names like Hugh Jackman, Tom Cruise and Nicolas Cage reportedly circling the part, though it's unclear how close any of these actors were to getting the role — if they were even close at all. But director Jon Favreau fought hard to have Robert Downey Jr. play the title superhero.
You have to remember, in 2008, Robert Downey Jr. was still known in Hollywood for his earlier, more troubled years. Though he was making a comeback with acclaimed films like 2005's Kiss Kiss Bang Bang, 2006's A Scanner Darkly and 2007's Zodiac, he wasn't a guaranteed success as the main lead of this giant blockbuster with superhuman expectations. There was no way the studio could get a guarantee — in any fashion — that Robert Downey Jr.'s portrayal of Tony Stark/Iron Man would bring in audiences.
But Jon Favreau was confident in his decision to cast Robert Downey Jr. in the role. He not only felt that Downey has the charisma and acting chops to pull off a role of like this one, but he has the personal lived-in experience — as alluded to earlier — to make the role sing in a honest, real, humanized way.
As Jn Favreau explained, Robert Downey Jr's life has always been seen in the public eye. He knows what it's like to fight the struggles Tony Stark faces during the film, and he knows what it's like to bring the depth and emotional sincerity that was pivotal to the character. After all, there are a ton of actors who can play a smarmy a-hole, to varying success. But Robert Downey Jr. can not only be a likable jerk, in PG-terms, but can also make that character realized.
Anway, the reason that story was brought up was because the casting process for Tony Stark wasn't the first casting decision made for the film. The role required the right actor, and the studio, producers and directors went back-and-forth a lot before they finally came to a compromise — and, I think it's safe to say, the right decision.
But the casting process for Colonel James Rhodes, Stark's loyal friend and future War Machine, was notably less complex. As such, it didn't take long before everyone agreed that Terrence Howard was a great pick for the role, and the actor was the first actor who was cast.
With that, when the film was finally coming together in full fruition, it was reportedly already too late to renegotiate Terrence Howard's deal. And while it was an easy casting decision, the process on set was notably a lot more complicated.
Reports from the set claim that Terrence Howard was allegedly difficult to work with, and the producers and director Jon Favreau were reportedly unhappy with what Howard's performance shaped up to be. So much so that, according to an unnamed insider, the editor and director of Iron Man had to reshoot, re-edit and retool certain parts of the hit film in order to change it.
While Terrence Howard's publicist publicly claimed that the actor had a "tremendous experience" working on Iron Man, the reports surrounding Iron Man and Iron Man 2 suggest that Jon Favreau remained less-than-enthused throughout the process of crafting both films. When it came time for screenwriter Justin Theroux to write the screenplay for the sequel, he and Favreau were reportedly trying to figure out ways to minimize Howard's storyline inside the movie.
With that, the producers of Iron Man 2 felt it was unnecessary to pay Terrence Howard as much — if not more — than what he received for that original movie, and they were hoping to renegotiate the actor's contract for real this time, dramatically reducing their offer this time.
Obviously, Terrence Howard and his agents were none-too-pleased to hear this news. Your movie turns out to be a major hit, outmatching all the huge expectations you hoped would be found, and now the producers are coming around and telling you that your screen-time is getting cut AND you're making a whole lot less money this time around? That wouldn't seem fair to any actor.
As such, the agents were apparently so aghast by this reworked offer that they were willing to fight it. The cut was believed to be drastic; we're talking 50-to-80 percent less than what the actor made before. And it is safe to say that Terrence Howard wasn't going to happily accept the lowered income.
From there, it is a bit unclear what exactly happened. Either Terrence Howard decided his time was best spent elsewhere, or Marvel finally had enough and decided it was time to cut ties with the actor and say goodbye. No matter what ultimately went down, Terrence Howard was gone. Literally out of the picture.
It didn't take too long before Don Cheadle was cast in the role. And the fellow Oscar-nominated actor would continue to play the role for every consecutive film in the series, leading all the way up to this summer's Avengers: Endgame, which is potentially on track to be the highest grossing film of all-time.
With that in mind, there is a chance that people forget that Terrence Howard was in the original Iron Man. Much like Mark Ruffalo and The Hulk, people are quicker to associate Don Cheadle to the role opposed to the actor who played the part beforehand since he has ultimately played the part for a much longer amount of time.
Nevertheless, while Terrence Howard was disgruntled about his time with Iron Man overall, ultimately blaming Robert Downey Jr. and claiming that the actor took the money that should've gone to him, he did walk away with a lot of money for appearing in that first film.
While one can argue whether or not Terrence Howard made the right decision, things did work out for him in the long run. Specifically, Howard found himself playing one of his most famous and popular characters in the long-standing Fox drama series Empire, where he plays Lucious Lyon. The role has provided the actor with critical and commercial success, and there is no guarantee that he could've played the role if he was still saddled onto the Marvel Cinematic Universe. Of course, it's possible that he maybe could've played both, but there's no way to say for certain. And it's ultimately all hypothetical anyway.
Nevertheless, despite what you might think, Robert Downey Jr. wasn't the actor who walked away with the biggest paycheck for that first Iron Man film. At least, not initially. But obviously, that changed soon enough. Thanks to deals his team would make starting from the beginning, the actor would receive more money from the backlog if the film turned out to be a huge success. And thankfully for him, it did.
As the success of the Marvel Cinematic Universe expanded, so too did Robert Downey Jr.'s wallet. And it was reported that the actor made upwards of $50 million or more for his work in the last two Avengers movies. Certainly, Robert Downey Jr. found a way to make a hefty paycheck — even if it wasn't exactly in the most orthodox fashion. Hollywood can be a funny business sometimes.
Your Daily Blend of Entertainment News
Will is an entertainment writer based in Pittsburgh, PA. His writing can also be found in The Playlist, Cut Print Film, We Got This Covered, The Young Folks, Slate and other outlets. He also co-hosts the weekly film/TV podcast Cinemaholics with Jon Negroni and he likes to think he's a professional Garfield enthusiast.