Guardians of the Galaxy Vol. 3 Is Expected To Continue Gamora's Alternate Timeline Storyline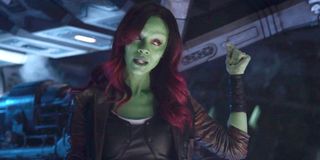 The events of Avengers: Endgame created an alternate timeline, one that allowed some dead characters to "return." I'm not talking about the dusted folks. I'm talking about the definitively dead characters who died pre-Snap. I put "return" in quotation marks because the original versions of these characters perished before Thanos killed half the universe in Avengers: Infinity War, excluding them entirely from the temporal rescue attempt which comprises most of the film. These characters included Loki, Vision, Heimdall, and, most tragically, Gamora. Thrown from the top of a rocky cliff on Vormir by her adoptive father Thanos, Gamora was easily the character who was dealt the cruelest blow.
However, by the time the credits roll on Endgame, we're left with a version of Gamora created when the Avengers traveled back in time. Now, if recent comments are to be believed, her story will continue in the upcoming Guardians of the Galaxy Vol. 3. It's fairly predictable, but it's cleverly executed and makes her return more organic and believable. We all knew it would happen. We just didn't know how.
And we still don't know how. But we do know a bit more about where the writers' heads are at regarding her return to the franchise. At this year's San Diego Comic-Con, Avengers: Endgame writers Christopher Markus and Stephen McFeely not only confirmed that Gamora survived Iron Man's snap, but also hinted at her possible return in Guardians of the Galaxy: Vol. 3. The character wasn't dusted like her despotic father, whom we knew was pretty dang dead after Tony Stark sacrificed himself to save the universe.
This all makes perfect sense, especially considering the fact that a Guardians sequel without one of its most important characters wouldn't feel right. And Peter Quill needs to be an idiot in more ways than one, and what better way to do that than to bring back his smarter, more competent love interest? (Assuming alternate timeline Gamora is even his love interest.) Sorry, Peter. You done goofed when you punched Thanos in the head repeatedly and basically killed everybody.
Guardians of the Galaxy Vol. 3 may also add Chris Hemsworth's Thor, whom Drax star Dave Bautista said would be a perfect fit for the new film. Even Hemsworth himself wants to return. The film will mark James Gunn's triumphant return to the MCU after the whole Twitter fiasco that went down around this time last year.
Avengers: Endgame is now playing in theaters. It's really good so if you haven't had the chance to catch it, now may be the best time. Mark Ruffalo even said so. But it's leaving theaters soon. That's if it's not already gone where you are. Keep up with everything still heading to theaters this year with our 2019 movie schedule.
Your Daily Blend of Entertainment News